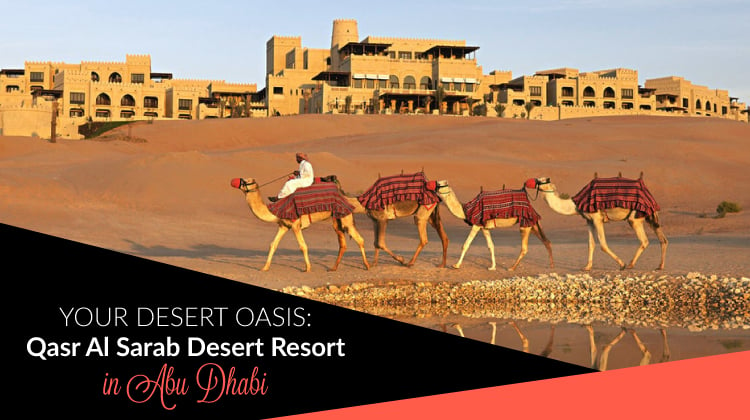 Luxury and remoteness come together in perfect harmony at the Qasr Al Sarab Desert Resort in the United Arab Emirates.
Between lounging by the refreshing pool, enjoying unique Middle Eastern cuisine, and embarking on adventures through the desert, this resort is perfect for a relaxing weekend or even a long vacation.
Plus, they have fully-loaded conference rooms perfect for business meetings so you can talk your boss into an extended conference in an exclusive location.
You're sure to leave the resort recharged, rested, and rejuvenated. That is, if you can pull yourself away.
Rub' al-Khali: The Empty Quarter
Located about 200 miles away from the hustle and bustle of Dubai, this exquisite resort sits in the middle of the Rub' al-Khali.
Known as the "Empty Quarter" in English, the Rub' al-Khali is the largest continuous sand desert in the world. It encompasses nearly one-third of the Arabian Peninsula spanning four countries: Oman, Yemen, Saudi Arabia, and the United Arab Emirates. The nomadic Bedouin tribes have traversed this desert for centuries with their camels and caravans.
You, too, can immerse yourself in the enchanting landscapes and timeless Bedouin traditions at the Qasr Al Sarab Desert Resort. Absorb the exotic view from the balcony of your private villa or a daybed on the deck surrounded by unique Middle Eastern tapestries and artifacts.
Explore the Empty Quarter's desert plains yourself on a hike, dune ride, bike trip, or an unforgettable sunset camel trek.
Recharge your batteries at this remote desert resort.
Qasr Al Sarab might be in one of the world's most remote locations, but this luxury resort has everything you need, and so much more, that you'll have a hard time leaving.
World-Class Dining Options
With seven dining options to choose from, you won't grow tired of the same cuisine each night. This desert resort has four restaurants including a steakhouse and other world-class international delights.
Qasr Al Sarab also offers three additional unique and intimate dining experiences either from your private villa, on the deck, or nestled in the dunes.
Their Dining by Design option provides a romantic signature dinner served by a private butler as you watch the sunset along the desert. Talk about unforgettable!
Luxury Spa Treatments
Set aside a day (or three) and treat yourself to some of the most luxurious spa treatments on the planet. Qasr Al Sarab's Anantara Spa offers timeless Thai and Moroccan inspired treatments in iconic surroundings.
Their Arabian Desert Rose Ritual lasts six hours. During this time, you'll receive a body scrub, mask, massage, milk bath, and even a decedent ruby-encrusted facial. Since you'll be hibernating in the spa getting pampered all day, this package also includes a gourmet meal along with refreshments.
Not only does the Anantara Spa have many unique and extravagant treatments to choose from, but you also get to use the spa facilities such as the villa and Vichy room.
Unparalleled Leisure Activities
Of course, Qasr Al Sarab has all the standard leisure activities you'd expect from a luxury hotel: a state-of-the-art fitness center, exclusive conference rooms, a freeform oasis pool, and a flood-lit tennis court.
However, the fun doesn't stop there because they also offer a quaint library, desert yoga sessions, and cooking classes. Yes, cooking classes! What better way to learn about the local Arabian culture than with a personal and customized cooking class?
You'll have a hard time fitting all the exciting excursions in your schedule. This desert resort offers a wide range of activities you won't find anywhere else including camel treks, falconry, archery, horseback riding, dune bashing, and a historic tour of the Liwa Oasis.
Exclusive Accommodations
Qasr Al Sarab offers so many incredible attractions and activities but considering their exclusive accommodations, you'll have a hard time even leaving your room.
From the one-bed Deluxe Garden Rooms up to the three-bedroom suites, this desert resort has accommodations to fit every budget.
Customers may even opt for one of their 29 one-bedroom private villas which include a private pool, outdoor shower, personalized butler service, and everything else you'd expect from a luxury resort room.
Submit a Flight Request with Jettly Today
Whether you're planning a business conference, two-week vacation, or weekend layover, the accommodations and facilities at Qasr Al Sarab make this desert oasis resort perfect for all kinds of traveling.
At Jettly, we offer private charter flights all around the world for one flat rate: no hidden fees, no extra charges. Submit a flight request with us for your next adventure today!