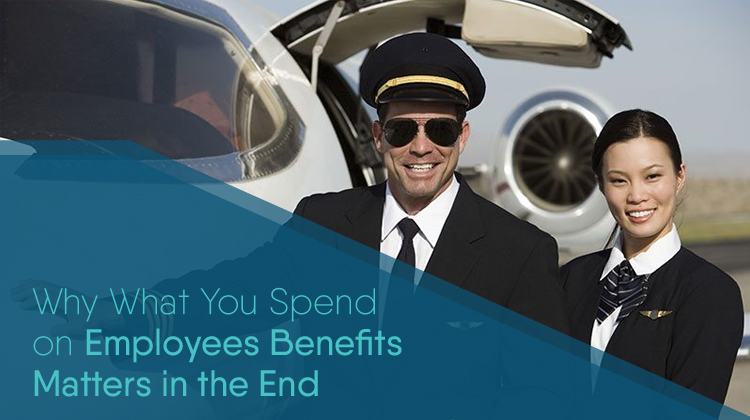 In any business where the operating costs are high – such as running a private aircraft service – budgeting can prove to be one of the biggest challenges. Apart from the staggering sums involved in operating a fleet, employee costs will also account for a sizeable fraction of the budget.
Still, the amount spent on employee benefits can have a significant impact on your success. Below we look at a few reasons why this is important.
1. It builds a positive relationship between your company and its employees.
A good employer-employee relationship is built on trust and respect, which isn't easy to foster your employees feel like the company is trying to get away with providing them the bare minimum. Employees hold in higher regard the organizations that care for their health and well-being.
2. It keeps turnovers to a minimum.
Benefits and incentives are among the factors that decide whether an employee stays or goes; a business stands to lose its best employees when they feel they are not properly compensated, or when they receive better offers elsewhere.
Benefits can help make sure your best employees stay around so that your company keeps working as it should. The alternative means losing time and resources on hiring, screening, and training replacements, as well as sacrificing productivity while you're one key staff member short.
3. You can hire better people.
Good benefits on top of a competitive compensation package are crucial if you want to work with the best people in the industry (and, when it comes to critical and client-facing jobs like pilots and cabin attendants, you do.)
Furthermore, the more unique and highly technical the skillset required for the position you're advertising (such as, again, pilots or aviation engineers), the more competitive you need to be with your offers.
4. Healthy employees are productive employees.
Illnesses, physical discomforts, and overall poor health can mean that even the most motivated employees are not able to perform at their best. By contrast, workers that are in good condition physically – which tends to affect their emotional and mental condition as well – are in a better position to maximize their potential.
5. It boosts company morale.
Creating a good, constructive company culture begins with boosting job satisfaction; no amount of team-building activities can foster sincerely good culture unless the individuals feel that their jobs are a net positive factor in their lives.
Providing fair benefits can significantly affect how your employees feel about their position, and in turn, determines their day-to-day morale. When this is the case, you won't need to have management trying all manner of team-building activities, pep talks, and policies in an attempt to create a positive working atmosphere.