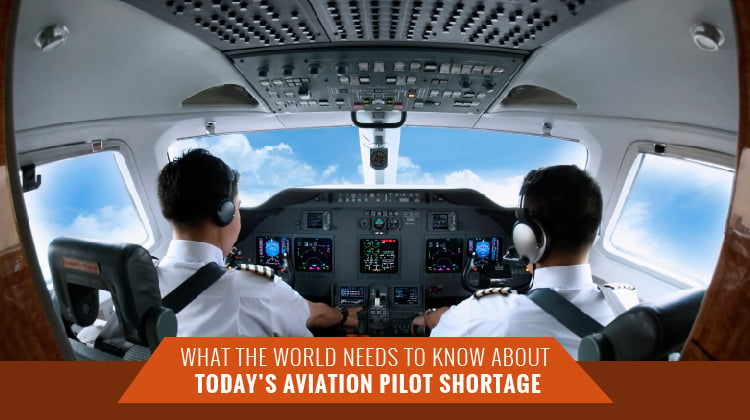 Once upon a time, kids grew up dreaming of flying. Whether it was watching the birds soar through summer skies or having exhilarating flying dreams at night, there was something that pulled bright, young people to the skies en masse.
In recent years, though, airline pilot numbers have changed drastically, and the aviation world is now facing a pilot shortage that's extremely worrisome.
This lack of qualified pilots is having a detrimental impact on the airline industry, and companies throughout the world are starting to take aggressive stances to address it.
Why Aren't Kids Flying Anymore?
The first question the aviation industry faces in this pilot shortage is "why?"
Why aren't kids starting to fly, and what's responsible for making the friendly skies seem less appealing today than they were just a few years ago?
The answer, many seasoned pilots believe, is a distraction. Today, kids that might otherwise consider a career in aviation are too wrapped up in social media and their cell phones, and many never even realize that a career as a commercial pilot is possible.
As such, the rate of qualified pilots coming to commercial aviation is declining drastically, which is bad news for air transport companies around the world.
How is the Aviation Industry Responding?
In an attempt to address the pilot shortage, some aviation companies throughout North America are starting to pay much higher rates than they ever have before. These rates are designed to attract pilots to the world of commercial aviation and to help recruit pilots from distant places like China.
Today, many seasoned pilots who have spent their lives in the field are worried that aviation is a dying trade, even though the demand for skilled pilots has increased dramatically in recent years. As such, these veteran pilots and the major airline companies they work for are looking for smart ways to attract qualified pilots to keep the industry alive.
How Jettly is Stepping in
At Jettly, flight is our foundation, and we're stepping in to breathe life into the aviation industry once more. Our goal is to inspire entrepreneurs and pilots and provide a steady stream of income for today's skilled young pilots, thanks to our unique Jettly Gigs marketplace and the increased booking potential it offers.
While it's true that a career as a pilot isn't as popular with young talent as it used to be, this has to do more with the young talent than it does the career itself. After all, being a pilot has only changed for the better in recent years.
With companies like Jettly, people who train to be pilots can travel the world, meet exciting new people, see exotic things, make great money, and live a lifestyle most of them had never dreamt of having. As air travel becomes more and more advanced, companies around the world are actively pursuing intelligent, dedicated, adventurous men and women who want to break into commercial aviation or fly for private clients.
Today, the opportunities offered by a career as a pilot are virtually limitless. Modern pilots can fly for major airlines, work with private clients, or even start a charter operation out of their local airport and connect with the Jettly operator network for a consistent flow of customers and bookings.
While there's no doubt that the stream of pilots has dipped off in recent years, it's clear that this is just a new phase in the aviation industry. Today, the people who choose to become pilots are few and far between because they want something different: they want an adventurous life over which they have full control. And they're willing to work hard to help that unique come true.
To learn more about what you can gain by flying with Jettly, sign up as a pilot today!