What if you could fly your own private aircraft where you want, when you want, and still make money?
Sounds too good to be true, right?
Well that's exactly what we're doing with Jettly Gigs. Finally, pilots and operators can make money flying their own private aircraft for local customers.
Just do what you love: fly!
Let us worry about the rest.
We're Setting a New Global Standard for Private Air Travel
Jettly provides something completely unprecedented in the aviation industry: affordable luxury private air charter flights from certified local pilots through an easy-to-use booking platform.
Travelers cringe at the thought of commercial flights because they're uncomfortable, unreliable, and stressful. Pilots are bound to airline codes, restrictions, and rigid schedules.
Not anymore.
We're revolutionizing private air travel, and we want you to be a part of our journey.
Let Your Plane and Jettly Work for You
Signing up on the Jettly website only takes about ten minutes. And when you're done, the customers come directly to you.
It's really that simple. Just create an account, upload some fresh photos of your aircraft, select your price and location, add a flight route, and just wait for the customers to roll in.
Simply sign up, sit back, relax, and let Jettly do the work for you. And we mean all of the work. Marketing, website development, graphics design – Jettly does it all. As a Jettly WingmanTM, you get unlimited access to all of this and other exclusive benefits. No strings attached.
Using our streamlined Jettly app or website, clients browse planes, pilots, and flights. You'll get an instant alert when a traveler books your flight. Just confirm or deny the transaction, schedule the pickup, and get ready to fly!
Most pilots cover their operating costs by flying just nine private air charter gigs each month. You can finally fly local travelers and make extra money.
You can finally fly private air charter gigs on your own terms through Jettly.
How to Start Making Money with Jettly Gigs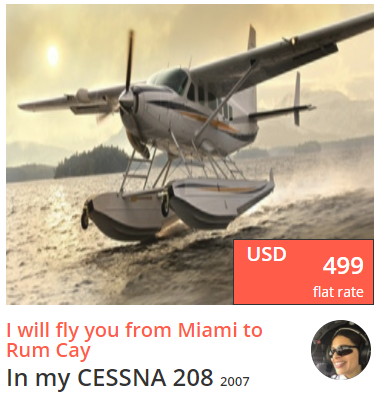 1. List Your Plane on Jettly
Creating your listing only takes a matter of minutes. Just describe your aircraft and upload some photos.
Choose your preferred currency denomination and payment methods. You're completely in control with Jettly Gigs because we take no commission from your earnings.
2. Respond to Customer Travel Requests
You'll instantly get an alert when a client requests your gig. Once you get a request, just confirm or deny the trip.
Have any questions? You can communicate directly with your clients. They may request a pickup at a local airport or certain dietary restrictions.
You can help customize their experience. Flying is finally personalized and intimate with Jettly.
3. Coordinate the Meetup
Pilots get to arrange pickup directly with the customer. It doesn't get much simpler than that! Check their identification, collect their payment, and run through all the safety protocols.
Upon landing, schedule a return flight with your traveler. Sometimes customers may only want a one-way trip.
4. You're in Control
Pilots can easily rate and review their passengers. This ensures a trustworthy and reliable marketplace for everyone involved. Safety is our top priority.
And since you choose the price, you're completely in control of the profits. Oh, and did we mention we don't take any commission from your earnings?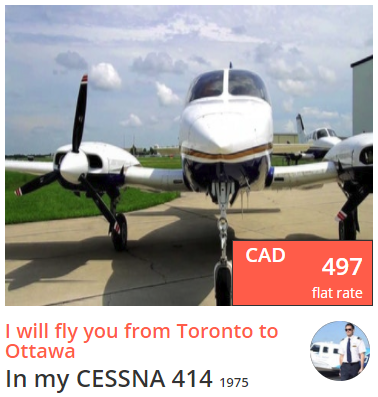 What You Get as a Jettly WingmanTM
Fire your booking agent, web department, and graphic designer because we have you covered from start to finish.
Hiring your own marketing department is expensive and the price can fluctuate from month to month. Seriously, how much are you spending on these services each month? $500? Maybe even over $1,000?
Stop wasting money, Jettly has your back. As a Jettly WingmanTM, you get our full support anytime via phone, email, or chat.
But for a flat $370 per month fee, you get unlimited everything with our Wingman Program. And we mean everything.
Unlimited Gigs: Fly as often as you please with unlimited gig trip requests and gig listings. Have more than one plane? List them all – there's no limit!
Unlimited Website Development: We cover all your website updates and management. You don't need to seek out your own customers anymore. Just sit back and relax because we've got it.
Unlimited Graphic Design: T-shirts, brochures, Facebook posts, and more. You name it, we'll take care of it. Upon signing up, we'll put you in touch with your own personal designer and marketing team. Most design requests take about one business day depending on the team's current workload.
Unlimited Earnings: You choose your price and currency. Fly as often as you please. There's no cap on earnings and we don't take any commission. You keep everything you earn from the Jettly WingmanTM
Exclusive Corporate Benefits Package: As a Jettly WingmanTM, you along with five of your staff or family members receive exclusive access to discounts on thousands of name-brand products and services.
"Wait, What's the Catch?"
That's the beautiful part: there's no catch, no secret fees, no strings attached.
Your monthly flat rate of $370 gets you access to our unlimited booking and marketing services. Just sign up, list your plane, and wait for the customers to come to you.
With our special benefits package, you still get all the perks of flying for a major airline without any of the hassles.
Still not convinced? That's okay. We understand this service seems too good to be true.
That's why you can sign up for our Solo program for $0. Yes, free. You get one aircraft listing, gig listing, and one gig trip request each month.
So go ahead, take our service for a spin. Once you charter your own private plane with Jettly Gigs, you'll wonder why you ever flew for a commercial airline in the first place. No airport security, delays, canceled flights, or restrictions.
Become a Jettly WingmanTM Today
Signing up is quick, easy, and only takes about ten minutes.
After you sign up, you'll complete a quick onboarding call. This is when we welcome you to the Jettly WingmanTM club and show you around. This process takes about a day or two.
At this point, we'll introduce you to your personal web developer and graphic designer. We'll also hook you up with a special welcome kit. From there, it's all in your hands.
Just start creating your unlimited gig listings: upload your photos, describe your aircraft, select your price, and wait for the Jettly gig trip requests to roll in.
Well, what are you waiting for? Signing up is fast and easy so you've got nothing to lose. Let your plane or aircraft – and Jettly – start working for you today!
Read the Jettly WingmanTM MANIFESTO