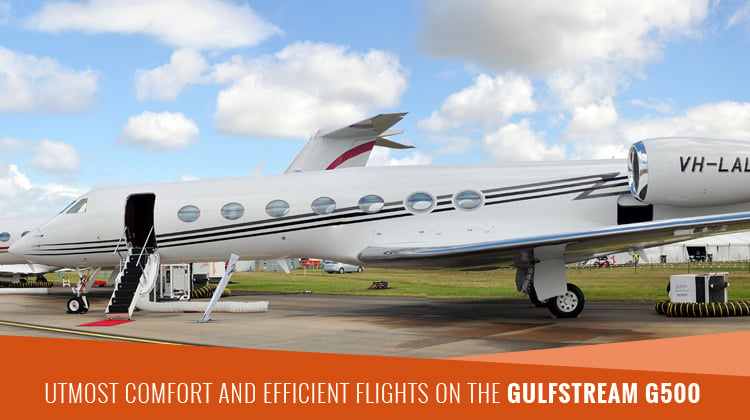 Would you like to travel on the newest, most efficient business jet? If you're planning to take on an international trip soon, the Gulfstream G500 would be one of the top planes to suit you. On the average, this aircraft can seat 14 passengers and make sure all those aboard will experience the refined features every executive traveler needs. As a long range plane it also has the amenities to sustain passengers during long hours of flying. Equipped with a galley, plus a spacious cabin you can continue to conduct your transactions or rest for a bit while on your way to your destination.
The Gulfstream Aerospace introduced this limited edition, business jet during the second quarter of 2015. While it was under development in 2016, the Gulfstream G500 is set to fly in 2017. A walk through on this plane's interiors can give prospective passengers the idea of functionality, comfort, elegance and practicality. For those who seek refined flying experiences, they'll certainly be inspired and well rested on this plane. Get geared up to make the most of your business dealings, while and after flying aboard the Gulfstream G500.
Photo Credit: Robert Frola
Efficient, International Itiniaries
The Gulfstream G500 can travel within the range of up to 5,000 nautical miles. This means you can experience your very own lounge and meeting place in the sky, while en route from London to California. You can even experience the fineness of flying if you're coming from Tokyo and on your way to Northern California. This aircraft's cabin is also laid out depending on your charter's initial customization. Hence it would be necessary for you to confirm the facilities you'll have upon chartering for this aircraft.
Here are some cabin specifications which you look through, so you'll have a better idea of what you'll experience on board the Gulfstream G500:
Can seat up to 14 passengers
Height of Interior: 1.88 meters
Width of Interior: 2.24 meters
Capacity for Luggage: 226 cubic feet
Maximum Takeoff Weight: 76,850 pounds
If you'll need to fly with more executives, you might be allowed to have 19 passengers aboard the Gulfstream G500. Be sure to confirm the plane's capacity with your charter to ensure the safety and efficiency of your flight.
A Jet Built for International Flights
As you enjoy the sleek amenities of this aircraft, you'll also find how it can reach a 10,000-kilometer destination. Feel free to travel the globe, as the Gulfstream G500 can get you to reach Beijing or Tokyo if you're flying from Ontario. If you have to take a route from Turkey to South Africa, you can also rely on the plane to get you there. By riding on this aircraft, you can be sure to go around the world without having to wait around for connecting flights. With just one entire ride, you can experience hours of comfort in this aircraft's interiors.
Know more about its performance with these specifications:
Speed: 500 knots (kts) or nautical miles per hour (nm)
High Cruise Speed: 516 kts
Range: 5,800 nautical miles
Maximum Cruising Altitude: 51,000 feet
As this plane takes you far and high, you can also check whether its charter provider has an area for sleeping. You'll especially need to have a rejuvenating, restful sleep if you will fly at night. Gulfstream Aerospace roughly has 5 units of G500 flown in the market today. If you're looking for a unique experience on board an executive jet, you'll certainly be in for a treat on this aircraft.
Taking on an intercontinental journey? Then the Gulfstream G500 is just what you're looking for. See our system below and get your very own live quote today: