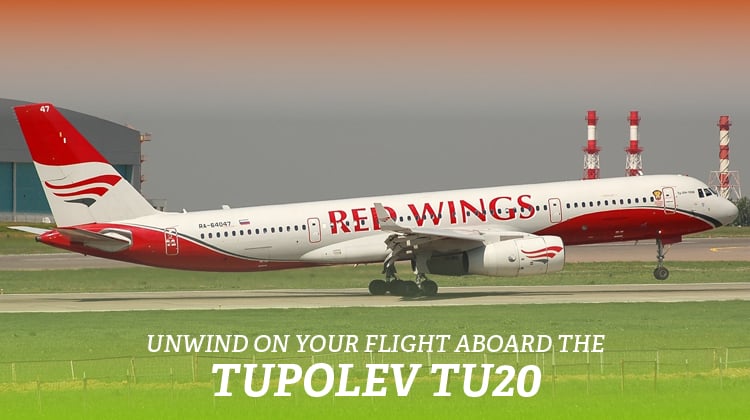 VIPs are frequently fond of hopping aboard the Tupolev Tu204 because of its spacious and luxurious features. The aircraft's commercial version can seat over 200 passengers, and this gives you an idea of how roomy the plane's private version would be. Known to fly medium to long range destinations, the Tupolev Tu204's competitive performance is usually compared to Boeing 757.
Since the Tupolev Tu204's first flight in 1989, many variants of this plane have already been developed. From the Tu204c until the Tu204SM, batches of upgrades were made to promote convenience among passengers and flight efficiency for pilots. Along with its spacious cabins and increased luggage capacity, the aircraft currently has a glass cockpit, improved avionics and winglets. This plane is also designed for cold weathers, as it can safely glide through much colder horizons with its anti-icing components.
Photo Credit: Pavel Adzhigildaev
Has Spacious Cabins for Various Functions
You can invite 40 of your friends, business partners or loved ones to fly with you, and you'll still get to experience the plane's spaciousness. Each seat has a comfortable leg room and if you're using the jet for business, it has meeting areas and lounges to accommodate your agenda. Be sure to ask your charter so you can learn more about what the Tupolev Tu204 can bring you.
Here are few of the specifications and features which you can find in riding the Tupolev Tu204:
Interior space is equivalent to 200 passenger seats
Height of Interior: 3.57 meters
Width of Interior: 2.16 meters
Standard Seat Pitch: 32 inches
Your Tu204 charter's seat pitch will still depend on how the seats are laid out and situated in various parts of the cabin. You can also inquire about the specific in-flight entertainment and amenities which you'll enjoy once you hop on the plane.
Top of the Line Performance
You'll know your riding aboard a top performing aircraft, when its very model is also used by logistics-oriented cargo and world-class pallet companies. The Tupolev Tu204 was made with efficient performance in mind. These are just some of the updated flying features which your prospective charter has:
Speed: 459 knots (kts) or nautical miles per hour (nm)
Cruising Speed: 434.49 kts
Range: 2,591 nautical miles
Service Altitude: 39,700 feet
Maximum Takeoff Weight (MTOW): 231,000 pounds
Maximum Landing Weight: 194,000 pounds
The Tu204's performance specifications may still vary, depending on the series which you'll choose. For instance, the Tupolev Tu204-300 can have a flying range of up to 4,995 nautical miles on maximum load. Since its introduction in 1995, more units of this aircraft are being produced and distributed for airline companies, charter businesses and private owners. This fact is quite telling of the Tu204's luxurious, reliable and efficient flight features.
Background Information
The Tupolev Tu204's roots can be traced back to two of Russia's largest production plants at Ulyanovsk and Kazan. This medium range aircraft was also the first to fly with engines sourced from the United States. The Tu204 is powered by Rolls-Royce RB211 and it was designed with the idea of replacing the Tu154 trijet. With the success of its base model, the plane witnessed more upgrades and additional series for various applications. Some of its variants were adjusted to carry more fuel so it can carry a much heavier gross weight.
Today, a number of airline companies have the Tupolev Tu204 as part of their fleet. Since its first flight in 1989, not a year has gone by that the plane hasn't been ordered for different flight purposes.
Looking forward to have a luxurious, medium range flight? If so, you may see our system below and secure a live quote today: