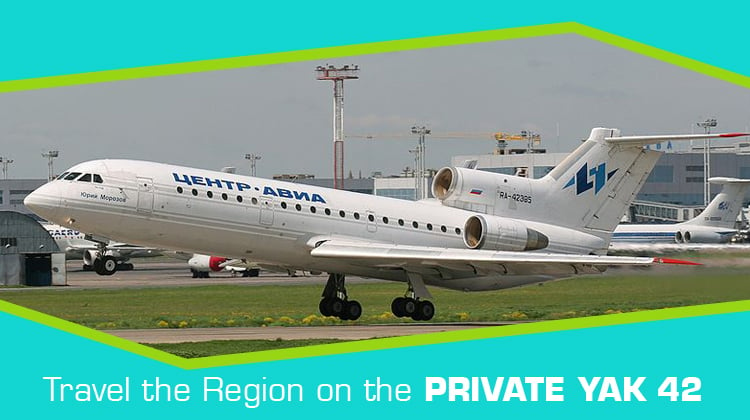 Will you embarking on a short haul journey? If so, one of the most convenient and luxurious ways to do so is to charter for a private Yak 42. This aircraft has a space equivalent to 120 passenger seats and it accommodates various types if facilities. These include meeting rooms, dining areas and lounges. Yakolev's Yak 42 also has updated passenger seats where they can be reclined for comfort.
Aside from having the option for you to recline your seat, you can also use the pull out table to relish your snacks and meals. After taking your refreshments and if you'd like to ensure your productivity throughout the flight, you can also use the same table as a workstation. Place your laptop on the table, so you may read through emails and update your cloud based documents for your departments to refer from. You can even use the aircraft's interconnectivity features such as its phone, so you can contact your team to delegate your instructions.
To make the most of your upcoming trip, it would be best to ask about the private Yak 42's facilities with the operator. Know more about the specifications of this aircraft and be sure to charter for your very own flight today.
Photo Credit: Gennady Misko
Convenient and Comfy Interiors
The Yak 42 has been upgraded and maintained to meet its passengers' ever rising needs. This aircraft also has a facility to freshly prepare your food and drinks. Some of its small appliances include a microwave oven, coffee maker with espresso machine and a chiller or fridge. To reiterate, it will always be best to confirm your plane's specific features with the operator.
These following interior details can be telling of how enjoyable your experience can get on board the Yak 42:
Space is equivalent to 120 passenger seats
Height of Interior: 3.6 meters
Width of Interior: 2.07 meters
Maximum Take Off Weight (MTOW): 126,765 pounds
Competitive Speeds for Short Haul Flights
As you hop on the Yak 42, you'll find its competitive speeds can make sure you'll reach your intended location at the soonest time possible. If you're coming from Toronto, Canada, you can reach as far as Newfoundland and Labrador, Texas, USA, or Colorado, USA.
Take a look through these following performance specifications, so you may have a better idea of how far and fast the Yak 42 can go:
Speed: 400 knots (kts) or nautical miles per hour (nm)
Range: 1,200 nautical miles or 2,222 kilometers
Maximum Altitude: 29,856 feet
Climbing Rate: 2,955 feet per minute
Will you happen to max out the flying range of your Yak 42? Then it would be safe for you to confirm about your jet's allowable passenger count and maximum baggage. Keep in mind to reach farther destinations within faster paces, you will need to hop on a much lighter aircraft.
Background Information
As a result of the collaboration between Yakovlev and Saratov Aviation Plant, Yakovlev Yak-42 took its first flight in 1975. It currently has 185 units produced and being flown all over the world. This aircraft has had 6 variants which followed to fit their corresponding applications. It served for both civil and military purposes. Compared to other short ranged, large airliners, the Yakovlev Yak-42 has the European certification so it can fly in the said continent without restrictions.
If you're planning up a flight to your nearby, international destination, then it would be advisable for you to charter for a private Yakovlev Yak-42. Make a reservation by seeing our system below and getting your very own live quote today.