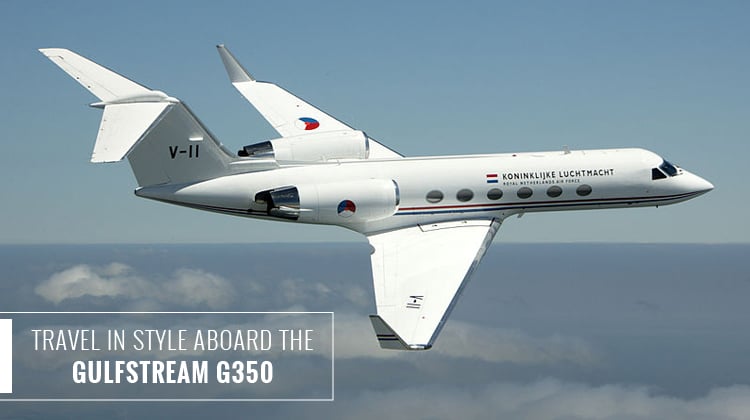 Now you can travel far and wide, and even in style with the 14 seat capacity of the Gulfstream G350. This aircraft's private interiors were customized to fit the needs of its passengers. With the Gulfstream G350's range, you can travel to as far as Budapest if you're flying from Ontario. To ensure you'll have a relaxing trip for 5 hours or more, be sure to confirm your flight's amenities. A standard Gulfstream G350 will have an area where you can place your food and drinks. In-flight entertainment amenities are also made available so you'll have an extra cozy and fun trip.
If you will be going on a flight for business purposes, each chair may have a pullout and foldable table. The said table may cater for food and drinks, plus you can also use it for working. A laptop may be placed on top of the table and its corresponding outlets may be provided by your charter service. There are many more reasons why travelling on a Gulfstream G350 means you'll be flying in style. Know more about their specifications and reserve your very own jet today.
Photo Credit: Ministerie van Defensie/Arnoud Schoor
An Enjoyable Flight with Sophisticated Facilities
The Gulfstream G350 is equipped with all the essentials and luxurious facilities you'll need to have a grand time while flying. While it can minimally allow for 8 passengers, the aircraft may accommodate up to 14 travelers in one trip. It has decent cabin space, considering the size of its fuselage. Some of its customized interior facilities include an galley to prepare food and drinks, lavatory and even a DVD player. Its seats' layouts will also vary depending on the preferred initial set up of your charter service. Aside from reclining seats, standard interiors usually include divans and tables with further-customized compartments.
These interior specifications are quite telling of how you'll experience the comforts which the Gulfstream G350 can offer:
Accommodates up to 14 passengers
Height of Interior: 1.88 meters
Width of Interior: 2.24 meters
Capacity of Luggage: 169 cubic feet
Maximum Take Off Weight (MTOW): 70,900 pounds
A Top Performing, Long Range Jet
Performance-wise, this aircraft is certainly a stand out among other planes within the same category. It has a considerably wider range, since it can cover distances which are much farther than most jets with the same passenger capacity. As you charter for the G350, it's advisable to confirm your target destination along with the number of people coming with you. This way, your service can maximize your travel time, while flying your to the airports which are nearest your intended locations.
The following performance details will serve as your guide, as you finalize the logistics of your trip:
Speed: 488 knots (kts) or nautical miles per hour (nm)
Range: 3,800 nautical miles or 7,038 kilometers
Maximum Altitude: 45,000 feet
Background Information
Manufactured by Gulfstream Aerospace, the Gulfstream G350 roughly has 870 units produced along with its variants within the same series (Gulfstream V and Gulfstream G450). With its primary users such as the United States Army, Air Force and Navy, the Gulfstream G350 continues to be a sought-after, high performing jet. Although this has particularly been developed with lesser fuel capacity, the aircraft was known to have a lengthier fuselage for more space. Similar to the G450, this Gulfstream aircraft has aerodynamic adjustments to improve on its load and range capacities.
Having an international flight soon? If you're planning to have a luxurious trip, it's very much advisable for you to charter for the Gulfstream G350. See our live system below and get your very own quote today: