Thinking of taking an international trip? One of the challenges involved in flying to far locations would be the long lines and cramped areas in airports. Now all these can be skipped by simply chartering a service on board the Falcon 900 / 900EX. This executive plane is one of the most sought after planes among jetsetters because of its comfortable features, convenient amenities and sleek looking interiors. When you ride the Falcon 900 / 900EX, you can be sure to have a pleasant experience with its quiet cabins.
As you schedule a trip on the Falcon 900 / 900EX, you'll surely reach farther destinations because the plane is powered by a trijet system. Most planes have the usual twin jet system. What makes the Falcon 900 / 900EX stand out is its additional source of flying power so more nautical miles can be reached. Whenever possible, you can even get more creative with your flight plans so you can reach your most ideal destination aboard the one-of-a-kind aircraft.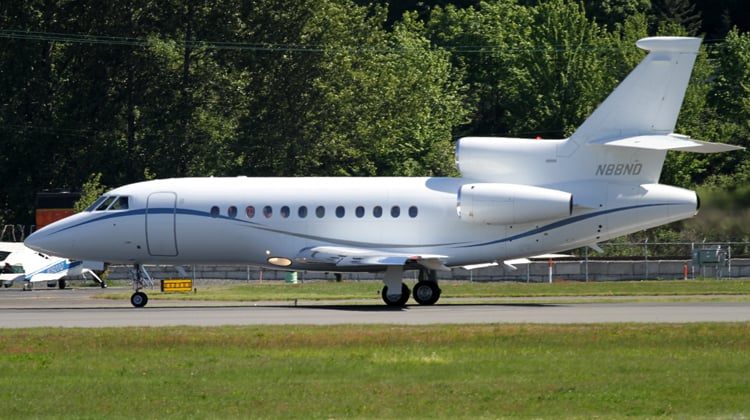 Photo Credit: Kentaro Iemoto
Cozy, Overseas Flights
Most commercial planes will have limited legroom. If you're intending to fly first class, there's still no guarantee you'll experience utmost privacy throughout a long flight. The Falcon 900 / 900EX would be your practical choice if you'd like to take the liberty of enjoying your flight however you may please.
A Falcon 900 / 900EX charter even allows for you to adjust the length of your seats. There are charters which include convertible seats among the interior features of their aircraft. When aboard one of their planes, you can prop up your seat to sit and look out the windows to see the sky.  If you'd like to take a nap or get some sleep, the same seat can be folded out and turned into a bed.
Here are some additional specifications to help you gauge your upcoming experience, should you decide to ride the Falcon 900 / 900EX:
Seats 8 to 12 passengers
Height of Interior: 1.88 meters
Width of Interior: 2.34 meters
Baggage Capacity: 127 cubic feet
Top Performance for Long Range Flights
The three-engine system of Falcon 900 / 900EX is what sets it apart from most private planes. With its trijet's flying power, you also wouldn't be worried much about flying over large bodies of water on a long range trip. Aside from its powerful capacity, this plane can also fly to and from airports with shorter runways. This feature will definitely give you more options as you plan up your itiniary.
Check out Falcon 900 / 900EX's performance specifications, so you'll know how far it can take you on your next international trip:
Speed: 447 knots (kts) or nautical miles per hour (nm)
Range: 3,800 nautical miles
Service Ceiling: 51,000 feet
Sea Level Takeoff: 5,213 feet
Allowable Distance for Landing: 2,411 feet
Background Information
Manufactured by a French company Dassault Aviation, the Falcon 900 / 900EX is an improved version of its predecessor, the Falcon 50. This intercontinental plane was announced during the Paris Airshow. Two of its prototypes were then flown within the next two years since it was introduced in 1883. One of the test flights it took was a long range travel from Paris to Arkansas. The Falcon 900 / 900EX's very first, official certification was from the Federal Aviation Administration (FAA). Maritime agencies were also among the initial requestors of the Falcon 900 / 900EX.
If you're planning for an ultimate international trip, you'll definitely feel like you're on top of the world when aboard the Falcon 900 / 900EX. See our system below and get a live quote from us: