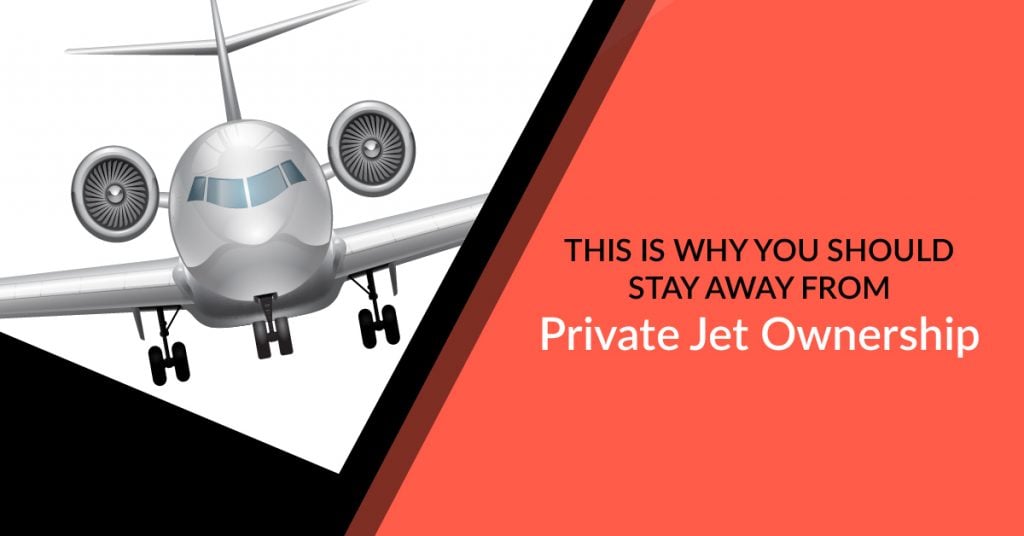 At the start of the year, you want to plan your investments and get the most out of your business.
With your business aviation needs growing year-after-year, you might be tempted to purchase a private jet. After all, private jet ownership means you have access to an aircraft whenever you need, and you control the costs.
While there are advantages to private ownership, purchasing a jet is a significant upfront investment — one that hurts the cash reserves of even large corporations.
So, before doing so, you might want to consider the important drawbacks to private ownership — the drawbacks luxury jet retailers might leave out of their brochures.
10 Reasons to Avoid Private Jet Ownership at All Costs
1. You Are Buying a Jet for the Wrong Reason
You want to flex your business power and show the competition how successful you are. While everyone might have a private jet these days, is that truly the right reason to purchase one yourself?
Unless your travel needs are the same or more demanding than the competition, purchasing an aircraft may not be financially savvy for your business venture. A sound financial advisor would instead review your flight needs, and possibly save you thousands by suggesting a relationship with a private jet charter marketplace instead.
2. Private Jets are Not a Great Investment
Typically, when you purchase something for your company, it is an asset. However, private jets depreciate just like other assets, which means you lose value. Over time, the value will depreciate and sometimes that depreciation is not consistent; it could be drastic.
Selling your jet would mean looking for high demand periods, and because the jet market changes so frequently, there is no telling when your private jet would be worth money again.
3. You Cannot Profit from Chartering Your Aircraft
Some companies invest in private jets assuming that they can charter them out when they do not need them. However, if your private jet is now chartered, it is not there for your business aviation needs.
Also, the higher the utilisation of your aircraft, the faster it will depreciate.
4. You are In Charge of Logistics
When you own your jet, you oversee the logistics. While you certainly could enlist a management company to create flight plans and handle the pickup and drop-off requests, you add more to your plate managing your aircraft than just booking a private jet charter.
5. Private Jets are Not Cheaper than First Class or Private Charter Rates
There are advantages to flying in a private jet, but with that comes the costs of maintenance, crew salaries, and more. So, while you might think you are saving, you may be surprised at how much more your private jet costs you per year than your flights booked through a private charter.
6. Your Flight Needs Will Change
It does not matter how frequently you fly today, every business has flight increase and decrease demands. So, purchasing a jet just because you had a busy year might mean an investment in something you rarely use the next year.
7. You are Responsible for All Maintenance and Repairs
The average cost to purchase a private jet is $3 million to $90 million if you buy new. Then you have maintenance and running costs, which CNBC estimates to be $700,000 to $4 million per year.
Even high-net-worth business individuals cannot justify these costs regardless of a high-demand corporate aviation schedule. With a private charter, the charter operator incurs the costs, and you just pay for the time you need the jet.
8. The Interior of Your Jet Will Go Out of Style
If you monitor interior design trends of executive jets, you will notice that each year those interiors change. While doing a quick renovation is relatively inexpensive, if you plan to sell your aircraft (which most owners do every four to five years), you must keep up with the latest amenities and design trends.
9. You are Purchasing As-Is
All aircraft have their quirks and flaws. Once you own that plane, you are responsible for maintaining it and if you buy used, you could be buying a plane with significant mechanical or structural problems.
Pre-Owned Aircraft Markets are Unregulated
While the aircraft is registered with the FAA, the inspection and process of purchase are not regulated by the FAA or any government agency. Also, prices are not set by the government, and the AOPA highly recommends looking into the number of flight hours booked on the engine and negotiating a lower price if an aircraft has excessive hours. Furthermore, damage history may not be reported on the FAA website.
Save Hassle and Avoid the Unknown Expenditures – Use a Private Jet Charter Marketplace
The idea of owning a private jet is certainly a dream come true, but once the reality of jet ownership sets in, many regret their investment.
You can avoid the costs, hassles, and regrets by just using a private jet charter for corporate aviation instead.
Jettly lets you conveniently find, book, and get where you need to be using an app on your smartphone.
Visit our website to browse available aircraft, then request a quote for your next corporate aviation need.
Continue Reading: