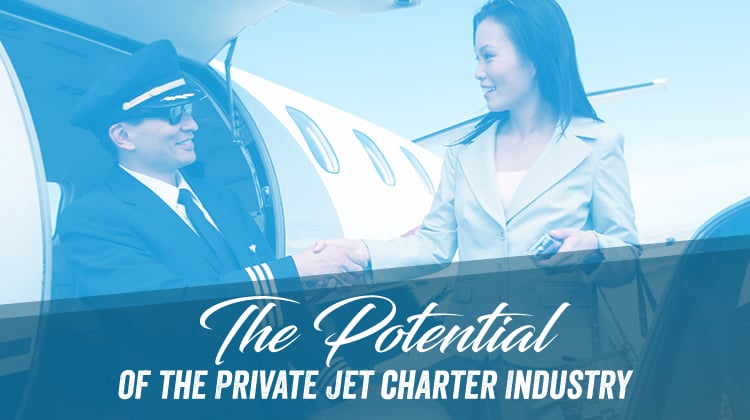 It doesn't take a rocket scientist to be able to tell us that the world is changing. With the growth of new markets and newfound access to developing ones, this is a truly a revolutionary time to be alive (and in business). With this change in accessibility to the rest of the world, we can find a whole new host of opportunities. Markets have been evolving to meet the changing demands of a worldwide audience and the question is now begging to be asked: just how high can the private jet charter industry soar?
To infinity and then a little further
The private jet charter industry is not just another business; it is a lifestyle and a status symbol personified. Understanding the potential of the private jet charter business lets us see how far it can go in the global marketplace. The biggest problem currently holding back the industry are some misconstrued ideas that prevent people from investing and getting involved. We wanted to share a few of them and show why they aren't the cause for concern that some might label them as:
• Private flying is an experience exclusive to the rich and famous: It's not always clear where people get their ideas from. For example, the thought that private jet charter is an industry that only caters to the rich and famous is simply incorrect. There are a variety of opportunities making it possible for one to get started in this business and be rewarded for it. As it turns out, the biggest barrier to entering the industry is a lack of knowledge and preparation.
• It is a waste of money: Just because a business went under doesn't mean the entire industry is hopeless. The idea that the private jet charter business is unprofitable has come from businesses that failed for a variety of reasons. Often, it was a case of their own lack of planning that did them in.
• You won't be able to get customers: If you're operating under the assumption that only the rich and famous are the ones taking part in the private jet charter business, it's not a shock that you might think this. The truth of the matter is that affordable and varied options have made it possible for a large number of people to enter into the industry.
The potential of private jet charter business
While those are some of the reasons the private jet charter industry is being held back, it doesn't stop the industry from lacking in potential. To remind you why business is booming, we wanted to share some of the reasons that more people than ever before are flocking to private travel:
1. They have a general love for air travel
2. It's an affordable way to travel in style
3. Private jets are luxury and class incarnate
4. Lack of safety myths are being proven incorrect
5. Jets are far more technologically advanced than planes
6. Private flights are ideal for unscheduled and time-sensitive trips
While the naysayers may tell you otherwise, the private jet charter business has only reached a fraction of its incredible potential!