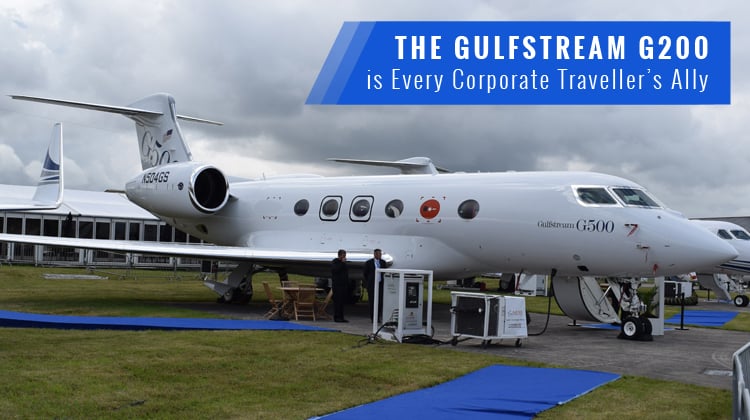 Looking to lightly travel far? Then you'd be glad to find how the Gulfstream G200's comfortable and convenient features can bring you to various parts of the world. Initially known as the Astra Galaxy, this long-range private jet is known to be much taller and wider than most aircrafts of its kind. It can accommodate 8 to 9 passengers, plus its cabin also has portable features so you can have delightful meals and pleasant meetings on board. It also has oval windows which will further enhance your views as you glance over the clouds beside or below the plane.
This mid-sized and long range aircraft was originally designed by the Israel Aircraft Industries for Gulfstream Aerospace. Since its introduction in 1999, about 250 G200s have already been produced to traverse the world's aerial atmospheres. When you schedule for a private flight on the Gulfstream G200, you'll be assured to have a relaxing experience for the next several hours. Know more about G200's in-flight facilities from your charter and schedule a trip aboard the plane soon.
Photo Credit: MilborneOne
A Spacious, Comfortable Ambiance
By going for a charter of the Gulfstream G200, you'll get to experience its spaciousness both in the cabin and its baggage compartment. Do you need to take on a long range flight and you'll be staying in your intended destination for several days? If so, this aircraft can ensure you'll stay comfortable and well-rested in preparation for your itiniary upon landing and arrival. It also allows up to 2 captains and 1 cabin crew to ride along with you. Overall the plane can allow a maximum of 18 passengers on a trip, as long as the count meets its standard takeoff weight.
Here are just some of the interior specifications to help you gauge the level of comfort you'll experience when riding the Gulfstream G200:
Seats 8 to 9 passengers
Height of Interior: 1.91 meters
Width of Interior: 2.18 meters
Length of Interior: 7.44 meters
Baggage Capacity: 154 cubic feet
Maximum Takeoff Weight: 35,450 pounds
Exceptional Performance
If you intend to fly internationally, the Gulfstream G200 would be your ideal ally to take you at the farthest destination possible. Since it has been introduced during the 90s, it has continuously been the go-to aircraft for business and leisure travelers.
The aircraft has the speed, range and ceiling to take passengers on long haul flights:
Maximum Speed: 482 knots (kts) or nautical miles per hour (nm)
Cruising Speed: 450 kts
Range: 3,400 nautical miles
Maximum Altitude: 45,000 feet
Estimated Flight Time: 5 hours
Among other planes within the same category, the Gulfstream G200 has a much lighter weight. This performance feature contributes to the range and speed by which this aircraft can fly.
Background Information
The Gulfstream G200 is a product of the collaboration between manufacturer Gulfstream Aerospace, and Russian aircraft designing company Yakovlev Design Bureau. Despite having to replace its partner with another company, Gulfstream Aerospace managed to push through the production and distribution of G200s. To this day, roughly 250 units are being flown in various parts of the world. While the aircraft has gained a significant following of private flight passengers, charter businesses find the G200 also cost efficient and convenient to operate. It is with these reasons that the plane continues to be sought after, decades after it has been first manufactured.
If you're embarking on an international flight, the Gulfstream G200 would be your best ally to make sure you'll have a comfortable trip. Hop aboard for a trip on this top aircraft. See our system below and get your very own live quote today: