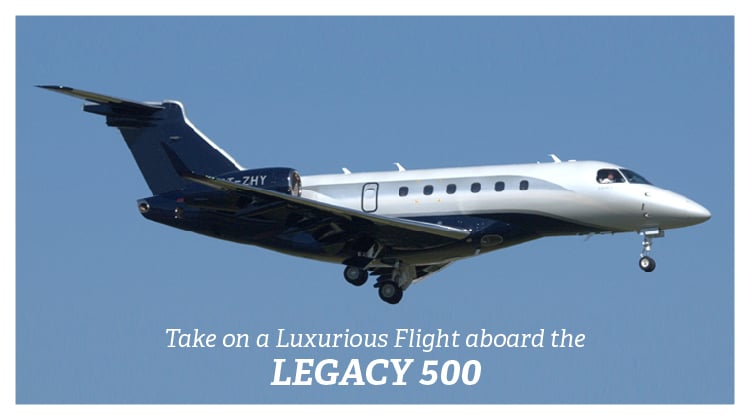 Planning to fly for a long range trip? Then treat yourself to a luxurious experience by hopping on a private charter aboard the Legacy 500. This mid-sized jet can accommodate up to 12 passengers within one whole trip. If you're coming from Toronto, the farthest location you can reach would be the Isle of Man, Ireland, Alaska in the United States and Ecuador. Among the latest planes from Embraer, the Legacy 500 has updated in-flight control systems plus customizable interiors.
When it comes to flying efficiency, the Legacy 500's speed is quite competitive among other planes within the same category. It even has STOL (Short Take Off and Landing) capabilities. This way, you can have more options in choosing the airports which are nearest to your intended locations. With the short strips taken on by the Legacy 500, you may also pick less crowded and non-bustled airports. Know more about the Legacy 500's specifications and charter for your very own, private flight aboard the plane today.
Photo Credit: Markus Eigenheer from Genève
Spacious, Convenient and Technology Driven
Embraer has certainly taken advantage of the latest in-flight features which passengers can experience and take delight in. The Legacy 500 has club laid out seats along with pull out tables. These allow for travelers to relish their meals or even work on their laptops within the next 4 hours of their trips.
Among other mid-sized planes within the same category, the Legacy 500 also has one of the most updated in-flight systems. These include high definition videos with surround sound and a Cabin Management System. With a few button touches, passengers may already have their ideal settings on the lights, audio and video features of the plane.
On top of its galley and lavatory's refined features, these interior specifications can guide you upon gauging the flight you'll have on the Legacy 500:
Can seat up to 12 passengers
Height of Interior: 1.82 meters
Width of Interior: 2.08 meters
Capacity for Luggage: 110 cubic feet
Maximum Take Off Weight (MTOW): 38,360 pounds
A High Performing, Mid-Sized Jet
While staying cozy in a flight, you can depend on the Legacy 500 to fly you at the fastest rate possible. Aside from enhancing its interior's features, Embraer also upgraded the Legacy 500's performing abilities. For instance, this aircraft can reach its maximum altitude within just 12 minutes.
These performance details can serve as your reference, in knowing how far and fast the Legacy 500 can take you:
Speed: 470 knots (kts) or nautical miles per hour (nm)
Range: 3,000 nautical miles or 5,556 kilometers
Maximum Altitude: 45,000 feet
Climb Rate: 3,750 feet per minute
Will you be flying to a farther than usual location? If so then it's advisable for you to also confirm the number of passengers who'll fly with you, along with the weight of your luggage. This way, your operator will best know the routes and schedules to set on your flight plan. Generally, a much lighter aircraft allows for you to reach the farthest destinations at the fastest pace possible.
Background Information
Manufactured by a world-famous, Brazilian manufacturer Embraer, the Legacy 500 had its first flight in 2012. This jet is made with the best possible materials, components and other features, which a mid-sized jet can have. Today, it has 23 units being flown around the world. With its price, top tier performance and updated in-flight amenities, this plane continues to be among the most sought after aircraft by private jet setters.
If you're planning to fly on a long-range trip soon, the Legacy 500 can be the jet to best fit your travelling needs. See our system below and get your very own live quote today: