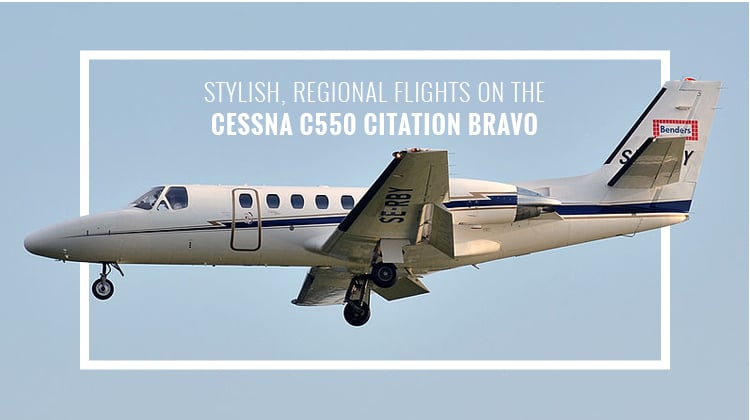 When you're hopping aboard the all-American made aircraft Cessna, you'll be certain to have an enjoyable flight all throughout. This is why regional charters are best experienced on the Cessna C550 Citation Bravo. The aircraft can accommodate 7 passengers, plus it also has sufficient luggage space for you to bring your essentials. The aircraft's cabins are comfortably designed and customized to suit the needs of its passengers. For instance, each seat usually has a pull out and foldable table so you may relish your meals. These can also function as workstations where you can prepare your presentations and read your emails, so you'll be ready for your meetings upon arrival.
Photo Credit: Anna Zvereva
A standard charter of the Cessna C550 Citation Bravo also includes WiFi access. If you're using this feature for business or travel purposes, you can be sure to stay connected with your friends, family and professional network. As a distinct feature among most of Citation's families, the Cessna C550 Citation Bravo is known to fly to and from short runways. This performance specification should be useful especially when you intend to reach the airport nearest to your intended location. Know more about the Cessna C550 Citation Bravo's specifications and schedule your very own flight aboard this jet soon.
Cozy Facilities in a Private Jet
Upon entering a standard Cessna C550 Citation Bravo, you'll be greeted with the cockpit on the left and a galley to the right. A further walk to the plane's cabin leads to the passengers' seats with club layouts and a divan. The lavatory is normally situated at the cabin's rear end. The plane's galley should be useful for relishing refreshments, as you fly within the next 2 hours or so.
These interior specifications may serve as your guide in gauging the level of experience you'll have, when on board the Cessna C550 Citation Bravo:
Can seat up to 7 passengers
Height of Interior: 1.42 meters
Width of Interior: 1.4 meters
Capacity for Luggage: 74 cubic feet
Maximum Take Off Weight (MTOW): 14,800 pounds
A Speedy, Wide-Ranged Regional Plane
This small jet can amazingly take you to the farthest regional destinations possible. Think of riding on a limo on the air, and experiencing so much more. It has comfy passenger seats which can be reclined, plus its legroom is also spacious for you to comfortably stretch out your feet. Performance wise, this plane is a favorite among agile flyers since it can take off and land to much shorter runways.
These performance details can serve as your guide so you will know what to expect by flying on the Cessna C550 Citation Bravo:
Speed: 350 knots (kts) or nautical miles per hour (nm)
Range: 1,780 nautical miles or 3,297 kilometers
Maximum Altitude: 43,000 feet
Climbing Rate: 3,195 feet per minute
Background Information
As part of the Cessna Citation family, the Bravo had its first introduction during 1995. This aircraft had Cessna FanJet 500 as its main predecessor. It is among Cessna's 7,000 units of highly sought after Citation jets. With newer Pratt & Whitney Canada engines and a Honeywell avionics system, this aircraft is also an improved version of six earlier planes. Particularly, the Cessna C550 Citation Bravo aircraft has over 330 units produced and being flown all over the world.
If you're considering an exclusive trip to a regional destination soon, the Cessna C550 Citation Bravo would be your aircraft of choice. With its customized, luxurious and comfy features, you'll be sure to have an enjoyable flight to your intended location. See our system below and get your very own live quote today: