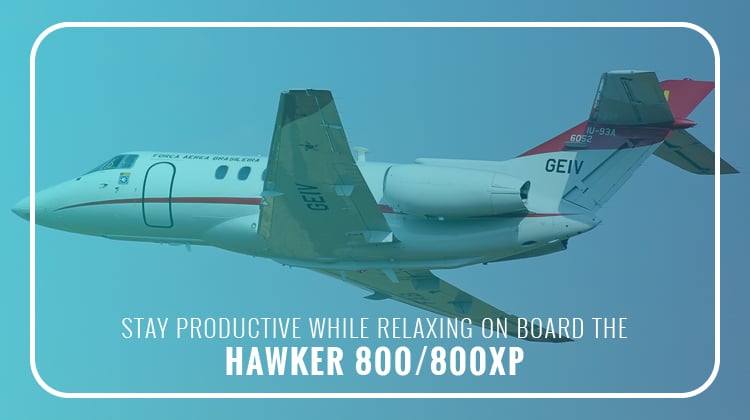 Many reviews have shared about how the Hawker 800/800XP may be considered as a boardroom in the sky. This executive jet was manufactured by three of the world's most renowned manufacturers, British Aerospace, Raytheon and Hawker Beechcraft. Today, there are roughly 650 Hawker 800s being flown in various destinations. The 800 and 800XP are known for their comfort, efficiency in performance and a moderately spacious cabin size. This medium jet can travel the coasts of North America, non-stop.
If you'll finish some business transactions while aboard the Hawker 800/800XP, you'd be delighted to know its cabins are quiet, making them conducive for meetings. This plane can seat 8 to 12 passengers, depending on your charter's configuration. The aircraft's interiors and seat pitches give off a spacious feel. Each of its seats is also placed in a way where passengers may stay comfortable while conducting negotiations. The plane has four seats, arranged to face each other, a three-seat divan and another seat near the divan.
Photo Credit: Renato Spilimbergo Carvalho
A Balance of Luxury, Comfort and Practicality
Upon chartering a ride on the Hawker 800/800XP, you'll find its 8-seating capacity's facilities can meet your needs especially if you're having an international trip. The cabin along with its headroom is spacious enough so you can walk a few paces to speak with your business partners. Its quiet ride may also be attributed to the interior's sound dampening effects. Should you be having a much lengthier trip, you may also ask your charter provider if they have seats which may be converted to beds.
To give you an idea about your upcoming ride, here are some of the Hawker 800/800XP's additional details:
Seats 8 to 9 passengers
Height of Interior: 1.82 meters
Width of Interior: 1.7 meters
Capacity for Luggage: 48 cubic feet
Built in lavatory
Be sure to ask your charter on the Hawker 800/800XP's other features, so you can make the most of your flight. The aircraft usually has a baggage compartment which can be accessed even during the flight. At the very least, the aircraft may also have a corner which allows passengers to prepare their snacks and refreshments.
Top Performance You Can Count On
Like most luxury private jet flyers, you most probably wouldn't want to be hassled by large crowds and long lines at the airport. Thankfully, chartering the Hawker 800/800XP means you'll have more takeoff and landing options in various airports. You may agree on a flight plan with your pilot so you can land or fly from more secluded locations. The Hawker 800/800XP can operate on smaller airports, as it only needs a 5,100-feet distance for takeoff.
Some of its performance details are as follows:
Speed: 447 knots (kts) or nautical miles (nm)
Speed during Long Range Flights: 400 kts
Range: 2,540 nautical miles
Maximum Takeoff Weight (MTOW): 28,000 pounds
Maximum Takeoff Thrust: 4,600 pounds
Cruising Altitude: 37,000 feet
Background Information
For over 33 years, the Hawker 800/800XP continues to deliver high quality performance and facilities for the enjoyment of its passengers. It was initially a program handled by the British Aerospace and within 2 years since it was sanctioned in 1981, the first Hawker 800 was flown for testing.
Due to its successful test flight, hundreds more were manufactured in 1988. Several more upgrades on its fuselage, engine, cockpit and wings were continuously applied, despite the three management acquisition phases it has gone through. The British Aerospace's project has been taken over by Raytheon Aircraft Company and later on, the Hawker Beechcraft Corp. had the responsibility to manufacture new batches of Hawker 800/800XPs.
As a savvy business traveler, you can be sure to balance business and relaxation by chartering for a Hawker 800/800XP. Simply see our system below and get your live quote today: