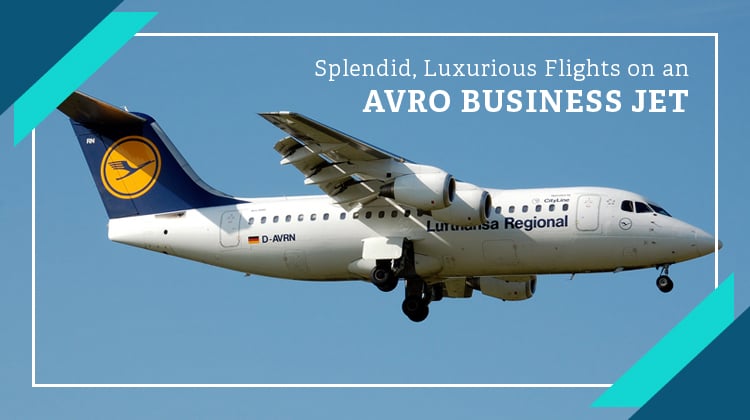 Inspired by the British Aerospace's aircraft series, the Avro Business Jet was manufactured to cater for business travelers. It's also a luxurious choice for leisure travelers who'd like to make their flying experience even more incredible. This roomy, private business jet is known to have one of the quietest cabins among its counterparts. Additionally, passengers will experience exclusive comfort since the jet can seat up to 46 people for every trip.
The Avro Business Jet was made with an airline-sized cabin in mind, while it's reasonably priced in reference to a regular business jet. Think of a commercial plane's size and take out hundreds of its typical chairs. What you'll have is a spacious area with few seats, and more private in-flight facilities for you to enjoy. This very same business jet is also uniquely known to land and take off on the most difficult airfields, anywhere in the world. If you're climbing on board from a remote area, you can still count on the Avro Business Jet in flying you to your intended location.
Photo Credit: Adrian Pingstone
Ranges of Customized Facilities
The Avro Business Jet can seat roughly 45 people during its private flights. Each air craft of a charter has its corresponding set of features, with commonalities in features such as seats with more legroom and galleys. Some charters have lounges and meeting areas to fit the needs of business travelers. These should enable VIP passengers to maintain productivity while comfortably enjoying each flight:
Seats 45 to 80 passengers
Seat Pitch: 40 inches for 45 seats
Length of Cabin: 17.81 meters
Width of Cabin: 3.42 meters
Height of Cabin: 2.07 meters
Luggage Capacity: 645 cubic feet
Maximum Flying Duration: 3 to 4 hours
This aircraft is usually flown in various countries of Europe. It can also serve as every traveler's go-to plane for regional trips.
Unparalleled Performance
Despite its huge exterior, the Avro Business Jet is also agile enough to land and takeoff challenging airfields. On the average, this private plane can flexibly fly even on terrains of mountains. It can also fly to and from regional or downtown airports. With the jet's flexibility comes the responsibility to reduce its emissions wherever it may fly. The Avro Business Jet implements its compliance on emission and noise regulations.
These performance specifications are based from the Avro RJ70, to give you an idea of what to expect upon riding the Avro Business Jet:
Maximum Speed: 434.49 knots (kts) or nautical miles per hour (nm)
Regional Cruising Speed: 404.97 kts
Range for Long Flights: 1,750 nautical miles
Long Range Cruising Speed: 389 kts
Maximum Altitude: 34,778 feet
Maximum Takeoff Weight (MTOW): 84,000 pounds
Given these performance details you'll be sure to reach your intended location, almost regardless of its terrain difficulties. The Avro Business Jet can definitely take on rougher airfields, while still making sure you'll have a comfortable flight.
Background Information
The Avro Business Jet is a luxurious and high performing upgrade of the British Aerospace's series of aircrafts. Various enhancement phases were implemented before the Avro Business Jet comes to fruition. The aircraft's journey began when the Hawker Siddeley group manufactured a regional, flight oriented plane called the HS 748. The project had the intention of bridging the technological and performance gaps of turbo prop powered aircrafts. The early format was flown in 1981 and Avro's RJ versions had their last batch of production in 2003.
Today, there are roughly 380 Avro RJs and British Aerospace variants being used for commercial and charter flights. All their features contributed to the development of Avro Business Jet.
The Avro Business Jet is your best choice if you'll need to fly to or from a remote airfield. See our system below and get your live quote today: