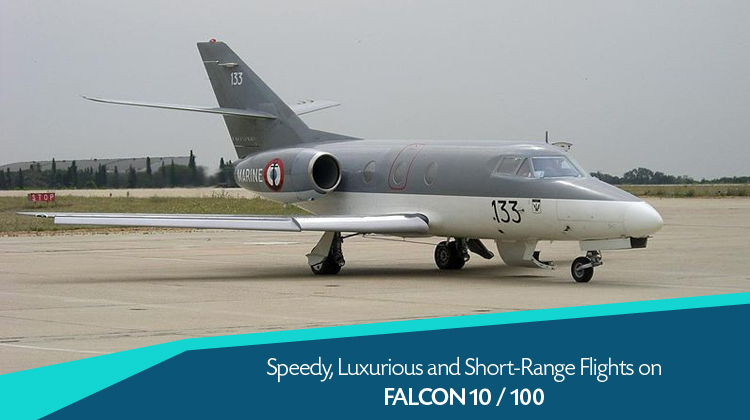 Instead of going on almost a day's worth of road trip, why not fly in style on board the Falcon 10 / 100? If you're coming from Toronto, Canada, driving to Manitoba takes a day or two depending on your pace. However flying on the Falcon 10 / 100 means you can reach the same destination in just a little over an hour. Additionally, its facilities are cozy and convenient. Hop on board the plane and you'll see the cockpit on the left, and galley to the right. There are also combinations of passenger seats and divans for you to lounge in.
Each passenger seat may be reclined, plus there's a pull out table for you to relish your meals. There are Falcon 10 / 100 units which have been customized with the passengers' enjoyment and entertainment in mind. Some operators have small television panels where you can watch your favorite shows or movies. Another standard feature of this aircraft would be the WiFi connection. With internet access, you can still get in touch with your friends, family and professional networks even while flying.
To make the most of your charter, it's always best to confirm the plane's facilities with the operator. Know more about the Falcon 10 / 100's details and schedule for your very own private flight today.
Photo Credit: M01 MAROT
Convenience in a Flight
With its sufficient cabin space, the Falcon 10 / 100 has the complete facilities to serve your flying needs. For instance, a standard galley on this plane will include small appliances such as a microwave oven, espresso machine and chiller. Compartments are also provided to store your cutlery and other materials related to preparing your food. To ensure passenger comfort, the Falcon 10 / 100 has a lavatory at the rear of this cabin. To reiterate, you can make the most your flight by confirming the plane's amenities with your operator.
These interior specifications can further guide you in gauging the flying experience you'll have on the Falcon 10 / 100:
Can seat up to 7 passengers
Height of Interior: 1.43 meters
Width of Interior: 1.43 meters
Capacity for Luggage: 49 cubic feet
Maximum Take Off Weight (MTOW): 18,739 pounds
Fast Paces for Short Range Flights
The Falcon 10 / 100 also has a competitive speed compared to most small jets. With a ceiling that's not too high, passengers can still get to enjoy the sceneries which they'll be flying over. Have a read through these performance details, so you may further have a better idea of how fast and far the Falcon 10 / 100 can go:
Speed: 404 knots (kts) or nautical miles per hour (nm)
Range: 1,600 nautical miles or 2,963 kilometers
Maximum Altitude: 35,000 feet
Will you happen to maximize the range of this aircraft? Then it would be advisable for you to inquire about its allowable baggage load and passenger count with the operator. Generally, a lighter plane lets you reach farther destinations at the fastest paces possible.
Background Information
Manufactured by Dassault Aviation, the Falcon 10 / 100 took on its first flight in 1970 and was officially introduced in the market during 1971.It has 4 other variants which have been upgraded to function for various applications such as executive trips and even military missions. Some of its main operators come from France, Canada, Morocco and Croatia. Today, over 200 of its units are being flown all over the world.
If you're taking on a regional or nearby international trip, it would be best to charter for a private Falcon 10 / 100. See our system below and get your very own live quote today: