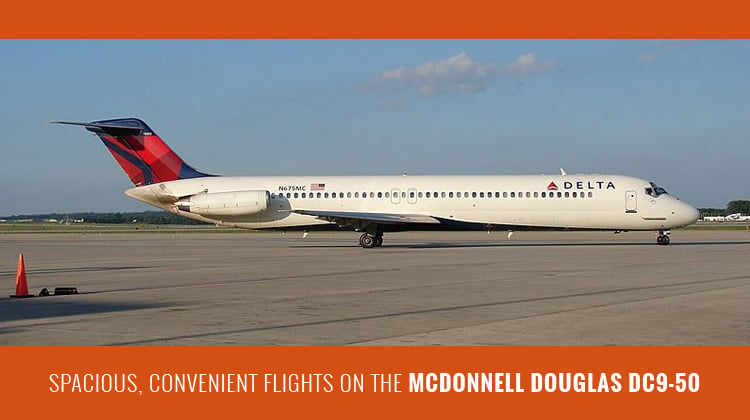 Regional and international flights are best experienced on a McDonnell Douglas DC9-50. This aircraft has a space equivalent to 139 passenger seats, hence private travelers can just imagine how much can be placed in its interiors. If you're traveling for business purposes, you may consider a meeting area for your partners. Your chosen operator would most probably have a customized set of in-flight entertainment features to ensure your 2 to 3 hour flight will be pleasant. To make the most of your trip, be sure to ask about how your plane has exactly been arranged by your service. This way, you may already plan out your upcoming activities while flying on board the McDonnell Douglas DC9-50.
The most updated McDonnell Douglas DC9-50 usually comes with a WiFi set up, so you can stay connected while flying. Each passenger chair has a much lengthier leg room hence you can feel free to stretch out your feet. It also has a reclining feature for well-rested flights. Know more about the McDonnell Douglas DC9-50's specifications, and charter for your very own flight on this large aircraft soon:
Photo Credit: Cory W. Watts
Luxury in a Large Aircraft
The McDonnell Douglas DC9-50 is the largest among the McDonnell Douglas DC-9 variants. A lot of customization options may be considered by various operators. This means you'll most likely have various facilities to choose from depending on your purpose of traveling. Its luggage capacity is also quite sizable so you can opt to bring cargo or store-related materials should you be traveling for business purposes.
To have an idea of how comfy the McDonnell Douglas DC9-50 can get, here are just some of the interior specifications you may consider:
Space is equivalent to 139 seats
Height of Interior: 3.08 meters
Width of Interior: 2.8 meters
Luggage Capacity: 1,174 cubic feet
Maximum Take Off Weight (MTOW):  121,000 pounds
Competitive Speeds for Wide Ranges
If you're coming from Ontario, Canada, the McDonnell Douglas DC9-50 can fly you to as far as Thule Air Base in Greenland or Guatemala. Your range of flight will depend on how many passengers are flying with you, along with the weight of your baggage. Thus, it's practical to confirm your passengers and baggage weight with your operator so you can accordingly have an efficient flight soon. Given your intended location, number of passengers and weight of baggage, your service will then be filling out the details and schedule of your flight plan. Keep in mind, a lighter aircraft leads to farther distances and faster speeds.
These performance specifications can guide you in gauging the efficiency you'll experience flying on the McDonnell Douglas DC9-50:
Area is equivalent to 139 passenger seats
Speed: 500 knots (kts) or nautical miles per hour (nm)
Range: 1,795 nautical miles or 3,704 kilometers
Maximum Altitude: 30,000 feet
Background Information
Among its McDonnell Douglas DC9 counterparts, the DC9-50 is considered as the biggest aircraft to hold 139 passengers in its commercial version. Its first service took place in 1975, and further improvements have taken place since then. The DC9-50 plane's other and earlier variants include the 15, 20, 30 and DC-9-40. They have lesser passenger capacities which can function for civilian and military purposes. Its main users include Delta Air Lines, Northwest Airlines and USA Jet Airlines among many other commercial companies. This aircraft even became one of the bases among Boeing 717 planes.
Planning to travel soon? Then it would certainly be a great idea to hop on a private, large aircraft with luxurious features. See our system and get your very own live quote today: