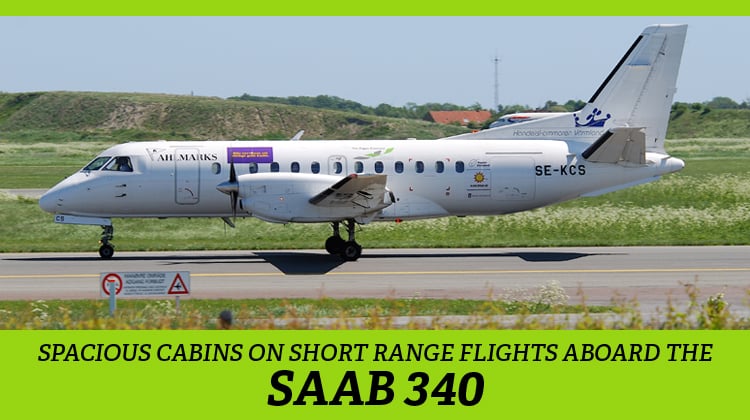 Planning a getaway to a nearby destination? If you're flying thousands of kilometers away from your point of departure, you can rely on the Saab 340 to reach your location. If you're in Ontario, you can fly to Manitoba and see the Prince of Wales Fort or walk through the sites of Kildonan Park. Weekend adventures are much easier to enjoy knowing you started it off with a convenient flight via a regional charter on the Saab 340.
The Swedish made, Saab 340 has a space which allows up to 37 passenger seats. With its spacious interiors and larger luggage capacity, you can be sure to bring all you'll need for your trip. This has been a reliable aircraft since the 80s as it had its corresponding variants for various applications. Over 400 units of this plane were also manufactured. Its international users, such as PenAir and Sky Bahamas Airlines can also be telling of how reliable the aircraft has been since it was first flown.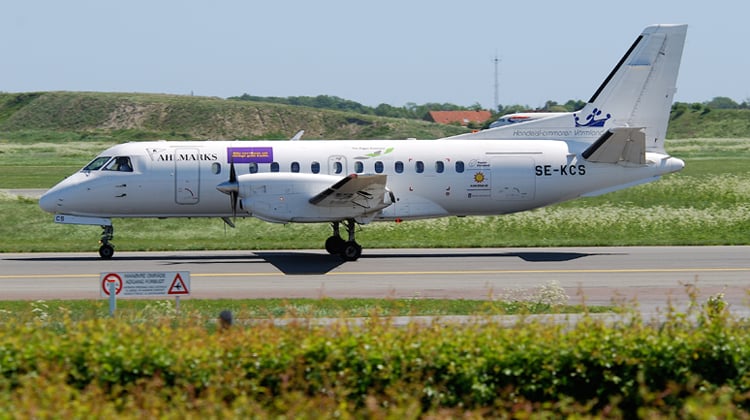 Photo Credit: Aero Icarus
Roomier Rides on Comfy Seats
Upon chartering for a Saab 340, you'll see how there are so many options for you to stretch out your legs and be in for an enjoyable flight. There are charter services which embarked on extra efforts to place convenient facilities on a private Saab 340. For instance, some services have foldable tables beside each stretchable seat. This way, passengers may feel free to enjoy their meals or work on their laptops right at the comfort of their individual spaces. It's however advisable for you to confirm the facilities of your private Saab 340, so you can plan out the best ways to enjoy your upcoming flight.
Riding the Saab 340 means you'll only need, a little over an hour to reach your short range destination. Given the short trip, you can enjoy the plane's spacious cabins. These specifications are telling of how enjoyable your ride can get:
Interior space is equivalent to 37 passenger seats
Height of Interior: 2.13 meters
Width of Interior: 1.83 meters
Capacity of Luggage: 293 cubic feet
Maximum Takeoff Weight (MTOW): 29,000 pounds
Sturdy, Breathtaking Flights on a Twinjet
As you enjoy the customized amenities of the Saab 340, you'll find how this aircraft maintains a steady flight with lesser levels of vibration. This plane is particularly known to have developed noise and vibration lessening technologies to further ensure cozier flights. These features are what you'll exactly need for a high speed, short range plane such as the Saab 340.
Performance Specifications:
Speed: 280 knots (kts) or nautical miles per hour (nm)
Range: 870 nautical miles or 1,611 kilometers
Cruising Speed: 252 knots
Maximum Altitude: 25,000 feet
Rate of Climb: 2,000 feet per minute
Background Information
Since its production in the 80s, the Saab 340 has been widely flown by commercial airliners and private jet operators. This aircraft is a result of a joint manufacturing partnership between a Swedish company Saab and a New York-based, American company Fairchild Aviation. Both of the manufacturers' competencies in components were combined, to come up with a sturdy aircraft that is the Saab 340. For this particular aircraft, Saab had most of its expertise focused on its sturdy aluminum fuselage and stabilizer. Fairchild then focused its component contributions on the two turboprop engines.
Throughout the aircraft's development, the Saab 340 roughly had 10 variants to serve their corresponding applications. Their purposes included services for traveling passengers, the Swedish Air Force, maritime rescue operations and freight transports.
Make the most of your regional trip, by flying on board the comfortable and spacious Saab 340. See our system below and request for your very own live quote today: