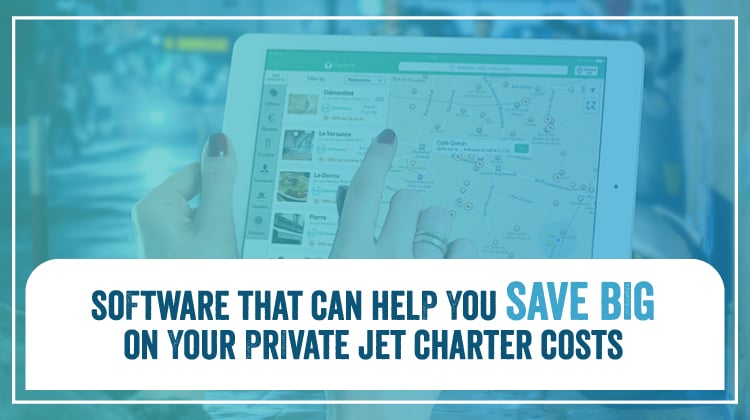 Running an aircraft charter business involves keeping track of a plethora of things related to budgeting and resource management. Meticulous and organized records are crucial for the business decisions that can draw the line between success and failure.
While there is no substitute for a team of conscientious and skilled employees for recording and analyzing your data, there are software services that can make the job more efficient, organized, and less prone to errors. Nowadays there are more and more software-as-a-service (SaaS) companies that provide scalable, cloud-based solutions to different industries. Below we look at a few options you can implement to streamline your jet charter operations.
Amazon Web Services
The e-commerce giant has ventured into SaaS bringing a massive suite of services, with solutions for cloud computing, storage, networking, developer tools, management, security and identity checking, business communications, communications, and other business needs.
Among the most widely-used AWS products is Amazon S3, a storage platform that boasts "99.999999999% durability" and allows the business to store and retrieve even large amounts of data from anywhere. There is also the Elastic Compute Cloud (EC2), a cloud computing platform that can be easily scaled according to the developer's needs.
Another popular Amazon service is the Simple Notification Service (Amazon SNS), which allows a business to manage push notifications (individual messages as well as announcements to a large number of customers).
NetSuite
NetSuite is one of the biggest names in the cloud-based SaaS industry, owing to its range of solutions for different business needs. Its flagship product NetSuite Enterprise Resource Planning (ERP) is a flexible solution that integrates data management for finances, orders, production, supply chain, inventory, procurement, and human resource. The software provides real-time business performance indicators to give you an easy overview of how your decisions are affecting your company.
Salesforce
Salesforce, another cloud-based SaaS, provides customer relationship management (CRM) solutions to businesses of different scales. The Salesforce software integrates the management of customer accounts and communication, customer service cases, lead generation, contacts, workflow automation, sales forecasting, and other features.
FlightOffice
FlightOffice is a comprehensive system designed specifically for managing flight operations. This software allows for greater ease in managing booking requirements and scheduling flights (including assigning the aircraft and crew as necessary).
The software also keeps track of dispatch records, as well as the pilots' duty times, experience and how recently they've flown. Aircraft events such as engine start, takeoff, and landing are also logged into the system, along with fuel and maintenance records.
Workday
Workday is another SaaS vendor that provides solutions for financial and HR management. Its financial accounting aspect combines transaction records, analytics, auditing, revenue management, as well as expense, procurement, and inventory monitoring.
Workday also offers a system for human capital management, which involves interfaces for workforce planning, recruitment, talent management, and payroll.