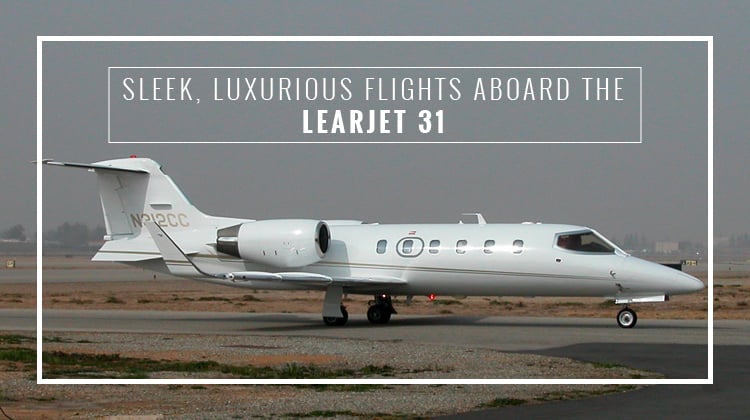 If you're taking on a regional flight, one of the best planes you can charter for would be the Learjet 31. This aircraft can comfortably seat y passengers as its standard format includes a galley to prepare your refreshments. Now you can fly in style for 2 hours or so, without having to wait around in cramped airports. The Learjet 31 also has more than enough cabin allotments so you can bring all you'll need as you reach your intended location. Be sure to further check your flight's customized facilities so you can make the most of your trip.
A standard Learjet 31 has club designed seats where you can feel free to stretch out your feet to stay cozy. The seats also have pull out, foldable tables where you can savor your in-flight refreshments. The same table may also be a workstation, where you may place your laptop should you need to prepare for a presentation or draft a document. With the plane's comfortable seats, you can feel more relaxed as you look out the window to see beautiful aerial views en route your destination.
Photo Credit: Alan Radecki
Roomier and More Convenient
Unlike most small jets which tend to have a more cramped in-flight feel, the Learjet 31 has a much roomier and breathable interior. Its standard configuration has seats for 7 people, a galley and a lavatory. The interiors were stylishly designed to look sleek and cozy for passengers. Each passenger seat also has its corresponding, customized console so you can feel free to adjust your lighting, seat angle and window pane.
These interior specifications may serve as your guide, as you gauge the level of comfort and convenience you'll experience while on board the Learjet 31:
Seats up to 7 passengers
Height of Interior: 1.49 meters
Width of Interior: 1.31 meters
Capacity for Luggage: 40 cubic feet
Maximum Take Off Weight (MTOW): 15,500 pounds
Fly Faster and Farther
The Learjet 31 may be considered as one of the fastest small jets among other planes within the same category. If you're flying from Ontario, you may reach as far as Salt Lake City in the United States. You may also fly much faster and farther, given you'll be traveling with fewer passengers with lighter luggage pieces. As you plan out your flight with a service, it would be advisable for you to finalize the number of passengers you'll be flying with.
Here are some performance specifications you may consider before hopping aboard the Learjet 31:
Speed: 418 knots (kts) or nautical miles per hour (nm)
Range: 1,455 nautical miles or 2,695 kilometers
Maximum Altitude: 51,000 feet
Climbing Rate: 5,480 feet per minute
Given its rate of climb, riding on the Learjet 31 means you'll be reaching the highest point of your flight in almost no time at all. You can fly high and reach the 51,000 feet altitude in 10 minutes at the very least. This can be telling of how fast the plane can get.
Background Information
Manufactured by then-named Learjet Inc., the Learjet 31 is now under the organizational tutelage of Bombardier Business Jets. It was an improvement of earlier planes, Learjets 28 and 29. The aircraft was first flown in the mid80s and since then many operators benefited from its agile qualities. Today, civil and military applications find the aircraft useful. Over 7 countries, such as the United States, Indonesia and the United Arab Emirates have the Learjet 31 in operation.
Planning to take on a regional flight soon? If so, then the Learjet 31 can let your travel in style with its spacious and customizable features. See our system and get your very own live quote below: