Going on a long range flight? Then you can have an awesomely luxurious one by hopping aboard the Gulfstream G300. This aircraft has a flying range that's wide enough you can reach as far as Barcelona, Spain if you're flying from Ontario, Canada. The Gulfstream G300 has the standard features for the comfort of its passengers, ranging from the galley, a decently spaced cabin and lavatory at its rear. Most fleet operators have WiFi as part of their in-flight features, so you can still stay connected with your friends, family and professional network wherever you go.
The Gulfstream G300 also has a competitive speed than most small jets, so you can reach your destination at a faster rate. Given your intended location, you must confirm the number of passengers you're brining along plus the weight of your baggage. Know more about the specifications of your prospective Gulfstream G300 and schedule for your very own, private flight today.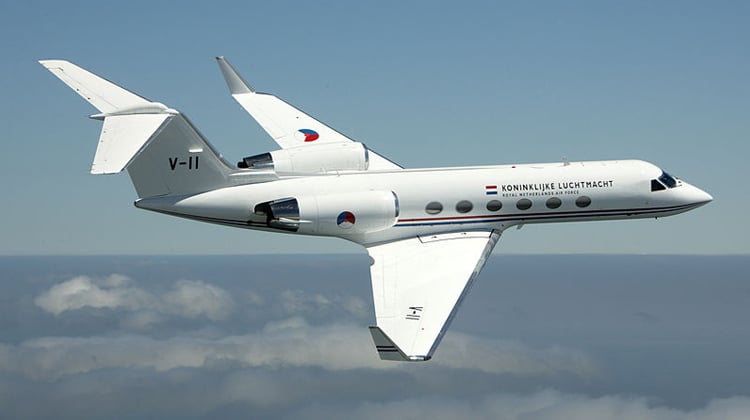 Photo Credit: Ministerie van Defensie/Arnoud Schoor
A Comfortable Cabin for International Flights
The Gulfstream G300 has comfy passenger seats and a divan. Its standard layout even includes a table where you may relish your meals, plus double as a workstation especially if you're on a business trip. The chairs may also be reclined or you may opt to bring pillows so you can stay comfortable throughout a 5-hour flight.
This aircraft's standard galley is equipped with small appliances and compartments for your refreshments. Some operators will place small details such as flowers on the table or embroidered pillows on the divans. To ensure you'll stay cozied up during your trip, make sure you'll also call your operator and inquire about its in-flight features. This way, you may know what to expect and plan out your upcoming activities upon hopping aboard the Gulfstream G300.
These interior specifications are just few of what you may enjoy upon chartering for a private flight aboard the Gulfstream G300:
Can seat up to 12 passengers
Height of Interior: 1.86 meters
Width of Interior: 2.23 meters
Capacity of Luggage: 169 cubic feet
Maximum Take Off Weight (MTOW): 73,200 pounds
Fast Speeds and Wide Ranged Flights
Compared to other long range jets, the Gulfstream G300 goes quite fast during long range flights as it is powered by two Rolls-Royce engines. Given your intended location it would be advisable for you to confirm the number of passengers riding with you. This also includes the weight of baggage you're bringing so you operator can efficiently jot down the details of your flight plan. Keep in mind, a lighter aircraft means you can fly farther and at a much faster rate.
These performance details can be telling of how fast and far you can go, upon hopping aboard the Gulfstream G300:
Speed: 500 knots (kts) or nautical miles per hour (nm)
Range: 3,286 nautical miles or 6,456 kilometers
Maximum Altitude: 45,000 feet
Background Information
Manufactured by Gulfstream Aerospace, the Gulfstream G300 is among the most sought-after private jets with the Gulfstream III, V, G350 and G450 as its counterparts. This aircraft is seen as the ideal ride especially for luxury geared jet setters. Its engines and other performance-related machineries have military backgrounds from about 20 countries, with over 24 organizations as its operators. Today, the United States' agencies also have the aircraft as part of their fleet. These include the United States Air Force, Army and Navy. The National Oceanic and Atmospheric Administration or NASA is also a user of this plane.
If you're taking on a long-range flight, it would be best to cozy up on the luxurious features of the Gulfstream G300. See our site below and get your very own live quote today: