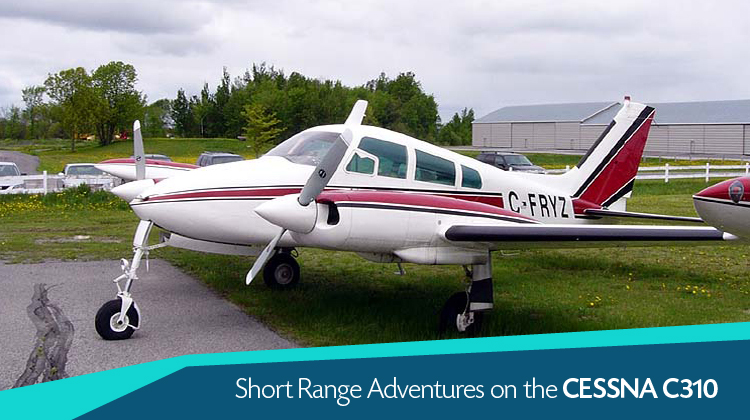 Need to fly real quick for a meeting? Or perhaps you're going on a weekend getaway somewhere that's not too far from home. Either way, flying on a Cessna C310 lets you cut your travel time from almost 14 hours' worth of road trip, to just 59 minutes. This 5 seat aircraft can even fly to or from smaller airports, with its STOL (Short Take Off and Landing) capacities. If you'd like to reach an airport nearest to your intended location, you can do so on the Cessna C310. With this aircraft, you can also avoid cramped airports plus choose a much more remote arrival area.
The Cessna C310 also has a practical set of interiors, which will suit the needs of no-fuss travelers. Within just less than an hour, passengers can take breathers and marvel in the mountains, landscapes, cities and other sceneries which you'll fly over. Know more about the specifications of this aircraft, and schedule for your very own private flight today.
Photo Credit: Ahunt
A Practical Cabin for Fun Flights
The agile Cessna C310 has interiors which allow for passengers to enjoy the sceneries which they'll be flying over. The wide windows bring in brightness to the cabin's interiors and the seats are comfy enough for you to sit in within less than an hour. One standard feature which an updated Cessna C310 has would be its WiFi connection. By having this facility, you can still stay connected with your friends, loved ones and professional networks even while flying.
These interior features can be telling of how enjoyable a ride on the Cessna C310 can get:
Can seat up to 5 passengers
Height of Interiors: 1.25 meters
Width of Interiors: 1.25 meters
Capacity for Luggage: 25 cubic feet
Maximum Take Off Weight (MTOW): 5,501 pounds
Your Nimble Performing Plane
This aircraft's STOL lets you have more airport options to fly from and land on. Now you can skip out on having to sit through traffic jams when you can get to your destination in just less than an hour. This plane would also be applicable for sightseeing tours. It has just the components, mechanism and avionics to maneuver through beautiful sceneries you'd like to fly over.
A glance through these performance features can be telling of how fast and far the Cessna C310 can go:
Speed: 207 knots (kts) or nautical miles per hour (nm)
Range: 676 nautical miles or 1,251 kilometers
Maximum Altitude: 20,000 feet
Climbing Rate: 1,700 feet per minute
If you'll be flying from Toronto, Canada, the Cessna C310 can let you reach as far as New Brunswick or Missouri, USA in less than an hour. Perhaps you're bringing your presentation materials or adventure paraphernalia. Either way, it would be best to confirm the plane's allowable load of baggage and passenger count with your chosen operator.
Load details are especially necessary when you're maxing out the aircraft's possible flying range. By following the aircraft's load requirements, your service can combine best possible routes and schedules of your flight plan in reference to your intended location. Generally, a lighter aircraft leads to farther flying destinations at the fastest pace possible.
Background Information
Manufactured by Cessna Aircraft Company, the Cessna C310 experienced its first flight in 1953. It roughly has 33 variants which have been made to meet the needs of various applications for military and commercial use. Today, its series has over 6,300 units built and being flown all over the world.
If you're taking on a short range adventure, the best way of doing so would be to charter a private flight aboard the Cessna C310. See our system below and get your very own live quote today: