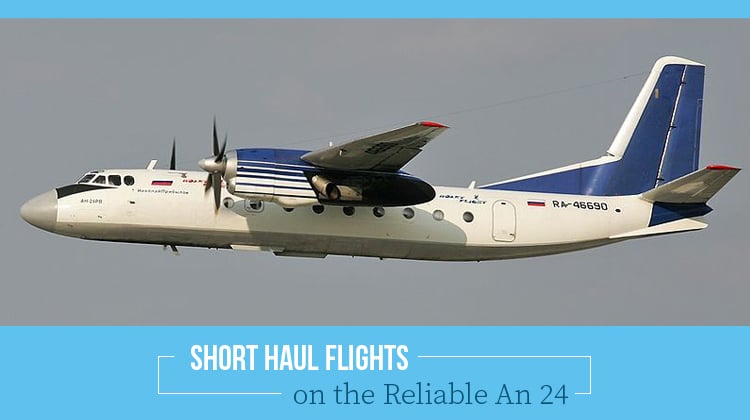 Going on trips with lots of cargo or passengers to fly with, is now possible when on the private An 24. This 52 seat aircraft has just the complete amenities to make sure you'll equally have a comfy and efficient flight. If you're coming from Toronto, Canada, the farthest destination you can reach would be Nunavut or Texas, USA. This aircraft has a convertible cabin which may include compartments or space for freight, along with the already laid out passenger seats. The plane even has a separate luggage compartment as part of its exteriors so you'll have more options to place your baggage.
Another standard feature of this plane includes a WiFi connection. By having internet access, you may already stay connected with your friends, family and professional networks while flying. For business trips, you can read through your emails and update your cloud based documents. You can keep in touch with your project partners and stay on top of your ventures throughout your short haul flight. If you'd like to relax, the plane's WiFi connection and in-flight entertainment also lets you unwind by watching TV series and listening to some music.
Know more about the specifications of the An 24 and book for your private flight on board this aircraft today.
Photo Credit: Dmitriy Pichugin
Lots of Convenient Options on a Plane
With the An 24's spaciousness, you can stay productive and unwind throughout your hour's worth of flight or so. The passenger seats have lengthier leg room and may be reclined for your comfort. It also has a galley where you can have your food and drinks prepared. A standard feature of this private jet includes small appliances such as a microwave oven, coffee maker with espresso machine and cooler or fridge. To further ensure passenger comfort, you can find this aircraft's lavatory at the back of the cabin.
These interior specifications can be further telling of how your experience on board the private An 24 can get convenient:
Space is equivalent to 52 passengers
Height of Interior: 8.32 meters
Width of Interior: 2.9 meters
Maximum Take Off Weight (MTOW): 46,297 pounds
Steady Speeds on Short Range Flights
The private An 24 is just the reliable plane you'll need for short range flights. With its steady speeds and moderate flying pace, you can take the time to look out the window and enjoy views of the skies.
These performance details can help you gauge how fast and far the Antonov An 24 can go:
Speed: 240 knots (kts) or nautical miles per hour (nm)
Range: 1,300 nautical miles or 2,407 kilometers
Maximum Altitude: 27,560 feet
Will you also happen to max out the flying range of this aircraft? If so, it's then safe for you to confirm its allowable freight or load weight, along with its passenger count. Generally, a lighter aircraft leads you to reach farther destinations at the fastest possible pace.
Background Information
Manufactured by the state-owned company Antonov, the An 24 experienced its first flight in 1959. It also currently has over 1,300 units produced and being flown throughout the world. This aircraft even has over 30 variants where upgrades were made to fit various applications. It has a combination of civil and military operators from over 46 countries, including Russian, North Korea, China and Poland.
Planning up a short range flight and you've got lots of cargo to bring? Then it would be a practical idea to hop on the comfy and convenient, private An 24. Book your very own flight real soon. See our system below and get your very own live quote today: