For the majority of people and businesses, the idea of hiring private jets when they travel seems out of reach. The cost of private jet charter is often out of most people's budgets.
And it isn't difficult to see why.
Private jets are the Tiffany's of the airline industry. They are the epitome of luxury. Those who are able to travel on private jets don't have to deal with the chaos of airports or the uncomfortable accommodations of coach seating on commercial flights.
But what if it was possible for most people to travel using private jet charter? This is a dream, right?
No, not at all! With a service called empty leg flights, private jet charter companies – like Jettly – are able to provide a luxurious flying experience at a fraction of the cost.
How can you take advantage of empty leg flights? To help you do this, let's first consider the ins and outs of private jet charter. This will help you understand why these flights cost what they do, and show you why and how it's possible to save massive amounts of money (nearly $15,000 in some cases) flying empty leg flights.
What You Will Learn
The 7 Reasons Private Jets Typically Cost More Than Commercial Flights
What Exactly Are Private Jet Empty Leg Flights? Why Do Air Operators Need To Fill Them So Badly?
How You Can Take Advantage of Private Jet Charter Empty Leg Flights To Save Boatloads Of Cash?
Average Savings By Flying Private Jet Empty Legs And How One Jettly Client Saved A Whopping $14,873.62 By Flying Them
Exactly Where To Purchase Empty Leg Flight Tickets At Even Deeper Discounts
And much, much more…
Private Jet Charter – Why Private Jets Typically Cost More Than Commercial Flights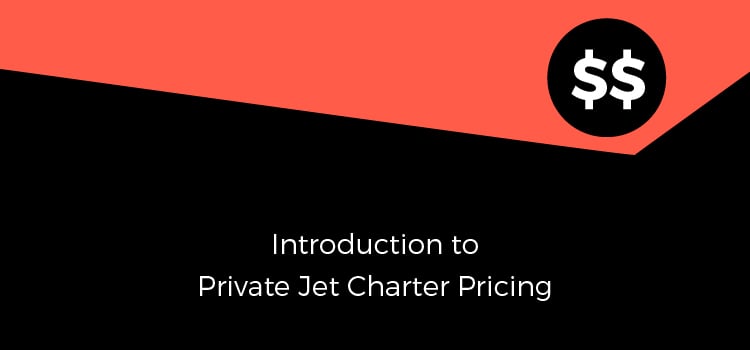 To get started, it's important to know why private jet companies charge the fees that they do. Typically, private jet charter costs can be broken down into these seven components.
1. The Cost of Fuel
When it comes to operating a jet, fuel is one of the most expensive costs. At first glance, the $3 to $5 per gallon cost of fuel (the cost is higher for jet fuel) might not seem like a big deal. After all, that's what many drivers have to pay to fill up their gas tank.
However, a plane can go through hundreds of gallons of fuel – every single hour!
There's also a difference in fuel grades and prices. Bigger jets need a different fuel rate than single engine jets – therefore, their fuel prices are exponentially higher.
2. The Weight of the Aircraft
The weight of the plane affects fuel prices. The heavier the plane, the more fuel it expends per hour. When you add the weight of crew, passengers, and luggage, the plane gets heavier and the prices increase.
3. The Type of Aircraft
Planes that are larger demand higher prices, not only in fuel, but also in being built. Bigger jets have larger, more powerful engines that propel them through the air. That requires a lot of time and money to build and maintain, as well as fuel and operate.
4. Services Provided by Charter Companies
Companies providing private jets for private use offer a wide variety of services. Smaller jets don't have the space to offer some of the services that the larger jets provides, which is one of the reasons they tend to be cheaper.
Larger private jets have the space and crew capabilities to provide the following services:
Oversized leather seats that are some of the most comfortable you'll ever experience (BusinessInsider.com gives you an idea of how amazing the interior of these jets are and just how much it would cost for a person to own one. Though out of the price range for most people, it's easy to see from their pictures why these private jets are so coveted!)
Security protocols are streamlined, meaning no more long waits at the airport.
The plane waits for you. If you're running late, you don't have to worry about the plane leaving without you.
Entertainment centers with televisions, Wi-Fi, and personal outlets. These entertainment centers allow you to conduct business or enjoy entertainment – the choice is yours. You get to utilize your time however you like.
Beds or sleep chairs. If you have a long flight ahead of you, this is the perfect opportunity to rest up. Divide your time between work and sleep. Then, if you have a business meeting to attend, you'll be freshly rested and well prepared.
Personal attendants. How would you like someone to be at your beck and call? Some larger private jet charter companies have the resources to provide their customers with personal flight attendants. Individual attendants will make your flight much more pleasant.
Pet charter. Some companies allow passengers to bring their pets along, and they'll be treated just like any other passenger.
Full meals. A lot of passengers are disappointed with the meal services of most commercial airlines. On a private jet, you'll get a full, catered, delicious meal.
The best flight staff around. Pilots and flight attendance are chosen based on their experience and passion for the job. They'll make your flight more pleasant, and make you feel like you're in good hands and that you'll arrive at your destination safely.
5. Any Stopovers You May Need
Another feature of private jet charter that can raise the overall cost is stopovers. The jet and crew are at your disposal. So, if you need to make stopovers along the way to your final destination, they can do that for you. However, it will likely cost more because of airport runway fees and local government taxes.
6. One-Way vs. Round-Trip
Just like commercial flights, a one-way trip is going to cost less than a round-trip ticket. There's the cost of fuel, operation, staff overhead, and more. Everything you have to pay for one-way will be doubled for a round trip. Thankfully Jettly is a much leander model than it's predecessor NetJets and you can save big.
7. The Pilot and Crew
Did you know that you could choose your own pilot? Many private jet charter companies have a network of pilots that allow you to choose one of your own liking. This can increase the cost, though, as not every pilot makes the same amount per trip. That often depends upon their level of expertise and the years of experience they have.
Besides the price of the pilot, some other costs that are included in the cost of chartering a private jet include accommodations for the flight crew. Let's say you decide to make a round-trip flight but your return flight won't take place for a few days after you land. In the meantime, the crew will need to stay in a hotel until you're ready to head back to your original departure city. That will figure into the charter costs.
With all of the costs involved in operating a jet and the services provided in private jet charter, it's easy to see why the prices aren't necessarily cheap.
This doesn't mean, though, that every flight is going to cost a ton of money. In fact, you can save a massive amount of money by booking empty leg flights from a private jet charter company.
What Are Private Jet Empty Leg Flights?
Just what are empty leg flights? Empty leg flights are the return flights after a pilot has just delivered a one-way charter passenger to their destination. Every time a pilot drops a passenger off, they have to return the jet to the original departure city. This is why private jet empty leg flights happen so frequently – the plane always has to get back to its point of origin.
Private jet charter companies can offer empty leg flights at the fraction of the cost of regular flights on private jets. Why?
In many cases, it's difficult to get a customer looking to take the exact route back to the departure city, at the exact time that the pilot needs to leave. Because of this, many of these flights aren't filled, hence the name "empty leg" – the plane is empty for that leg of the trip.
Air operators would rather make money by providing discount flights than lose it by keeping the flight empty. What does this mean for you?
It means you get to enjoy a comfortable, even luxurious, flight with many of the amenities that higher-paying passengers get – but at a fraction of the price.
In order to take advantage of empty leg flights, you need to be willing to be flexible. As was reported by the New York Times, most of these flights are one-way flights and typically last minute.
In the case of chartering a privately owned jet, these flights can actually be a gamble. If the owner of the jet wants to go on a last minute flight somewhere, the plane and flight crew are at their disposal – and the empty leg passenger is out of a flight.
But with a private jet charter company, the jet and crew are at the disposal of whoever charters the plane. Therefore, empty leg flights are less of a gamble, and an incredibly amazing deal!
How Much Do These Empty Leg Flights Cost Air Operators?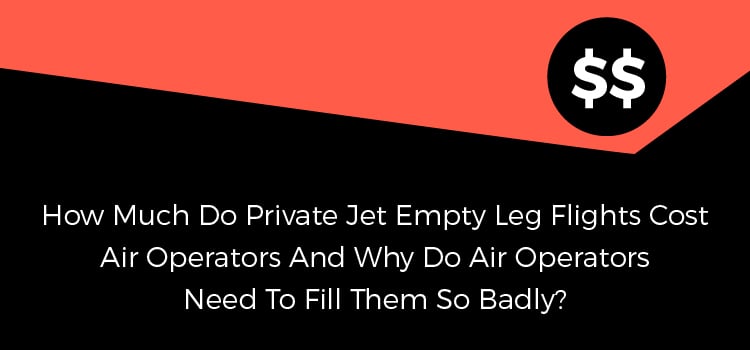 According to the New York Times report and interview with an English private jet charter company, nearly one-third of all private jets flights are actually empty.
For an airline to fly empty jets one-third of the time costs a lot of money!
This is why air operators are constantly looking for ways to fill these flights. The charter company can lose a lot of money with these empty flights. They still have to pay for the fuel and the crew, as well as the operation and maintenance of the jet itself.
In the past, if someone approached an airline and said they would pay them a fraction of the intended price of private jet charter – the response likely would've been laughter. After all, when they're used to receiving thousands of dollars per flight, what good would a couple hundred dollars do?
These days, though, more charter companies are seeing the error of their ways. Giving passengers the ability to pay a fraction of the cost for a comfortable, service-oriented flight experience is the wisest course of action. Why?
By giving passengers this option, the charter company can actually create an opportunity to get repeat customers. People who have a flexible schedule and can get the private jet experience at a lower price are more likely to choose empty leg flights than commercial flights when they have to travel. Why wait in the airport for hours or wait through long security lines only to be stuck in a cramped, uncomfortable seat for an hours-long flight?
Creating an affordable, comfortable experience is a sure way to get repeat customers.
And the air operators benefit, too. Though they may not be able to make as much as they would with a normal chartered flight, at least they're not losing money. The more empty leg flights they book, the better their chances are for making a profit over the course of a year.
Empty leg flights are a win-win for both passengers and air controllers.
How You Can Take Advantage of Private Jet Charter Empty Leg Flights
Would you like to take advantage of the affordability and superior flight experience of an empty leg flight? If so, there are multiple ways you can go about doing this.
First, you can look on sites like Jettly to find out what kinds of empty leg flights are offered, and for how much. As was mentioned before, most of these flights are last minute. So, a lot of private jet charter companies have potential passengers sign up for real-time notifications. You can get a text or email from the charter company when they have a flight available to your intended destination on a particular day.
Another way to take advantage of empty leg flights is to sign up for social flights. If there's a group you'd like to travel with, you can buy a flight at an even cheaper price. Imagine chartering a private jet for your entire family for a family reunion to an amazing city. Or, you could take your bachelor or bachelorette party to the next level by taking your best friends to Las Vegas or another fun city. The possibilities are endless!
What if you want to go somewhere but don't have a group to charter a private jet with you? According to Forbes, this doesn't matter! Even if you don't have friends or family members to travel with, you might be able to take advantage of social media groups – particularly Facebook groups – that are formed to create travel groups. You don't have to go on vacation with these people, but flying a chartered jet with them will save everyone some money and get you to your desired destination.
Something else to keep in mind when it comes to chartering a private jet is that you aren't limited to a large jet. You can save even more money on an empty leg flight by choosing to fly in a smaller aircraft. A smaller, single- or double-engine aircraft is less the cost because the operating fees are less.
These planes don't require as much fuel or maintenance. Plus, they don't require the manpower – there simply isn't enough room for extra flight attendants. These savings are passed along to the passenger. Even when paying full price for a seat on one of these flights, passengers will pay less than they would for a seat on a bigger jet.
And the same is true of empty leg flights. The smaller the plane, the less money you have to pay.
Interested in Saving Money? You Can with Empty Leg Flights!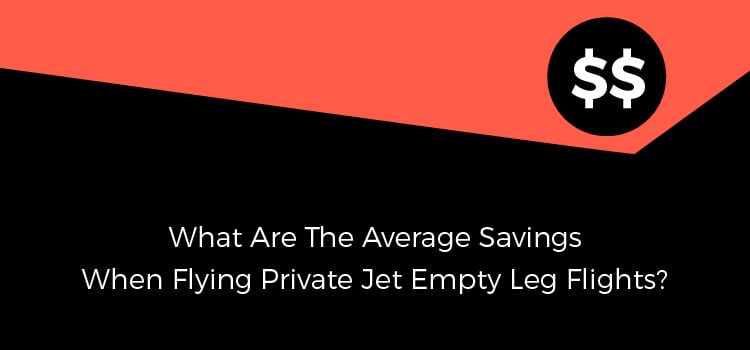 Are you ready to save money on your flights? Then you need to take advantage of empty leg flights. The average savings a person can expect to receive is around 25%-75%. The savings are truly astounding!
Typically, you can expect to pay around 20% less but, depending on the date, time, and destination of your flight – the savings can go up to 50%-75%. That means, in some instances, you could save nearly $15,000 – as has been the case for certain Jettly passengers, who have been able to save $14,873.62 on their private jet flight.
When you pay for a commercial flight, you pay for your seat for an entire flight. Chartered flights, though, are different. You pay by the hour – whether it's a normal flight or an empty leg flight. However, when you get 75% savings, you still have the opportunity to purchase a seat on a lavish private jet for the same price as a coach seat on a commercial flight – perhaps even less.
For the most part, chartering a private jet will cost you between $1300 and $14000 per hour. Some people have been able to charter a jet for $150.
It's easy to see why this kind of opportunity is so attractive. And not only do passengers save a ton of money – they get to fly in peaceful surroundings. Some of these planes only fit a handful of passengers, sometimes only six people can fly at a time. Imagine the peace and quiet (and leg space!) of having to share a space with only six other people.
Another great thing about flying this way is that you're not limited to flying within the country. Flying from one end of the U.S. to another (or wherever your heart desires) is great, but imagine flying to or within Europe. You can even save money in this type of situation.
According to The Guardian, empty leg flights from the U.K. to Europe are just as affordable as those within the U.S. Passengers who book a flight on an empty leg flight from England to Corsica, for example, can potentially save over £13,000.
Empty leg flights are a fun, money-saving way to travel just about anywhere. Even if you take a commercial flight from the U.S. to Britain, you can easily, comfortably, and affordably travel from England to nearly anywhere in Europe on a chartered private jet empty leg flight. What a fantastic way to see more on your trip, while saving thousands of dollars!
Just remember – if you want to truly save some money, the most important requirement on your part is flexibility. The more flexible you are, the more money you're going to save. Being flexible with your itinerary is a sure way to get closer to that 50% to 75% savings.
Being flexible with your departure time, though, is definitely worth it when you have the opportunity to travel on a luxurious private jet for a fraction of the normal flight fees.
Where You Can Buy Private Jet Empty Leg Flights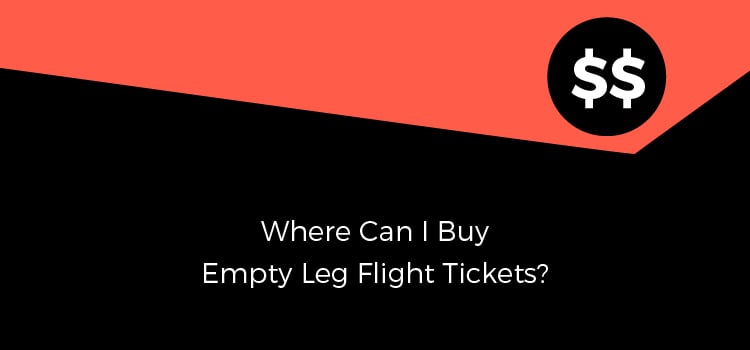 Saving money and flying in luxury – is there a better combination? When you choose to fly on one of many empty leg flights – that's exactly what you'll get.
Where can you book these flights? With Jettly, of course!
The team at Jettly works really hard to make sure they have flights that will suit your needs. And they want to let you know as soon as these flights become available. That's why you can sign up for free private jet empty leg flights notifications. Simply input your ideal departure and destination cities and your email address and we'll keep you posted.
With Jettly, you will get the best service in the private jet charter industry. Every single Jettly employee views it as their privilege to provide exceptional service to their guests. The flight you book on our private jets is at your beck and call. When you're ready to leave – we're ready to leave.
The status quo in the airline industry right now is not ideal. Long lines and countless hours spent waiting for a flight, not being sure if you'll be kicked off because the flight's been overbooked – these inconveniences have taken the fun and luxury out of flying.
We don't believe in the status quo. You are our priority. You are who we cater to.
Not only do we want to make the flying experience more enjoyable for travelers, we want to do all we can to help you save money. And that's exactly why we want you to know the ins and outs of empty leg flights. Utilizing private jet charter in this manner gives you the taste of luxury you crave – without leaving you with an empty wallet.
Would you like to learn more about how Jettly can save you money while getting you where you need to go in comfort and style? Contact us today. We look forward to answering all of your questions and being of service whenever you need help getting to your destination.