Going on a regional or nearby international flight is best spent when done exclusively. Hopping aboard the private Challenger 600 means you'll get to enjoy its spacious cabins and complete facilities, towards ultimately having a relaxing 4-hour flight. To make the most of your upcoming flight, it's practical to inquire about your prospective plane's facilities with the operator. If you're coming from Toronto, Canada, this plane lets you fly as far as Nunavut, Alaska, USA, or even Ecuador.
Now you can go for a business conference or grand vacation without having to wait around in cramped airports. Simply hop on the Challenger 600, and you'll be on your way to your intended destination in just one go. One of the standard features which this aircraft has would be a WiFi connection. With internet connection, you can access your emails, update your cloud based files and coordinate with your team to stay on top of your project. You can even access your favorite streaming videos with the same connection. Know more about the specifications of this aircraft and charter for your very own private flight today.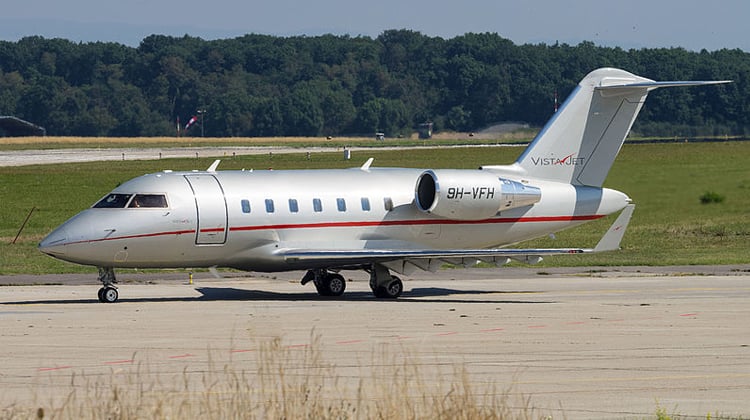 Photo Credit: Markus Eigenheer
Relaxation and Convenience in a Cabin
Hop on board the Challenger 600 and you'll find the cockpit on the left and galley to the right. The galley is complete with small appliances such as a microwave oven, coffee maker with espresso machine, a chiller and compartment for cutlery. They aircraft has just the applicable items to ensure you'll be relishing the best possible in-flight meals and snacks.
These interior details can be telling of how comfy a ride on the Challenger 600 can get:
Can seat up to 10 passengers
Height of Interior: 1.85 meters
Width of Interior: 2.49 meters
Capacity for Luggage: 115 cubic feet
Maximum Take Off Weight (MTOW): 45,100 pounds
Speedy Flights on Mid-Range Distances
With its complete facilities and ambiance, it wouldn't be a wonder why you might feel like your trip was cut short when this plane lands. You'll surely have your time well-spent on this plane, from productively going through your emails, to enjoying a streamed movie or TV show. By the time your flight ends, you'll be well-rested and ready to go about your activities upon arriving at the airport.
To have an idea of how fast and far the Challenger 600 can go, here are some specifications you can look through:
Speed: 432 knots (kts) or nautical miles per hour (nm)
Range: 2,800 nautical miles or 5,185 kilometers
Maximum Altitude: 41,000 feet
Best Climbing Rate: 3,000 feet per minute
Will you happen to max out the flying range of this aircraft? Then it would be advisable for you to inquire about its allowable baggage weight and passenger count. Generally, you can reach farther distances at much faster paces if you'll have a lighter load.
Background Information
Manufactured by Bombardier Aerospace, the Challenger 600 had its first flight in 1978. It currently has 17 variants, within 5 categories which have been upgraded to fit different applications. Its operators come from various countries such as China, Australia, Germany, South Korea, Canada, Switzerland and many more. Today, the whole Challenger 600 series has about 1,000 units produced and being flown all over the world. This aircraft is comparable to Dassault Falcon 900 and Embraer Legacy 600.
If you're planning up a long range trip soon, it's best to choose the Challenger 600 for a private charter. It has just the interior facilities and components to make sure you'll have a comfortably efficient flight. See our system below and get your very own live quote today: