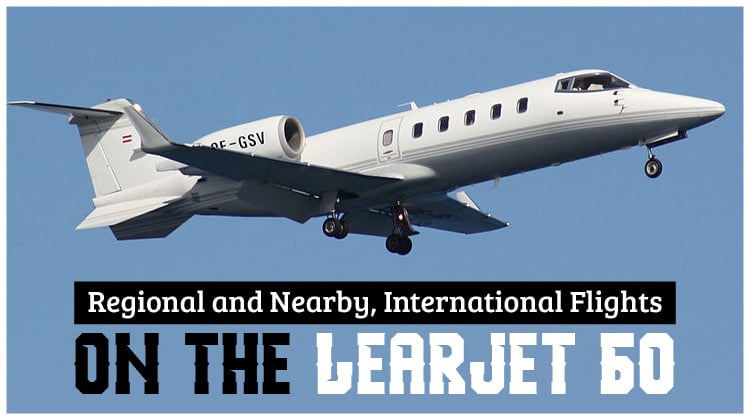 Regional and Nearby, International Flights on the Learjet 60
If you're gearing up for a regional conference or planning up a vacation, hopping on a private Learjet 60 would be convenient. This 7 seat aircraft has the speedy pace you'll need to reach your intended location at the soonest time possible. Its standard interiors also have a combination of passenger seats and divans to ensure a comfy flight within the next 3 hours. Another standard feature which the Learjet 60 has would be its WiFi connection. With internet access, you can stay in touch with your friends, family and professional networks.
The Learjet 60's passenger seat can be reclined plus it has sufficient legroom, so you can feel free to stretch your feet out. This aircraft also has an area where snacks, meals and drinks may be prepared. This part of the plane has the compartments, cutlery and essential materials to get your refreshments ready. To further ensure passenger comfort, the lavatory may be found at the rear of the aircraft. Make the most of your upcoming flight by confirming its exact list of facilities with the operator. Know more about the specifications of the Learjet 60 and charter for your very own, private flight today.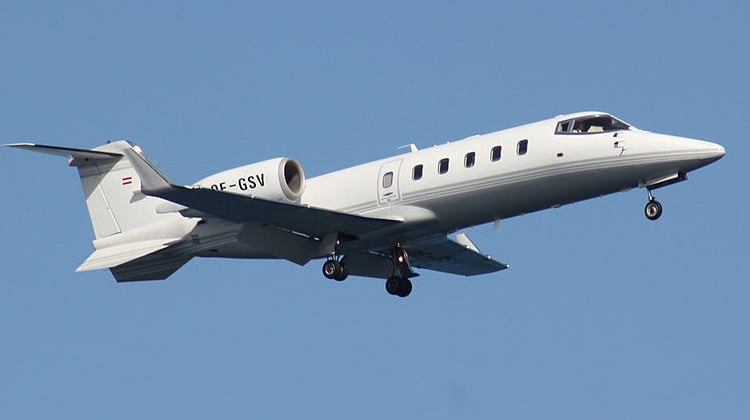 Photo Credit: Igors Cernovs
Convenient and Comfy Interiors
The Learjet 60's cabin has sufficiently supplied windows which bring in the sun's rays to brighten up the plane's interiors. If you'd like to have a more relaxing feel while on board the aircraft, you can pull down the vent and adjust your lighting. It would also be convenient to inquire about the jet's in-flight entertainment system, so you'll have an even more enjoyable trip.
Will you also need to catch up on reading your emails while flying? Then you can use the passenger seat's side table as a platform for your laptop. By accessing the plane's laptop, you can update your cloud based documents and delegate responsibilities to your staff members.
These interior specifications can be telling of how pleasant your experience can get on the Learjet 60:
Can seat up to 7 passengers
Height of Interior: 1.75 meters
Width of Interior: 1.7 meters
Capacity for Luggage: 59 cubic feet
Maximum Take Off Weight (MTOW): 23,500 pounds
Speedy Paces for Regional Destinations
This aircraft has a competitive speed compared to its counterparts. If you're coming from Toronto, Canada, the farthest you can reach on the Learjet 60 would be Nunavut, Alaska, USA or Trinidad and Tobago. Should you happen to max out the flying range of this aircraft, it would be safe to inquire about its allowable passenger count. It's also necessary to be informed about the plane's limit on the luggage weight. Generally, a much lighter aircraft can fly you to farther destinations within the fastest paces.
Have a read through these performance specifications, so you may gauge how fast and far the Learjet 60 can go:
Speed: 447 knots (kts) or nautical miles per hour (nm)
Range: 2,200 nautical miles or 4,074 kilometers
Maximum Altitude: 51,000 feet
Climbing Rate: 4,500 feet per minute
Background Information
Manufactured by Bombardier Aerospace, the Learjet 60 had its first flight in 1990. It currently has about 400 units produced and being flown all over the world. Some of its major operators come from Germany, Malaysia, United States and Argentina among many other countries. This aircraft is also usually compared to Gulfstream G150, Cessna Citation VII and Hawker 800XP.
For regional conferences or vacations, the Learjet 60 would be your ideal charter. It simply has the convenient combination of interior facilities and performance details to ensure you'll have a pleasant flight. Book your private Learjet 60 by seeing our system below and getting your very own live quote today.