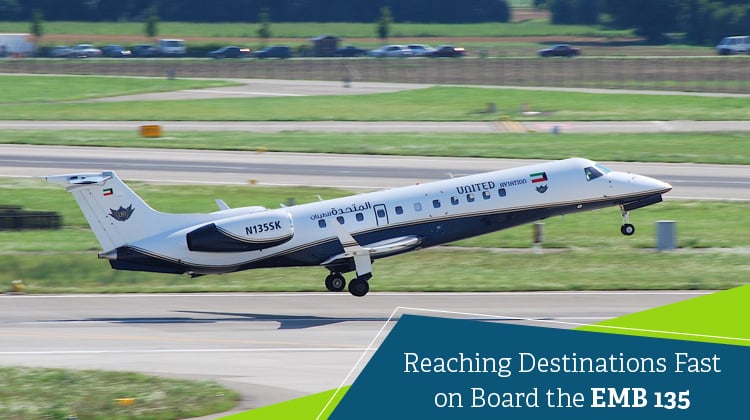 Are you planning up for a fun, a weekend getaway? Or perhaps you're also thinking of reaching your intended location, much earlier so you can prepare well for a meeting. Either way, chartering for the Embraer EMB 135 would be a practical and luxurious choice for your upcoming trip. While it normally seats 37 passengers for commercial, short ranged flights, a private charter version of this would render spaciousness and more amenities for you to enjoy.  Know more about its convenient features so you can make the most of your flight soon.
The EMB 135 is manufactured by the top Brazilian, aerospace conglomerate, Embraer. As a manufacturer, it has been internationally known to provide top of the line executive air craft services. Aside from distributing private jets, they also have a line of agricultural and military aircrafts being supplied to various organizations throughout the world. With Embraer's top-quality range of planes, the EMB 135 is no exception to the level of quality which they provide for private travelers.
Photo Credit: Aero Icarus
Great for Luxurious, Short Trips
Now you can bring your friends, family and loved ones on a grand vacation, plus you all wouldn't feel hassled by the long lines in the airport. By scheduling for a private flight aboard the EMB 135, all you'll have to do is meet with the pilot, brace yourselves for a fun flight and relax during the next few hours of your trip.
If you're also gearing up for a corporate trip, you and your staff members can save up on the efforts on waiting on lines. Now you won't need to stay on cramped airports, since a charter of the EMB 135 will be waiting for all of you to climb on board. You can immediately resume with your meetings, and make productive use of your time while taking a private flight of the aircraft.
Here are just some of the amenities you can enjoy, as you take on a private flight on the EMB 135:
Can seat up to 35 passengers
Height of Interior: 1.85 meters
Width of Interior: 1.82 meters
Baggage Capacity: 240 cubic feet
Maximum Takeoff Weight (MTOW): 41,888 pounds
Since the EMB 135 is meant for traveling groups, it would be advisable for you to confirm your allowable baggage weight with the charter service. When taking trips with your team mates, you can finalize the headcount of those who will be flying with you. Afterwards, you may advise your teammates of the allowed luggage weight which each member may bring.
Optimal Performance for Short Range Trips
You'll be sure to use your time wisely when you schedule a trip aboard the EMB 135. Its maximum performance capacity can even take you on regional destinations given you have a lesser number of passengers who'll be flying with you. This aircraft is powered by two turbofan engines, and with its flying capacity it's not a surprise to find how variations of this plane were manufactured for military purposes.
Here are a couple of performance details to guide you in gauging this aircraft's extent of flying power:
Maximum Speed: 470 knots (kts) or nautical miles per hour (nm)
Maximum Cruising Speed: 450 kts
Range: 1,700 nautical miles
Service Ceiling: 37,000 feet
With the EMB 135's high performing capacity, it wouldn't be a wonder why its units are still being produced and distributed to this day.  Over 800 variances have also been distributed for various applications.
The EMB 135 is certainly every traveler's trusty choice, especially for short range travels. Know more about its customized facilities and schedule a charter aboard Embraer's top tier aircraft. See our system below and get a live quote today: