For those urgent meetings, you can skip lengthy on-the-road drives by flying on a private Cessna C425 Corsair or Conquest I. The American-made aircraft allows for 8 passengers, and its small turboprops enable for increased cruising speeds.  With its pressurized cabin and storage facilities for refreshments, you'll certainly have a comfortable flight aboard the aircraft.
The Cessna C425 Corsair or Conquest I also has its optimal climb performance, which means it can fly much higher above conflicting weathers. This plane also has executive seats, so you can feel free to keep working or preparing your slides for a presentation while flying. With over 200 aircrafts distributed, the Cessna C425 Corsair or Conquest I has become every traveler's go-to private plane for short-distance flights. Know more about its in-flight and performance features, so you can have your very own charter today.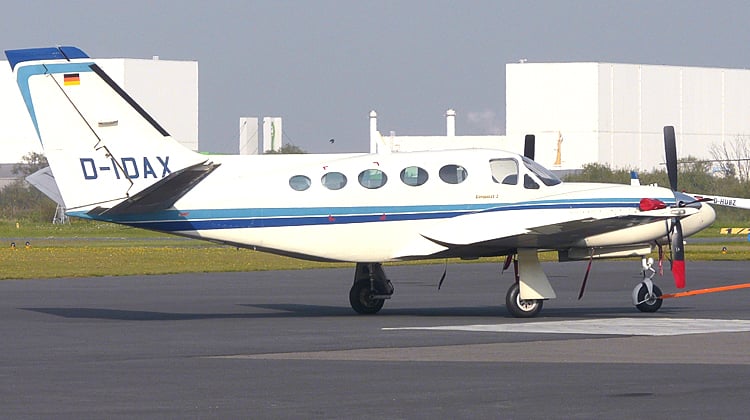 Photo Credit: Eike Henning
Comfy, Practical Cabin Space
By chartering the Corporate Aircraft, Cessna C425 Corsair or Conquest I, you'll enjoy its in-flight facilities applicable for short and road-traffic free travels. This small propeller based aircraft can accommodate 7 people, which includes a one-pilot crew. It usually caters to corporate or executive clients. However, you may be a traveler who also wants to avoid the inconveniences related to driving a car or taking the bus. In this case, the plane lets you reach your intended destination at the fastest speed possible.
The plane's area specifications are as follows:
Height of Interior:1.65 meters
Width of Interior: 1.37 meters
Capacity for Luggage: 31 cubic feet
Length of Aircraft: 10.9 meters
Wingspan: 13.5 meters
Wing Area: 20.9 square meters
Savvy entrepreneurs and executives alike are impressed by the plane's interior features, as it balances practicality, comfort and convenience. It's no wonder why the Cessna C425 Corsair or Conquest I has become among the on-call aircraft for on-the-go business people. If you're a huge fan of aerial views, you'll be glad to learn how the Cessna C425 Corsair or Conquest I has a large set of windows for increased sky visibility.
Efficiency in Performance
Since its first flight in 1978, the Cessna C425 Corsair or Conquest I has been customized to fit the requirements of short-range travelers. Today, over 200 Cessna C425s have been produced and distributed. Executives can count on the plane's reliable performance capacity which includes these features:
Speed: 240 knots or nautical miles per hour
Range: 1,300 nautical miles
Climbing Rate: 9.46 meters per second
Ceiling: 33,400 feet
Maximum Takeoff Weight (MTOW): 8,600 pounds
Propulsion: 2 Turbo Engines with 3-Blade Propellers
Engine Power per Propeller: 500 Shaft Horsepower
The Cessna C425 Corsair or Conquest I is also known to have one of the best, high-performing small turbo propellers today. Even pilots find its flying features to be relatively easy in terms of operation. With its customized, executive seating features short-range travels are now much smoother. The aircraft even allows for drinks and snacks to increase delight among corporate travelers.
Background Information
While its first flight took place in 1978, it wasn't until the 80s that batches of Cessna C425 Corsair or Conquest I were produced. This aircraft is the much improved version of CESSNA 421 Golden Eagle, as passengers wanted more cabin space and increased MTOW. The C425 is also a more powered version of the Golden Eagle, since the application of Turbo Propellers. With its increased luggage capacity, the Conquest I is also considered to have impressive cabin space. Most executives who intend to have short-range travels choose this plane, alongside its competitor the Beechcraft King Air plane.
If you need to reach a regional destination fast, the Cessna C425 Corsair or Conquest I would be a practical choice. Know more about its convenient in-flight features, see our system below and get a live quote from us: