If you're going on a regional or nearby international flight, you might as well book for a private trip aboard the BA146-300 / Avro RJ100. This aircraft has the space equivalent to 128 passenger seats thus passengers can only imagine the many facilities which can be placed in its cabins. These may include lounges, meeting areas and sleeping quarters. The plane is also powered with four engines which are placed on top of its fuselage. This way, passengers will be hearing less of the vibrations which come with operating the aircraft while in flight.
Another standard feature which this aircraft has would be a WiFi connection. With access to the internet, the BA146-300 / Avro RJ100 lets you stay connected with friends, family and professional networks. You can even stay on top of your projects by reading through your emails, and updating your cloud based documents. You may even continue to message your company's team members to coordinate about your ventures. Know more about the specifications of the BA146-300 / Avro RJ100 and be sure to charter for your very own, private flight today.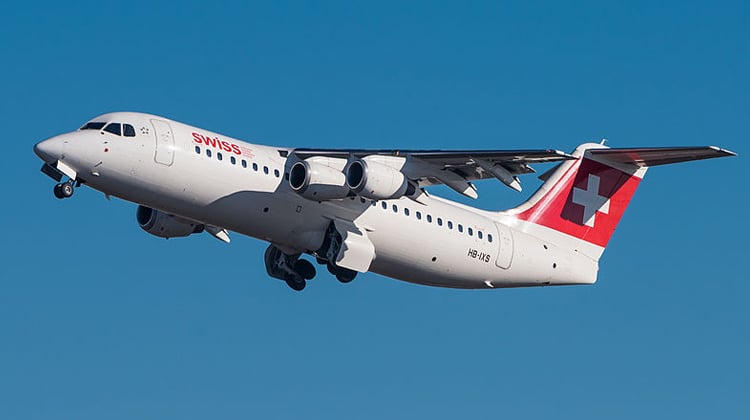 Photo Credit: Julian Herzog
Luxury and Convenience in a Flight
The BA146-300 / Avro RJ100 has cabins which are complete with facilities to make sure you'll have a comfy flight throughout your trip. These include a galley with small appliances and other related materials to freshly prepare your food and drinks. These may include a microwave oven, coffee maker with espresso machine and a fridge or chiller. To further ensure passenger comfort, the lavatory is usually located at the rear of the cabin.
Have a read through these interior details, to have better idea of how you'll experience your upcoming flights on the BA146-300 / Avro RJ100:
Space is equivalent to 128 passenger seats
Height of Interior: 3.23 meters
Width of Interior: 2.03 meters
Capacity for Luggage: 812 cubic feet
Maximum Take Off Weight (MTOW): 99,500 pounds
Steady Speeds for Regional Trips
If you're coming from Toronto, Canada, the BA146-300 / Avro RJ100 lets you reach as far as Alberta, Utah, USA or Cancun Mexico. With its 4 engines, this aircraft also brings quiet and sturdy glides for passengers to have relaxing flights, every time they privately charter for it.
These performance specifications can be further telling of how fast and far the BA146-300 / Avro RJ100 can go:
Speed: 360 knots (kts) or nautical miles per hour (nm)
Range: 1,490 nautical miles or 2,759 kilometers
Maximum Altitude: 31,000 feet
Will you also happen to max out the flying range of this aircraft? Then it would be safe to confirm about the aircraft's allowable passenger count and luggage weight with your operator. In relation to your routes and flight plan, a lighter plane leads you to fly to the farthest distances within the fastest paces possible.
Background Information
Manufactured by British Aerospace, BAE Systems and Avro International, the BA146-300 / Avro RJ100 had its first batch of deliveries during the late 90s. This aircraft is also the stretched version of the BAe 146-200 / Avro RJ85. Among other improvements which were intended to develop the BAe 146-200 / Avro RJ85, include an increase in Maximum Take Off Weight (MTOW).
Are you gearing up for a regional destination? Then one luxurious and comfy option you may choose would be a private flight on the BAe 146-200 / Avro RJ85. With its quiet cabin and reliable performance, you'll be sure to reach your intended location in the most convenient ways possible. Reserve for a private flight on this aircraft, by seeing our system below and getting your very own live quote today: