Do you need to quickly reach your meeting venue plus you'd rather not get stuck in traffic? Then it would be a great idea to hop on a private Beech BE55 Baron. This 5-seat aircraft has just the interior features you'll need so you can speedily reach regional and nearby international flights within just an hour. For instance if you're coming from Toronto, Canada, this aircraft lets you reach Mississippi, USA within a little over an hour.
One standard feature which the Beech BE55 Baron has would be its WiFi connection. By having internet access, you can stay in touch with your family, friends and professional networks. This feature would also be ideal especially if you're rushing for a business meeting. You can send instant messages to coordinate with your team, or you may also use an app to track the progress of your projects. It's always best to confirm your potential charter's features from your operator. Know more about the Beech BE55 Baron's specifications, and be sure to schedule for your very own private ride on board this plane today.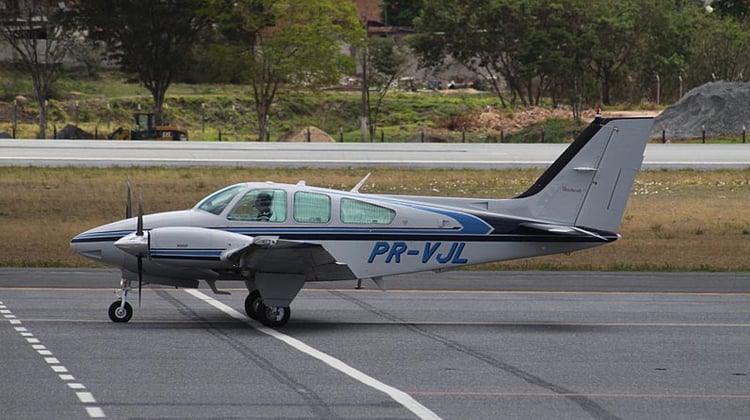 Photo Credit: Aeroprints.com
Relaxing Sceneries on Comfy Seats
As you hop on the Beech BE55 Baron, you'll find its interior's practicality is just what you need to reach your intended location for a getaway. This aircraft is also best to use for sightseeing adventures. Get to see landscapes, rivers, mountains and cities, so you'll have roughly an hour's worth of breather before arriving to the airport.
Go over these interior details, so you may have a better idea of how enjoyable a ride aboard the Beech BE55 Barons can get:
Can seat up to 5 passengers
Height of Interior: 1.34 meters
Width of Interior: 1.43 meters
Capacity for Luggage: 48 cubic feet
Maximum Take Off Weight (MTOW): 5,100 pounds
Given its allowance for luggage capacity, you may opt to bring in your presentation materials for your upcoming meeting. You can even carry your essentials so you'll stay comfy and agile on your weekend getaway.
Stable Speed on Short Range Flights
This aircraft can sturdily glide through the skies and its moderate speed is just sufficient for you to have an enjoyable sightseeing trip. You may even opt to frequently take business trips to meetings aboard the Beech BE55 Baron. You can especially charter for this plane if you'd like to skip out on traffic jams and enjoy aerial sceneries instead.
These performance specs can guide you in gauging how fast and far the Beech BE55 Baron can go:
Speed: 205 knots (kts) or nautical miles per hour (nm)
Range: 860 nautical miles or 1,592 kilometers
Maximum Ceiling: 19,700 feet
Climbing Rate: 1,670 feet per minute
Will you happen to maximize the flying range of this aircraft? If so, then it would be advisable for you to inquire about your operator's allowable baggage weight and passenger count. Keep in mind a lighter aircraft leads you to reach much farther destinations at faster paces.
Background Information
Manufactured by Beechcraft Corporation, the Beech BE55 Baron had its first flight in 1960. This aircraft became the reference of 13 other planes which have been customized and upgraded to fit their various applications. Today, over 6,600 units of the Baron series have been produced and are being flown all over the world. Some of its military operators come from Spain, Turkey, USA and Mexico among other organizations.
If you're planning to charter up a quick flight soon, it would be a practical idea to charter for the Beech BE55 Baron. See our system below and get your very own live quote today: