Now traveling to a regional or nearby international destination can be hassle-free, when you charter for a private ATR42. This aircraft has a space equivalent to 50 passenger seats, plus its luggage capacity can cater to your heavy cargo. If you're flying from Toronto, Canada, you can reach as far as Kansas, USA or Manitoba on this aircraft. Its seats' lay out will also depend on the initial plans of the operator. Thus it would be best to confirm the aircraft's zones with the operator, to ensure you'll have a comfy and well-maximized flight.
One of the standard features of this aircraft would be the WiFi connection. With internet access you can stay in touch with your friends, family and professional networks even while you're flying. You can even get some work done by reading through your emails and sending instant messages to your staff, to delegate responsibilities. Know more about the specifications of this aircraft and book for your very own, private charter today.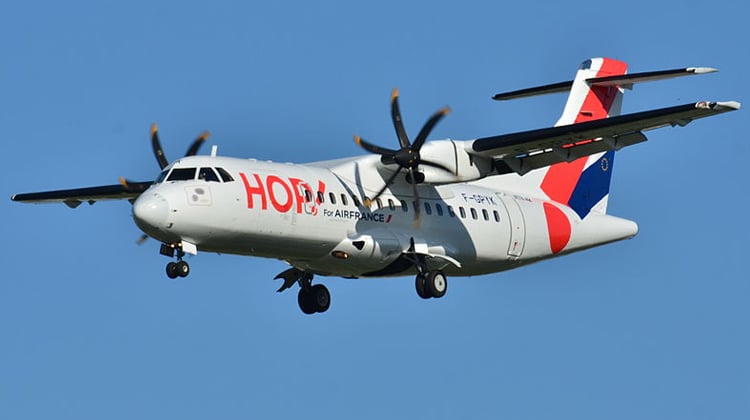 Photo Credit: Laurent ERRERA
A Spacious and Practical Aircraft
The ATR42's space lets you hop aboard with your family and friends for a quick vacation or tour. You may also use this same aircraft to bring your staff members with you, for a regional conference. Should you also need to transfer some cargo or freight along, you can do so by loading them up in the luggage compartment or in the cabin itself. These will depend on your agreed arrangements with the operator.
To have a better idea of how your flying experience on the ATR42 will be, have a read through these following interior details:
Space is equivalent to 50 passenger seats
Height of Interior: 2.54 meters
Width of Interior: 1.88 meters
Capacity for Luggage: 381 cubic feet
Average Take Off Weight: 17,000 pounds
Steady Glides on Short Range Flights
Hopping on the ATR42 means you'll have an enjoyable trip to your destination. It has just the right combination of range and altitude to ensure you can still sightsee during a short range flight. Enjoy the landscapes, mountains and bodies of water you'll be flying by.
These performance specifications can be further telling of how pleasant your flights can get on board the ATR42:
Speed: 300 knots (kts) or nautical miles per hour (nm)
Range: 900 nautical miles or 1,666 kilometers
Maximum Altitude: 25,000 feet
Climbing Rate: 1,800 feet per minute
Will you also happen to max out the flying range of this aircraft? Then it would be advisable to inquire of its allowable passenger count and luggage or cargo weight with the operator. Generally, a lighter aircraft leads you to reach the farthest destinations within much faster paces.
Background Information
Manufactured by ATR France, the ATR42 took on its first flight in 1984. This aircraft has about 455 units built and being flown around the world. It roughly has 8 variants which were adjusted and developed to function for different purposes. They were used for civilian transport, maritime patrols and even freight forwarding. Some of its clients include FedEx, Aeromar Airlines and the Polish Air Force. The aircraft's operators come from Italy, Colombia and Nigeria among other countries.
Are you planning to bring your staff with you on your next short haul trip? Or perhaps you'll need to fly with some heavy cargo to your intended destination. In either case, it would be advisable for you to charter for an ATR42. It simply has the interior facilities and performance specifications to ensure you'll have a comfy plus efficient flight. See our system below and get your very own live quote today: