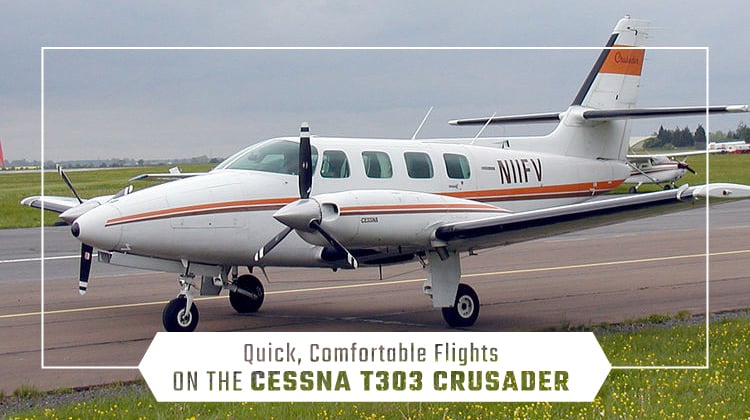 Instead of having to go through traffic jams or long drives, you can now enjoy the skies' sceneries with the Cessna T303 Crusader. This 5 seat aircraft can reach up to 1,657 kilometers hence it gets you to take on regional and international routes. The seats are formatted in club lay out, and each of them has been made for you to have a cozy ride all throughout the flight. As you hop on the plane, you'll most likely notice its wide windows which are also great for sightseeing. Thus if you're a fan of aerial views or flying over landscapes, skies and towns, frequent charters of the Cessna T303 Crusader would be advisable.
Among the standard features of a Cessna T303 Crusader include WiFi. This way, you can be sure to stay connected with your friends, family and professional network even while flying. Still, it's best to inquire about your prospective plane's exact feature before scheduling for a flight. Know more about the specifications of the Cessna T303 Crusader. For frequent short-range skills, have the aircraft on-call today.
Photo Credit: Arpingstone
Comfy Interiors for Short Range Flights
If you're flying from Toronto, you can reach as far as Manitoba or Kansas, USA upon hopping aboard the Cessna T303 Crusader. Its interiors' seats are cozy enough for several minutes' worth of flight. Some operators include pull out, side tables on each seat so passengers may relish their snacks or work on their laptops throughout the trip. The seats' leg room is also sufficient for travelers to stretch out their feet.
These interior specifications are telling of the experience you'll have, upon chartering for a private ride on the Cessna T303 Crusader:
Can seat up to 5 passengers
Height of Interior: 1.25 meters
Width of Interior: 1.25 meters
Capacity for Luggage: 25 cubic feet
Maximum Take Off Weight (MTOW): 5,150 pounds
Sturdy Rides on a Small Prop Plane
The Cessna T303 Crusader is advisable for flying through short distances. Coming from Toronto you may want to catch up with a friend, or need to attend a meeting in Kansas, USA. Instead of exerting your energy to an almost 8-hour drive, you'll only need roughly 1 hour and 18 minutes to reach your intended location. Plus, you'll even get to enjoy aerial sceneries throughout your trip.
Have a read through these performance details, so you'll have a better idea of how the plane can best get you to your destination:
Speed: 190 knots (kts) or nautical miles per hour (nm)
Range: 895 nautical miles or 1,658 kilometers
Maximum Altitude: 25,000 feet
Climbing Rate: 1,480 feet per minute
For a classic and a widely used plane, the Cessna T303 Crusader has quite a reliable speed. It can reach its highest possible altitude within just 20 minutes. Given your intended destination, it would be best for you to confirm the number of passengers who'll be riding with you. You may also inquire about your allowable baggage weight with your operator. This way, your service can jot the most feasible routes and schedules as part of your flight plan. Keep in mind, a lighter aircraft leads you to reach a farther location at a fastest rate.
Background Information
Introduced in 1978, the Cessna T303 Crusader has over 315 units being flown all over the world. The aircraft was made by the Cessna Aircraft Company to increase its allowable number of passengers. Its predecessor was initially made to accommodate 4 passengers, and with the market need to increase traveler capacity the Cessna T303 Crusader got eventually manufactured. Some of its major operators originate from United Kingdom, Australia and Colombia.
Going on a regional trip or the nearest international flight soon? A charter on the Cessna T303 Crusader would be fun, convenient and economical. See our system below and get your very own live quote today: