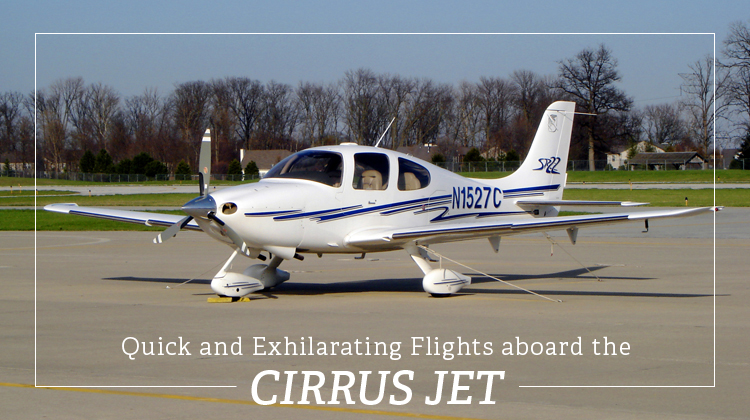 Who says you can't have fun when rushing to reach your location? If you're one busy bee who needs to avoid traffic jams, you'd be glad to experience the convenience which Cirrus Jets brings. This is certainly the best way to travel especially if you'll need to reach a nearby town from your city. The no-fuss Cirrus Jet can be chartered for urgent meetings or spontaneous flying adventures. Cirrus's small prop plane can seat up to 3 passengers. It also has huge-sized windows, so you'll have a better appreciation of the skies, landscapes and bodies of water you'll be flying over.
The Cirrus Jet's single engine system has more than enough power you'll need to reach your intended location in a matter of minutes. For charters, Cirrus has the SR22, SR20 and SR22T among its aircraft selections. Know how far this private jet can fly and reserve your very own charter today.
Photo Credit: en:User:Captaindan
Comfortably See the Skies' Farthest Horizons
As you charter for a flight aboard a Cirrus plane, you'll notice a huge contrast between clear, spacious skies and on-the-road traffic jams. Riding this aircraft should give you several minutes of a breather, especially if you're flying on your way to a meeting. You can also get to your meeting place in time, if not much earlier. Then again if you're a leisure traveler who can't go sky diving to see the skies, the Cirrus jet is a fun option to try. There are certainly a lot of reasons why hopping on a Cirrus jet is both convenient and exhilarating.
Here are some specifications to guide you, as you request for a quick flight aboard the Cirrus jet:
Seats 3 passengers
Height of Interior: 1.22 meters
Width of Interior: 1.22 meters
Since the plane is suited for quick trips, it does not need to add in luggage compartments. Perhaps you're travelling for a business presentation and you'll need to bring more materials other than a single bag. In this case, it would be advisable to clear your items' total weight with the service.
Breathtaking Performance for Very Short Flights
A Cirrus plane has sufficient performance features to safely fly passengers in short distances. This small prop aircraft uses one standard Continental IO-550-N engine enough to carry up to four people per trip. The Cirrus jet's performance specifications will also depend on its specific variances.
Speed: 150 knots (kts) or nautical miles per hour (nm)
Range: 1,049 nautical miles
Average Stall Speed: 60 to 50 kts
Maximum Altitude: 17,500 feet
Range of Climb Rate: 820 to 1,200 feet per minute
Can fly to and from airports with short runways
Background Information
Made by American company Cirrus Aircraft, Cirrus Jets are powered by single engines. The SR or Single Reciprocating series are among the most well-known pieces in the Small Prop market. It's a low cost aircraft which has been manufactured in different variances for specific applications. Its top plane models in include the Cirrus SR20, SR22, SRS, ST50, VK-30 and the Vision SF50. Throughout the planes' stages of modifications for improvement, some safety features were added in selected planes, such as airbag seatbelts and parachute systems.
To this day, thousands of Cirrus jets are being flown in various parts of the world. Some of them even made their way to the United States Air Force, universities and other organizations.
Short range flights are the best solution to beat on-the-road traffic jams. For quick yet exhilarating trips, be sure to charter a flight aboard a Cirrus jet. See our system below and get a live quote today: