If you're new to private aviation, you'll find that there are a plethora of options to choose from. Sometimes, however, the number of possibilities might prove confusing. And without the right knowledge, you might find yourself entering a costly arrangement that doesn't quite suit your needs.
That said, it's important to understand what each option has to offer. For the most part, there are the three usual modes of private aviation you need to understand. In this feature, we explain in depth the following:
On-Demand Private Jet Charter
Fractional Jet Ownership
Whole Aircraft Ownership
Before anything else
Considering your preferred method of private aviation is not a light decision, especially if you find yourself bound by budget constraints. That said, this article will delve into each mode in three parts: overview, advantages and disadvantages, and financial feasibility. Afterward, we'll be taking a look at a financial model for all three methods to see how they stack up against each other.  
Overview
The first step to proper discernment is understanding what you're getting into. And at times, you can already glean out whether it's the service for you by description alone. That said, the overview looks to provide a simple, yet comprehensive understanding of a) what the product is, and b) what it's used for. 
Advantages and Disadvantages
While each service has their slate of strengths, it's often helpful to contrast them with their weaknesses to see whether they contain a healthy mix of both, or if one outweighs the other. In this section, we'll expound on each aspect thoroughly and provide a synthesis after to bring together everything.
Financial Feasibility
Beyond understanding the service, however, it helps to evaluate it regarding economic feasibility. Especially if you find yourself in a place of fiscal constraint. So aside from discussing each mode's features and advantages, here are some other aspects we'll be looking into to discern whether the arrangement is right for you:
Capital. This term refers to how much money you'll need for purchase to have continuous use of the service.
Fixed cost. This term refers to the expenses that will be incurred during use of the service, mainly if you own it. This term also includes charges for electricity and maintenance.
Variable cost. This term refers to the expense incurred with how much you use the service.
Residual value. This term refers to how valuable an asset owned or purchased will be at the end of its usefulness. That said, the more times it is used, the less valuable it becomes.
Modes of Private Aviation
On-Demand Private Jet Charter
Overview
The idea of private jet charters might have been around nearly as long as owning private jets, but the chartering operations of old were vastly different to the way we charter today. It was only after the influx of applications and new technologies that chartering a jet became much more accessible, which in turn grew its popularity.
For the most part, an on-demand private jet charter works similar to your typical airline: you schedule a flight, walk into a terminal, then take the trip to your destination. But what makes it differ from your standard commercial carrier is that you don't have to worry about any security pat-downs, long flight lines, or the endless wait for your luggage. Instead, upon scheduling and paying for the flight cost, all you need to do is enter, wait, and board. And most of the time, you get to leave as quickly as possible.
That said, you don't necessarily need to own an aircraft to make use of the service. The most prominent hurdle is finding a broker where you can book the flight. But with online applications and options—Jettly falls under this category—finding the right plane no longer seems to be a challenge.
Advantages and Disadvantages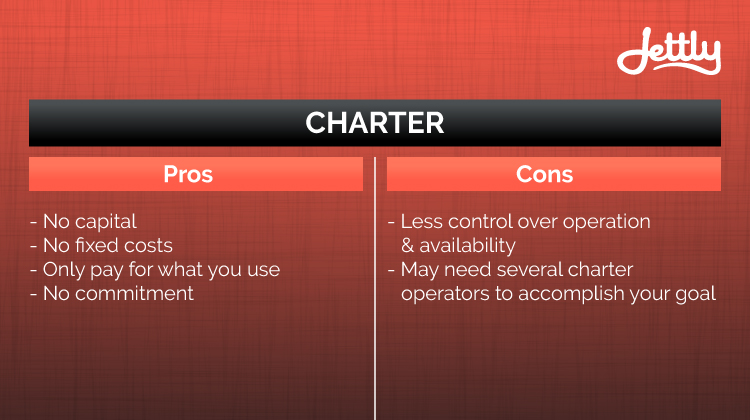 Advantages
You don't need to pay a high capital cost. Unlike most choices on the market, on-demand private jet charters do not require you to pay any hefty capital cost upfront. Because you technically are not acquiring an asset, you don't need to spend a sum for continuous usage or ownership.
No more fixed costs. One of the problems traditional modes of private aviation face is the many fees needed for maintaining the fleet and aircraft owned, whether it's your taxes or staff salaries. When you book a flight with a private jet, however, you don't have to worry about these costs, as the aircraft wasn't yours to begin with. You are only required to pay for the service.
Pay for use. That said, on-demand chartered jet flights are the cheapest among the three options, as you don't need to pay for anything else aside from the usage fee.
You don't have to place in a financial commitment. Overall, what gives chartered flights an edge over other options is its lack of fiscal responsibility.  Much of this adds to a charter's flexibility, one of its most significant advantages. And for the budget-constrained, this means you can easily slip in a flight catered to your needs when planning for it, without the hassle of thinking about how to budget in the expenses in for the next few months or quarters.
Disadvantages
Cannot control operation and availability. This is perhaps one significant disadvantage private jet charters have. Because you are unable to lock in an operator, it may be hard to find an aircraft that fits your schedule or needs, and you won't have control over how it operates or whether it is available. But if you're looking for a flight without the frills, this is something that can be easily overlooked.
Might need to book with several operators if you need multiple flights. If you're looking to make various, simultaneous trips, you might need to book different flights from several operators, which can be quite expensive and taxing. This, however, can be diminished by finding one with the right network of jets. Jettly, for instance, has a system of over 9,500 aircraft worldwide, where you can make an on-demand private jet charter efficiently through a single point of contact.
Synthesis
Private jet charters often hold a paradox of sorts. Being less expensive means that you can't necessarily lock in or customize the service, much like your typical commercial flight. That being said, if your goal is to get from point A to B as comfortably and inexpensively as possible, chartered trips are a great, hassle-free option—especially with the right operator.
Financial Feasibility
Capital. There is no capital cost for chartered flights since you do not purchase an asset. Most of the price instead depends on the flight you are buying.
Fixed Cost. Just like capital cost, there is no fixed cost for chartered flights, since you do not own the aircraft.
Variable Cost. The variable cost for chartered flights usually depends on how many times you use the service and what type of trips or aircraft you purchase.
Residual Value. There is no residual value for chartered flights since there is no purchase or semblance of ownership.
Fractional Jet Ownership
Overview
Of the three methods, fractional ownership is perhaps the most recent. AOPA notes that the idea of fractional ownership was introduced in 1986, with the creation of NetJets. In a way, it was designed to address the limitations of both private jet charters and privately owned aircraft.
If you've ever owned a share before, you could say that fractional jet ownership works the same way. In such an arrangement, you along with other customers own a portion of a jet fleet which translates to flight hours. This arrangement means that the number of hours you get to fly depends on how significant your fraction is. In return, however, you get to lessen your other expenses since you share them with other co-owners, and you get to schedule multiple, simultaneous flights since you co-own the fleet.
That said, fractional ownership looks to combine the strengths of the other two modes, such as the book-and-go nature of chartered flights, along with the stability and availability of a private aircraft.
Advantages and Disadvantages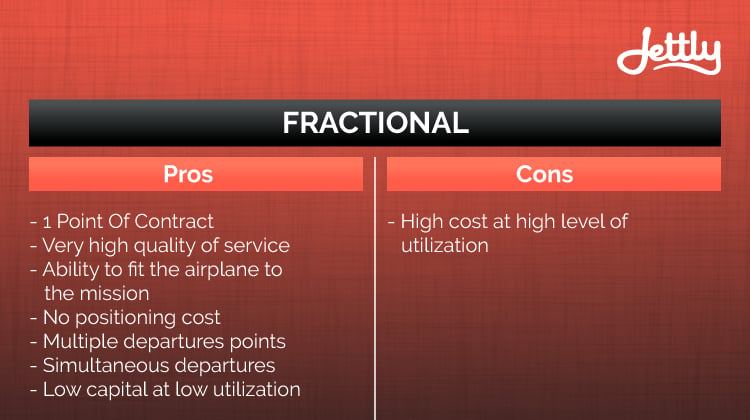 Advantages
No need to go through multiple contacts to book a flight. As with on-demand private jet charter, booking a trip is usually one call away, and since you are a part-owner of the fleet, you can expect to have a plane readily available. From there, head to your flight, and you're all good to go.
Offers great quality service. With a fractional ownership arrangement, you are seen as a co-owner of a fleet. So in some capacity, you have a say in how your fraction is operated—including service. That said, fractional ownership typically boasts of excellent quality service, especially with the right management company.
Can choose an aircraft relative to your trip needs. One of fractional ownership's most significant advantages is that you don't have to worry about the type of aircraft you'll be using, as you can request a specific type of aircraft that is suited to your trip needs. For instance, if you'll be transporting a larger group of people, you might opt for a super-midsize to large jet. And if you find yourself needing a smaller aircraft after, you could easily swap jets without further cost.
No need to pay for positioning. One disadvantage most private aviation modes have is their deadhead cost for one-way trips. This term refers to the fee paid to accommodate the aircraft flying back to the terminal after the initial trip. But with fractional ownership, you don't need to worry about the repositioning fee when you book a one-way flight—you need to pay for the flight hours you've consumed.
Can take off from any point. By co-owning a fraction of a fleet, you are also entitled to the various terminals they are housed in, which means you can get a jet near where you are from any part it is stationed in. Whether it's domestic or international, you could be assured that you don't need to excessively shuffle around to get to your flight.
You can make multiple, simultaneous flights. A common problem that occurs when it comes to private aviation is planning for simultaneous departures. Fortunately, with a fleet and various hangars at your disposal, you could quickly schedule multiple trips simultaneously, which can be quite helpful for business travel.
You pay less when you use it less. The higher fraction you own, the higher the cost. So if you're only looking to fly for around 50 hours a year, buying a smaller portion can help you save up significantly while affording you the benefits fractional ownership has to offer.
Disadvantages
You need to pay more if you use it more. Despite its convenience, fractional ownership still carries its share of difficulties. One downside is that it can be quite expensive if you need to fly out a lot, as you'll be requiring a more substantial fraction to own.
Large upfront cost. Fractional ownership, in a way, lets you enjoy the perks of having a private aircraft at your disposal without the super high overhead costs.  But unlike private charters, you'll still be needing to shell out a vast upfront sum before being able to continuously use the service, which can put quite the damper on your pocket.
Reselling value is lower than the initial purchase price. While you can opt to sell your ownership back to the company, high overall usage across many shared owners could lower your selling price from the amount it was at when it was first purchased. One way to diminish the chances of this happening is to use your fraction less, which could be counterproductive to your operations.
Synthesis
At a glance, you can glean many benefits from fractional aircraft ownership. And if you have the money for it, their near-customizable features, flexibility, and service quality. However, if you'd prefer to travel solo or are part of a small group of visiting folks who might not need to travel out too often, you might balk at the million-dollar costs and reconsider whether you needed the extra perks in the first place. That said, a fractional ownership arrangement might be better for companies who at times need to fly in their employees to different areas conveniently.
Financial Feasibility
Capital. The capital cost of fractional ownership can be quite low, depending on how significant the fraction is or how many flight hours you're looking to purchase.
Fixed Cost. The fixed cost of fractional ownership is reasonably high, which often includes the fee for maintenance and management fee.
Variable Cost. The variable cost of fractional ownership is also quite high, as on top of the monthly fees incurred, you'll also need to pay for your occupied flight hours.
Residual Value. As mentioned previously, the residual value of fractional ownership is pretty low, mainly if used often.
Whole Aircraft Ownership
Overview
When it comes to private aviation, full aircraft ownership is usually the first thing that comes to mind. And indeed, one could say it is from this particular mode that others have spawned on, making private aircraft ownership the original method to beat all others.
Private aviation is said to be as old as the creation of the business jet, with wealthy circles owning early types as far back as the 1930s. However, the term came to popular parlance in the 1960s, with the creation of the Lear Jet. As the name implies, this arrangement is where you purchase an aircraft—or perhaps several—so that you may use it according to your needs. Buying a whole plane can prove beneficial if you travel on a regular basis, or for companies that need to move to remote locations quickly.
Advantages and Disadvantages
Advantages
Complete operational control. One of the great things about whole aircraft ownership is that you're entirely in control of the operation. Whether it's the schedule or take off point, you are free to do as you wish with your private aircraft, which can be very useful if you need to jet-set on a regular basis.
Top-notch customer services. Full operational control of your aircraft means you can ensure a higher quality of customer service. Whether it's choosing the right staff, the right catering business, or the right customized interiors, the sky's the limit when it comes to your comfort.
Low life cycle cost when used often.  A life-cycle cost refers to the charges you incur on an asset over the course of your ownership of it. When you have a low life-cycle value, that means you have fewer expenses to worry about over the course of your purchase. The unique thing about whole aircraft ownership is that the more you use it, the fewer fees you actually obtain since the length of time owned and continuous usage helps drive down variable expenses.
Disadvantages
Hefty capital expenses. Unfortunately, owning a private jet is expensive upfront, as unlike fractional ownership you shoulder 100% of the value. Most private aircraft go past the million mark, and the more brand-new a model is, the more expensive it gets. That said, you might want to consider buying a secondhand aircraft to cut down on the expenses.
You need to fit your plane to all missions. Some companies might opt to buy their own fleet of jets to accommodate their travel needs and have the budget to do so. But if you only have enough to buy one unit, you have no choice but to use your aircraft for all your trips, regardless of how many people are required to go.
Can't book multiple flights at the same time. If you're part of the majority who can't quite afford your own fleet, this might prove problematic if you need to transport yourself and your employees to different areas. Most of the time you'll need to compromise or reschedule, which might put a dent in your efficiency.
Can't take off from different flight origins. Assuming you own a single business jet, where you take off will depend on where the aircraft is. Otherwise, you might need to pay a sizable positioning fee, which often ranges from 10-20%.
Aircraft cannot be used during maintenance. Another downside to owning a private jet is that you won't be able to use it while it is under maintenance. If you do not have other options at hand, you're mostly stuck on the ground waiting for it to finish before you can zap off to your next business meeting. That, or perhaps book a business class flight at your local flyer.
High life cycle cost when used less. Finally, if you don't really use your aircraft that much, this usually keeps gives it a high residual value—which is great if you're planning to resell it, but bad if you're bent on maintaining it. Which brings us to this question: if you weren't inclined to using it that much, why buy it in the first place?
Synthesis
Owning your own aircraft can indeed seem daunting, with the cons outweighing the pros. However, if you're a frequent flier and your work required for quick and convenient transportation, having a private craft can prove useful, as long as you're sure you'll be using it.
Financial Feasibility
Capital. The capital cost of whole aircraft ownership is quite high, seeing as most private jets in the market cost more than $1M. For this mode, you'd often need to shell out upfront.
Fixed Cost. The fixed cost of owning an aircraft is also quite high, as you'll also need to pay for the various maintenance fees, hangar usage, as well as crew salary. If you're paying by installments, this may also add to the number of expenses you'll need to account for such as interest.
Variable Cost. One thing about owning a private aircraft, however, is that the variable cost is quite low, as you don't have to pay any add-on costs to a management company or carrier.
Residual Value. Finally, depending on how much you've used the aircraft, the residual value is often quite high, especially as you are the sole owner. Typically, reselling an aircraft can fetch a higher profit than if you resell a share of fractional ownership.
Financial modeling
After looking through the different modes, you might have a faint idea of what each method has to offer. To make things more evident, however, let's use a financial model to examine each type side-by-side.
For the model, we'll be making use of a brand new Gulfstream G420 as an example. When calculating, we will be using the net price, take financers out of the equation, and assume that the jet will be for business use only without any deadhead cost. This in mind, below is a table of the amounting charges per mode, according to the financial feasibility stats we explored beforehand: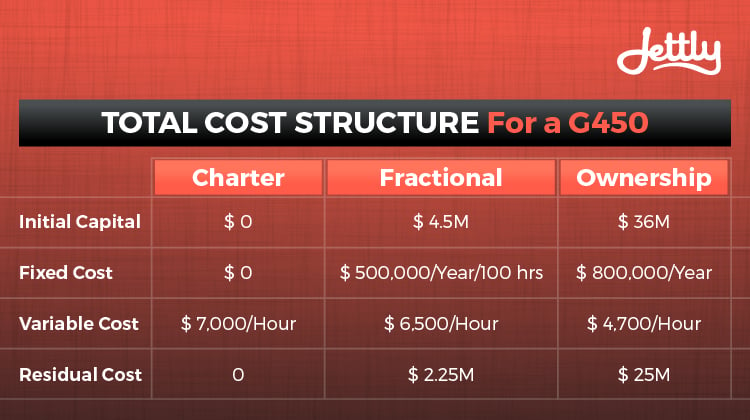 Now, assuming you'll be flying privately for the next 5 years for business, your cost-to-hours flown will look something like this:
Currently, as seen in the graph, private jet charter lands the cheapest per flight hours flown, seeing as how much a charter costs depends on how often you fly. That said, it is important to note that beyond the five years, the price for chartered flights may balloon the more you fly, but it nonetheless remains the cheapest mode of aviation.
On the other hand, a fractional ownership arrangement seems to be the most expensive over time, seeing as the more flight hours you need, the higher the percentage you need to pay for. One, however, could argue that the high cost covers the flexibility and convenience fractional ownership offers, thus allocating the price for value. Nonetheless, it is advisable to avail of it only within your intended flight time.
Whole ownership, while being the most expensive upfront, balances out over time due to the low variable cost it incurs. Because you don't need to pay per flight hour nor do you have a management company to account for, the costs, while high, eventually stabilize over time as they only depend on price inflation.
In conclusion
With all the potential private aviation possibilities, it's easy to be overwhelmed by all the options, even as you consider them. However, always keep in mind that the most important thing when it comes to choosing a choice is what your travel needs are. In the end, sometimes the expense is worth paying for if it suits your needs best.
That said, after reviewing each mode of private aviation at length, private jet charter seems to be the best option for the everyman, with a right balance of pros and cons that appeals to the need for flexibility and inexpensiveness. While one cannot really control how the operation is done, with the right operator, you can rest assured that you'll get a quality flight each time.
If you have any questions or need help making an informed decision for your individual needs don't hesitate to reach out to the team of flight success managers at Jettly.com. You can call us directly 24 hours a day 365 days a year at 1-866-448-2358 or you can submit a flight request online.