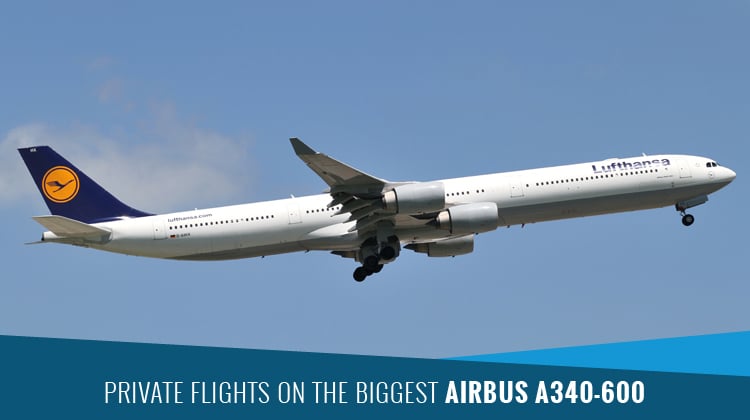 Be treated like royalty as you charter for the Airbus A340-600. With its area equivalent to over 400 seats, you'll certainly feel like hopping on a hotel or cruise ship version of the skies. Scheduling for a private flight aboard the Airbus A340-600 means you'll enjoy all the customized amenities which this aircraft can bring. Think of lounges, bars, meeting areas, sleeping quarters and many other facilities you can try on this mega jet. You'll certainly experience utmost luxury when you take a private ride on the biggest version of the Airbus A340.
Despite its gargantuan size, did you know the Airbus A340-600 can fly with the farthest range compared to other large airliners within the same category? With its luggage capacity, you can bring everything you'll need and more so you'll be all set, when you reach your intended location. By chartering for the Airbus A340-600, you'll no longer need to wait around during stop overs. This major private jet can take on the farthest traveling route possible.
Photo Credit: Kentaro Iemoto
Spacious and Luxurious Interiors
If you're travelling quite far or even halfway round the world, you'll need all the amenities possible to be assured of a comfortable trip. Connecting flights will no longer be required, especially if you'll be scheduling a private trip on the Airbus A340-600. This giant aircraft has all the galleys, lounge areas, resting corners and lavatories, every private flyer will need to make long trips more enjoyable.
Here are some specifications to guide you in gauging the grand and luxurious experience you'll have aboard the Airbus A340-600:
Interior spaces is equivalent to 420 passenger seats
Height of Interior: 3.69 meters
Width of Interior: 2.16 meters
Overall length: 75.36 meters
Capacity for Luggage: 1,300 cubic meters
Maximum Takeoff Weight (MTOW): 840,000 pounds
As you schedule for a charter of this long range plane, it's best to ask your service charter about its in-flight entertainment system and facilities. This way, you can plan on how you'll go about your flight schedule. A layout should serve as your helpful reference so you'll know where meetings will best be held. You may also refer to the provided facility specifications, so you'll know which areas of the plane would be best to relax in.
Top Quality, Four-Engine Performance
The Airbus A340-600 is powered by four Rolls-Royce Trent 500 engines. With its range and flexibility, you can even get creative with your flight plan. This huge aircraft promises to exclusively bring point A to B routes. This way you won't have to worry about the next window or terminal to ride on, during a transcontinental trip.
Performance Specifications:
Maximum Speed: 490 knots (kts) or nautical miles per hour (nm)
Range: 7,500 nautical miles
Cruising Speed: 470 kts or nm
Service Altitude: 41,100 feet
Background Information
Tracing its roots to the Airbus A300, the A340 is a product of various improvements made by the manufacturer for long haul, hundred-passenger flights. The A340 took on its first flight during the 90s, and the A340-600 variance initially embarked on a commercial flight in 2002. Out of over 300 aircrafts A340 produced, did you know only 77 units of A340-600 planes have been produced? This just shows the level of exclusivity which this major plane has, compared to other large-bodied planes within the same category. As of 2015, not a lot of big bodied plane can compete to this huge aircraft.
Make your flight extra luxurious, cozy and efficient. Know how a private ride on the A340-600 can serve you well. See our system below and secure your live quote today: