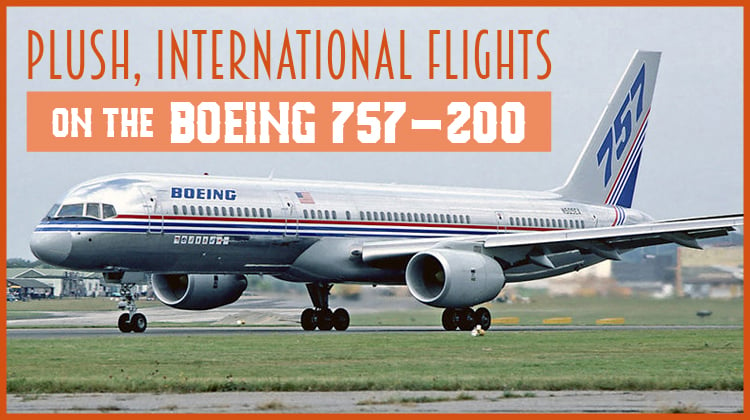 Are you about to take on an international route? Then it would be more convenient to pick a private plane that's fit for a king or queen. The Boeing 757-200 has spacious amenities thus you can just imagine the many features and rooms which it can accommodate. For instance, some owners and operators have designed a palatial feel to their plane's interiors. The standard feature of a private Boeing 757-200 includes a living room, lounge, bedroom, galley, bathroom and even an exercise corner. To make the most of your upcoming trip, be sure to inquire about its list of facilities from your chosen operator.
As you hop on board the exclusive Boeing 757-200, you'll find it has the complete interconnectivity set up which includes a WiFi connection and a phone line. This way, you may still opt to stay productive and conduct transactions in your flight. Know more about the specifications of this aircraft and charter for your very own flight today.

Photo Credit: Steve Fitzgerald
Lavish Interiors for Utmost Relaxation
As you hop on a private Boeing 757-200, you'll find this aircraft gives off a hotel room look to it. Some operators have also set up the plane with a bigger and customized, in-flight entertainment system. Couch-looking divans may be circled 'round the entertainment system so passengers may have quite and enjoyable 5 hour flight or so. The galley would also be just nearby to have their food and drinks freshly prepared. This area of the plane has the small appliances and materials you'll need for food preparation. These include a microwave oven, coffee machine with espresso maker, plus a fridge or chiller.
These interior specifications can further give you an idea of how a private Boeing 757-200 can bring luxury in every flight:
Space is equivalent to 210 passengers
Height of Interior: 3.23 meters
Width of Interior: 1.93 meters
Capacity for Luggage: 2,500 cubic feet
Maximum Take Off Weight (MTOW): 255,000 pounds
Speedy Flights for Long-Range Distances
Given its minimum climbing rate, the Boeing 757-200 can reach its maximum altitude upon take off in just less than 30 minutes. This can be telling of how fast the large aircraft can go. If you're also flying from Toronto, Canada, you can reach as far as Hungary, Italy, Poland or Austria aboard the Boeing 757-200.
Have a further look through these performance details, so you may gauge how fast and far this aircraft can go:
Speed: 210 knots (kts) or nautical miles per hour (nm)
Range: 3,930 nautical miles or 7,278 kilometers
Maximum Ceiling: 42,000 feet
Minimum Climb Rate: 1,800 feet per minute
Will you also happen to maximize the aircraft's flying range? Then it would be safe to inquire about its allowable cargo load with the operator. Given your intended location, routes and flight plan, you can reach farther destinations within faster paces when you fly on lighter aircraft.
Background Information
Manufactured by Boeing Commercial Airplanes, the Boeing 757-200 is the very first variant among the 757 series. After production and testing procedures, this aircraft had Eastern Air Lines as its primary user in 1983. When it was first released to the market, the Boeing 757-200 was known to have the heaviest gross weight among its counterparts. Today, over 900 units of this aircraft have been produced and are being flown all over the world.
If you're embarking on an international trip soon, the best way to do so would be to charter for an exclusive Boeing 757-200. This aircraft has the spacious interiors, complete facilities and efficient performance to ensure you'll have a convenient, well-rested and productive flight. See our system below and get your very own live quote today.