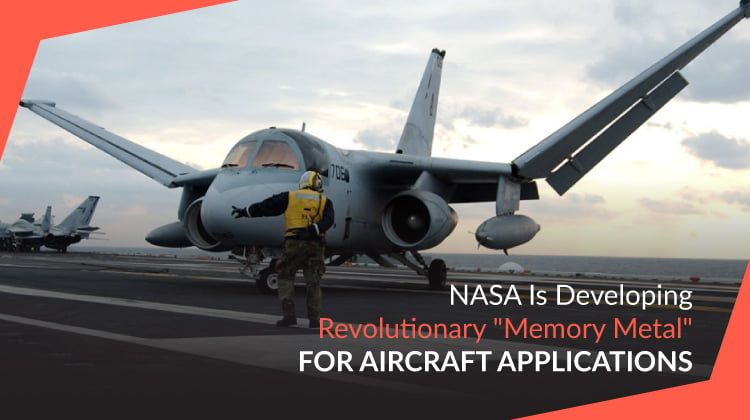 Okay, it's not exactly a metal but rather an alloy. However, this new material could help make flying more efficient, sustainable, and most importantly: safer.
The idea is to create a more aerodynamic plane equipped with wings that can fold.
Now, you might be thinking to yourself, "lots of aircraft already have folding wings, this isn't new." You'd be right: plenty of planes, especially those in the U.S. Navy already utilize folding wing technology and they have for quite a long time.
However, this is completely different. Currently, the wings of these planes are folded on the deck in order to take up less space. A few planes have the ability to fold their wings mid-flight, but the technology isn't very advanced so the design is pretty cumbersome: it's heavy and doesn't serve much of a practical purpose.
This new technology would give operators the ability to actually fold the wings mid-flight making the plane more aerodynamic. It could reduce both weight and drag which would increase the plane's speed and efficiency.
Shape Memory Alloy
Shape memory alloy (SMA) is a revolutionary material because it's basically the memory foam of metal. SMA is a nickel-titanium alloy that engineers can "train" to return to any desired shape after deformation. Usually, the process requires applying heat to the alloy.
Dr. Othmane Benafan, a materials research engineer at the NASA Glen Research Center in Cleveland compares the process to ice melting and refreezing because the alloy can change from one solid state to another in a reversible manner. Also like ice, the process for SMA requires heat to change form.
SMA in itself isn't a recent discovery. In fact, this alloy is already commercially available – especially in the medical and automotive industries. So, what makes NASA's research so special?
Current SMAs on the market have their limits. For example, most can only be utilized at room temperature. This NASA research takes SMAs to the next level:
More predictable properties.
Higher energy density.
Higher operating loads.
Higher operating temperature.
This particular material's microstructure makes it much more adaptable for practical use in aerospace applications. In layman's terms: it's compact, lightweight, and quiet and much easier to control than previous SMAs. Since it's more predictable, it can be used in a wider variety of applications – especially aircraft.
A Little Help from Boeing
Developing a new material is one thing. Integrating it into an entire system is another. That's where Boeing's expertise and industry knowledge comes in handy.
Jim Mabe from Boeing Research and Technology says integration is more of an engineering problem than a science problem. That's why Boeing is looking for ways to simplify the process. When the material is ready for commercial distribution, they need to be ready to easily apply it to existing aircraft systems.
Mabe also believes wings are only the beginning. Future SMA-aircraft integration could include engine fans or landing gear. Low-weight engines would be a huge step towards faster travel.
Boeing has had their eyes on SMA integration for many years. In 2012, they experimented with a SMA torque tube actuator as part of their ecoDemonstrator aircraft during their flight test program.
The next round of testing will take place on a much larger scale on a Boeing F/A-18 with already-existing wing-fold technology previously used by the U.S. Navy. Researchers will remove the current wing-fold system and install their own.
Upon activation, the wings will heat up and (hopefully) move 180 degrees: 90 degrees up from standard position, and 90 degrees down as well.
Revolutionizing Aircraft Technology
SMA technology is currently readily available throughout most of the medical field. Those bendable glasses? Yep, that's SMA. It's also not uncommon to see SMAs used during orthopedic surgeries.
In the grand scheme of things, metal technology has come a long way, but there's still a lot the experts don't know. SMAs are slowly revolutionizing nearly every industry that involves metal: robotics, engineering, automotive, telecommunication, the list goes on.
For aircraft, this could mean increased performance as well as safety throughout all aspects of flight. Down the road, SMA applications could eventually lead to supersonic travel!
But for now, they just want to make a safer, lighter, and more efficient plane equipped with wings that bend mid-flight.
At Jettly, We're Revolutionizing Private Air Travel
With us, you can charter private jets around the world for one flat rate. We have thousands of private jets to choose from, and we don't charge any hidden fees. Submit your flight request with us today!