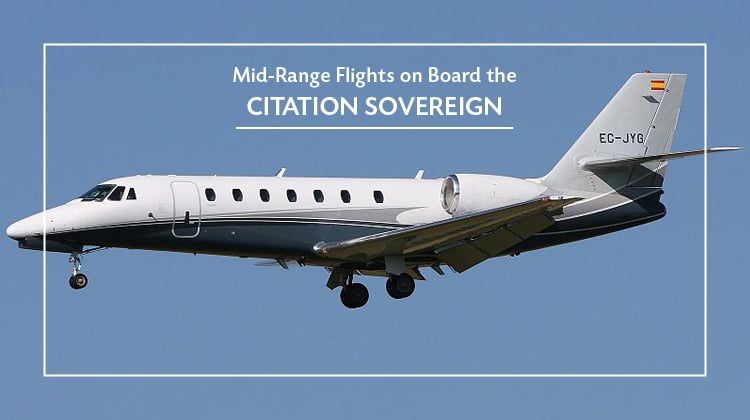 Planning up a vacation soon? Then it's best to fly in style and with the utmost luxury aboard the Citation Sovereign. This aircraft has all the interior amenities you'll need to ensure a comfy flight on each trip.  To gauge how far this jet can go, the Citation Sovereign lets you reach as far as Alaska, USA if you're coming from Toronto, Canada. Surely, regional and nearby international trips can get so much better when on board this private jet.
Upon entering the Citation Sovereign, you'll immediately find the cockpit at the cabin's left side, while the galley is on the right. The aircraft's galley is complete with small appliances and compartments to store and prepare your food. These include a microwave oven, coffee maker and fridge. Cutlery will also be provided for meals. At the rear of its cabin, the Citation Sovereign has a lavatory and a dressing area for your comfort. Upon chartering for a private flight on board this plane, be sure to inquire about its specific features with the operator. Know more about the plane's specifications and schedule for your very own, private flight today.
Photo Credit: Gerry Stegmeier
Convenience in a Cabin
The Citation Sovereign has upgraded interiors which come with customized, in-flight entertainment systems for your enjoyment. Most of this aircraft's units have small television panels beside the seats and near the windows. The chairs may also be reclined, especially if you'd like to take a nap. Another convenient feature which this plane offers would be pull-out tables. The tables may be used for snacks, and they also function as laptop platforms for you to read your emails plus prepare some work-related documents.
These interior specifications can help you gauge the comfy experience you'll have on the Citation Sovereign:
Can seat up to 8 passengers
Height of Interior: 1.73 meters
Width of Interior: 1.7 meters
Capacity for Luggage: 100 cubic feet
Maximum Take Off Weight (MTOW): 30,300 pounds
A Top Performing Aircraft
This plane has quite a competitive speed for regional and nearby international distances. It also has quite a fast climb rate as it can reach its maximum altitude in less than 30 minutes. If you'll maximize the flying range of the Citation Sovereign, then it would be best to confirm about its allowable passenger and baggage load. This way, your operator can work on the best route and schedule combinations for your flight plan. Generally, a lighter aircraft leads to farther flying distances within faster paces.
Have a read through these performance details, so you'll have a better idea of how fast and far the Citation Sovereign can go:
Speed: 428 knots (kts) or nautical miles per hour (nm)
Range: 2,643 nautical miles or 4,894 kilometers
Maximum Altitude: 47,000 feet
Background Information
Manufactured by Cessna Aircraft Company, the Citation Sovereign roughly has 300 units which are being flown all over the world. Among Cessna's Citation series, this aircraft is specifically the largest compared to other units. Powered by two Pratt & Whitney turbofan engines, this plane was precisely developed to answer the market need for mid-sized jets. These units do not need to travel long hours, yet would still provide utmost comfort which most small prop planes do not have. It's also being compared to units such as the Bombardier Learjet 60, Hawker 800XP/850XP and Gulfstream G100.
If you're heading out to nearby regional and international destinations, hopping on board the Citation Sovereign would be ideal and even convenient. Charter your very own, private flight on board this aircraft by seeing our system below and getting a live quote today: