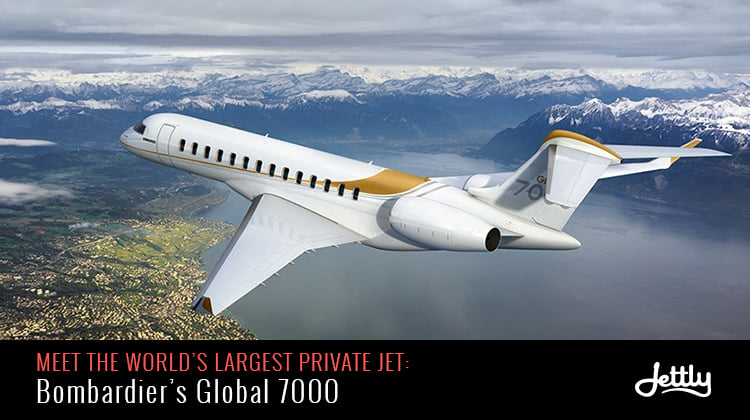 Cruise through the skies in absolute bliss. The renowned Bombardier recently unveiled a luxurious new aircraft – the largest purpose built business jet in the planet, to be specific – which promises frequent fliers the ultimate VIP experience. This ultra long-range plane offers four pristine suites plus a cabin crew rest area, so that everyone onboard can enjoy a new standard in luxury air travel.
The Bombardier Global 7000 can host up to 19 passengers in total ease. Whether you're shuttling company employees for a conference across the country or simply giving the family an unforgettable vacation, this is the ideal jet due to its unparalleled efficiency and exceptional design.
From take-off to landing, Bombardier 7000 promises a smooth ride through the skies. Style, comfort and performance combine to create an unbelievable flight experience that will make passengers swear off commercial airplanes for life!

Large cabins that are exceptionally designed
Considering the Bombardier Global 7000 is the largest of its kind worldwide, it's no surprise that it is fitted with four spacious suites that will make passengers feel like their in a world-class hotel. The Club Suite provides a bright, airy and pleasant space for work or play with ultra-comfortable seats and extra-large windows, while the Conference Suite seats six people in a dining space that's tailored to offer a sophisticated dining experience for the entire group.
The aircraft is primed for recreation, too, with a cabin entertainment system that will almost make you wish your entire vacation was right here in the Global 7000. Travelers who want to catch up on shows or sports games during the flight can go straight to the Entertainment Suite where they can stream high-definition videos on the large screen with no problem. The jet features the industry's fastest in-flight internet connectivity, so the viewing experience will be clear, smooth and completely enjoyable.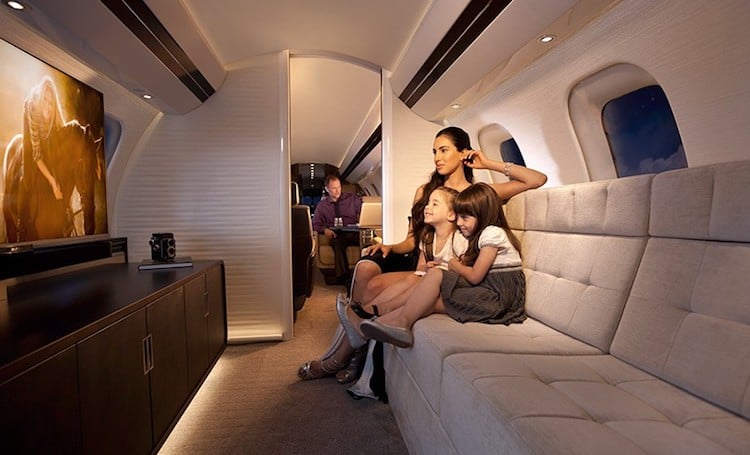 Is life is too busy on the ground? Let flight lull you to sleep. It's easy to get some shut-eye on Bombardier Global 7000's Master Suite with its luxurious décor and high-quality furnishings that create a restful sanctuary up in the clouds. Here, there is also an adjoining En Suite that features a true stand-up shower. This jet really has everything you could ever need.
Best of all, the plane can be customized as you see fit. With an endless selection of decorative, furnishing and layout options, passengers can create an extension of their home or work place up in the air.
Unparalleled performance and cutting-edge technology
Flying is not always a pleasant experience, but it certainly is in this ultra-luxe aircraft that is fitted with outstanding features including the latest in fly-by-wire technology that's truly cutting-edge. With all of these amazing components blending with incredible aesthetics and even a side-facing jump seat, the Bombardier Global 7000 achieves utmost comfort and efficiency throughout the flight.
This premiere business jet is lauded for its speed, range, field performance and an unbelievably smooth ride. GE Passport engines that were designed for it specifically spurs it to a top speed of Mach 0.925, while it also logs in an impressive range of 7,400 nautical miles.
Rounded off by upgraded fuel efficiency, this is truly the private plane of your dreams. Despite its imposing size, the performance of Bombardier Global 7000 can rival the many compact aircrafts with these features.
This is the culmination of Bombardier's 50-year history of innovation and reinvention. In this stunning business jet, the company's expert engineering and superior craftsmanship are on full display. Every detail is precise and splendid, chosen to enhance the full flight experience of each passenger.
Soon, air travel will be an experience you look forward to every time.
Get a taste of the good life by flying Jettly
The orders for Bombardier Global 7000 is set to be delivered within 2018, but it is already in demand with the model sold out until 2021. The business jet has a price tag of nearly $73 million. In the meantime, enjoy the convenience, affordability and utmost ease of flying private with Jettly.
At Jettly, we offer private charter flights anywhere in the world for one flat rate! Choose from thousands of aircraft to take you to your destination. Submit a flight request with us today.