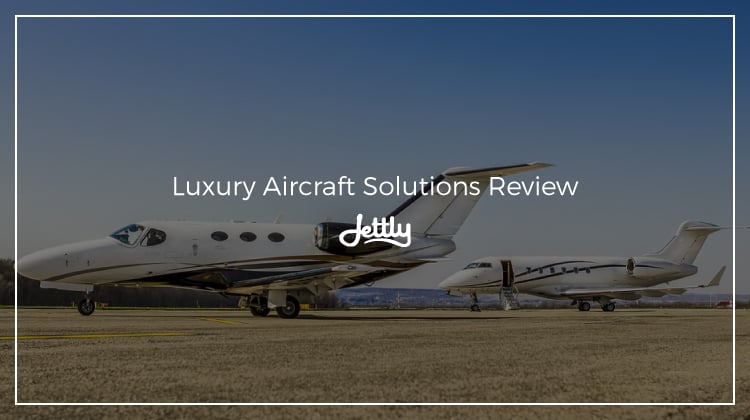 If you've been following aviation news, you'd probably know about Luxury Aircraft Solutions®. Or, more precisely, what they've done to get themselves into the news—earlier this year the company announced that it'd be offering 5-hour jet cards to keep up with newer consumer demands. As the first of its kind, the new service is both a delight to those who want to try out the program, as well as a big help for first-timers into private aviation.
But then again, it isn't hard to see how a company like Luxury could offer such a service. Recently, the company had been included in Inc.'s 5000 list for 2018, thanks to its fast revenue growth. According to the New York Business Journal, Managing Director Daniel Hirschhorn attributes this success to its "service-based model," noting that Luxury's growth is "contributed directly to the level of service [they] provide," and they thus seek to provide their clients with "top-notch flight experiences and service." Aside from this, they've also managed to score some strategic partnerships with other airlines for more seamless customer experience, such as its tie-up with Etihad Airways in 2016.
All things considered, Luxury Aircraft Solutions then positions itself as a strong contender in the field of private aviation, more so with its newest offering. With that said, let's take a look at how it fares according to the following aspects:
Type offered. Jet cards usually come in two kinds: aircraft-dependent and deposit-dependent. Some providers offer both. That said, this aspect is something you might want to look into if you're more concerned about the aircraft you'll be flying in or just the amount you'll need to pay for a certain number of flight hours.
Price inclusions. It's hard to make comparisons without talking about how much membership costs. More than knowing the price, however, is what the price includes—whether it covers necessary expenses or if it contains any unneeded inclusions. This is especially crucial if you're flying on a budget.
Services included. Finally, when purchasing a jet card, you want to make sure you're getting a bang for your buck, especially when it comes to the services and amenities. Here, we detail what each program includes so you can see if they're up to par with your traveling style.
Type offered
Luxury Aircraft Solutions' jet card program is mostly aircraft-dependent, with its pricing determined by both the type of aircraft you require and the number of hours you'll be flying on it. As per this year, the lowest number of hours you can purchase on the program is five.
Price inclusions
For payments, Luxury usually sends a statement each month, which indicates your flight activity, charges, and remaining balance, as stated in the program brochure. The program's rates per hour are typically calculated per one-way trips. The great thing about Luxury's pricing is that if you avail of a roundtrip with two overnights or less, you get a 15% discount hourly. Without it, however, the one-way rates are as follows:
Turboprop: $3,300.00
Light Jet: $4,195.00
Mid-size: $5,144.00
Super Mid-size: $7,225.00
Heavy Jet: $9,261.00
Aside from the hourly rates, you'll also need to pay for the following costs:
Fuel surcharge
Turboprop: $655.00/hr
Light Jet: $765.00/hr
Mid-size: $994.00/hr
Super Mid-size: $1,075.00/hr
Heavy Jet: $1.185.00/hr
FET
7.5% as per 2018.
Domestic Leg Segment Tax
$4.10 as per 2018.
Services included
All these costs aside, what can you expect if you've decided to fly with Luxury Aircraft Solutions?  For the price, Luxury's jet card program includes the following benefits:
Easy access and availability. Like most jet card programs, Luxury strikes a balance between having a globally available fleet and guaranteed availability, making your scheduling way more accessible and more convenient.
No positioning or ferry flight charges. Unlike most jet card providers, Luxury doesn't charge you for repositioning, meaning that you only pay for the hours you occupy on the flight. As an added bonus, you can refund the hours you don't use up.
Conclusion
With its straightforward pricing, broad fleet, and variety hour options, Luxury Aircraft Solutions' jet card program does live up to the hype it's accrued. Whether you're a first-timer looking to try out private aviation or a regular looking for a solid performance and service record, Luxury seems to have the stats to satisfy all. We recommend trying out the five-hour jet card program if you're either new to the service or if you're a very infrequent fly who wants to take a dip.
Learn more about jet card services with us
With more jet card programs on the rise, we've taken it upon ourselves to look at each option as they come. After all, we believe the best choices are the most well-informed ones. That said, head on to our website and sign up with us now for more information.
Disclaimer: Jettly is in no way affiliated with Luxury Aircraft Solutions. Luxury Aircraft Solutions is a registered trademark of Luxury Aircraft Solutions, Inc.