If you're planning to take a grand, Southern American vacation, it would be splendid to hop on board the Citation Ultra. This development of the Citation V has the interior features you'll need to stay comfortable within 2 hours of your flight or more. One of its major features includes a WiFi connection. This lets you stay connected with your friends, family and professional networks even while on flight.
The aircraft also has seats which can be reclined, along with pull out tables where you can relish your snacks and meals. The same table may then be used as a platform for your laptop, so you can stay updated with your projects. Take your calls and get your business going. Delegate responsibilities and check on how everyone in your departments is doing, via the interconnectivity features of the Citation Ultra.
To make the most of your aircraft, it would be best to confirm its facilities with your operator. Know more about the specifications of the Citation Ultra and charter for your very own, private flight on board the plane today.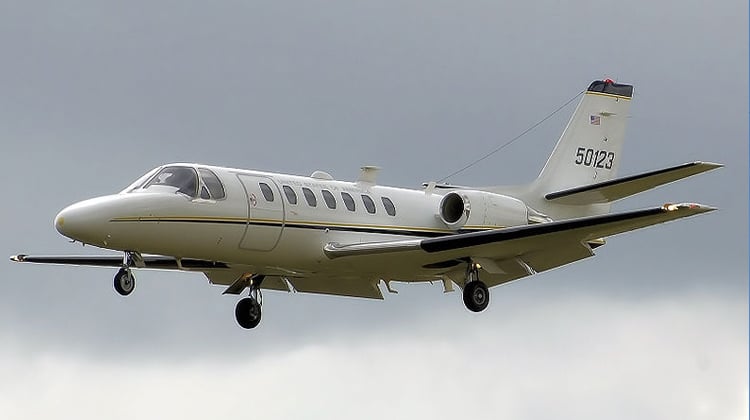 Photo Credit: Adrian Pingstone
Provides Enjoyable Flying Experiences
As you hop on the Citation Ultra, you'll find how its in-flight entertainment has been customized, based from the preferences of your chosen charter. Another standard facility of the Citation Ultra would be its galley. In here, your food and drinks may be prepared with the use of small appliances such as the microwave oven, coffee maker with espresso machine and a chiller. Compartments are also available to store                your cutlery and plates for serving dishes. To ensure passenger comfort, the Citation Ultra also has a restroom at the back of its cabin.
These interior details can be telling of how enjoyable a ride on the Citation Ultra can get:
Can seat up to 7 passengers
Height of Interior: 1.49 meters
Width of Interior: 1.46 meters
Capacity for Luggage: 67 cubic feet
Maximum Take Off Weight (MTOW): 16,630 pounds
Speedy Paces on Short Haul Destinations
The Citation Ultra jet has quite a competitive performance compared to its counterparts. If you're coming from Toronto, Canada, this aircraft lets you reach as far as Nunavut, Nicaragua, California in USA, or El Salvador. All these destinations can be reached within two hours or even less.
To have an idea of how fast and far the Citation Ultra can go, you may glance through these performance details:
Speed: 430 knots (kts) or nautical miles per hour (nm)
Range: 1,960 nautical miles or 3,629 kilometers
Maximum Altitude: 45,000 feet
Would you happen to max out the flying range of this aircraft? Then it would be safe for you to confirm its allowable passenger count and baggage weight with the operator. As they plan out your routes and related schedules, keep in mind a lighter aircraft can reach much farther destinations at faster paces.
Background Information
Manufactured by the American company Cessna, the Citation Ultra was a development of the Citation V which was first flown in 1987. The Ultra has about 279 units built and being flown all over the world. This unit was particularly made with improved engines and avionics. As it was given the Best Business Jet award by Flying Magazine, its military variants followed through. Today, it continues to be a valuable aircraft among civilian and military operators alike.
If you're going for a business trip or grand vacation, the Citation Ultra's convenient features are just what you need to have a comfy flight. Book your private flight on board the plane by seeing our system below and getting your very own live quote today: