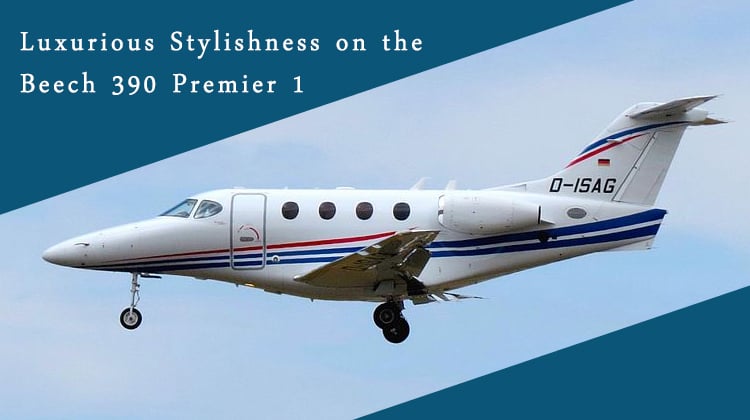 If you're going on a short range flight, you can fly in style by chartering for a private Beech 390 Premier 1. Its 6-seat capacity comes with sleek interiors plus passenger seats which can be reclined. Each standard seat usually has a pull out table where you may enjoy your refreshments throughout your 1-hour trip. As another standard feature, the Beech 390 Premier 1 has WiFi so you can stay connected with your friends, family and professional network. Among other small prop aircraft, the Beech 390 Premier 1 may be considered as one of the most stylish with its sleek interiors.
Flying from Toronto, you can reach as far as St. John's, Nassau, Bahamas or even Colorado in the USA on board the Beech 390 Premier 1. To make the most of your upcoming flights, be sure to inquire about the specific facilities of your aircraft with the operator. Know more about the performance and interior features of the Beech 390 Premier 1 and schedule for a private flight today.
Photo Credit: Kiefer
Stylish and Spacious Interiors
By hopping on board the private Beech 390 Premier 1, you'll get to experience convenience in a small jet like never before. Its seats are comfy enough to be reclined plus you'll get to enjoy its customized, in-flight entertainment.  If you appreciate style, a private charter on board this aircraft would additionally be a delight.  Should you also be flying for a business trip, you can use the passenger seat's pull out table to place your laptop on. This way, you'll be all caught up and work ready by the time you hop off the plane.
Have a look through these interior details, so you'll have a better idea of how enjoyable a ride on the Beech 390 Premier 1 can get:
Can seat up to 6 passengers
Height of Interior: 1.65 meters
Width of Interior: 1.62 meters
Capacity of Luggage Compartment: 77 cubic feet
Maximum Take Off Weight (MTOW): 12,500 pounds
Fast Speeds for Short Range Flights
Among other jets, the Beech 390 Premier 1 is known to be among the fastest to take you to your intended destinations. It has a competitive speed, since it has the capacity to reach its maximum altitude within just 15 minutes. Will you be flying to the farthest possible location of the aircraft? Then it would be best to confirm your allowable load of baggage and number of passengers with your operator. Generally, a lighter aircraft can fly to much farther destinations at the fastest rates possible.
These performance specifications can be telling of how far and fast the Beech 390 Premier 1 can go:
Speed: 420 knots (kts) or nautical miles per hour (nm)
Range: 1,200 nautical miles or 2,222 kilometers
Maximum Altitude: 41,000 feet
Background Information
Since its first flight in 1998, the Beech 390 Premier 1 roughly has 298 units being flown all over the world. It was also built to compete with Cessna's Citation series. The aircraft's distinct characteristics include the T-Tail and 2 Williams Royce turbo fan engines. The Beech 390 Premier 1's performance features are at par to that of Bombardier Learjet 40 and 45, Cessna Citation Jet and Embraer Phenom 300. Some of the Premier 1's variants include the 1A and 2, as these were customized to fit various applications.
Are you heading out to a business convention or planning for a weekend getaway? Then the Beech 390 Premier 1 lets you enjoy short range flights in style. It has complete in-flight facilities to ensure you'll have an enjoyable or even luxurious flight all throughout. See our system below and get your very own quote today: