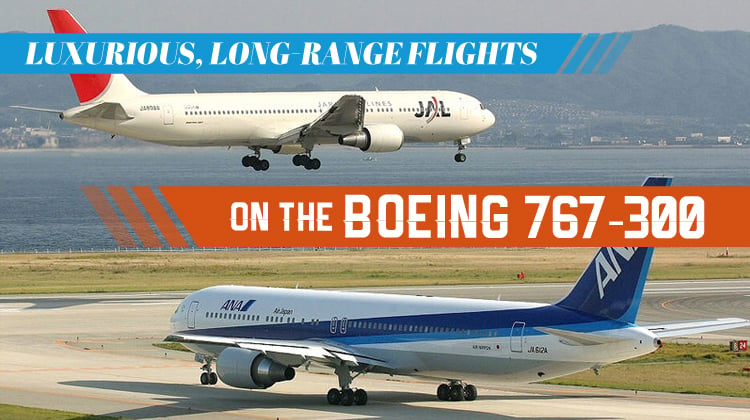 Want to hop in a hotel-like cabin, as you embark on a long range and international flight? By chartering for a private Boeing 767-300, you'll get to relax, be productive and stay comfy throughout your 8-hour trip. This aircraft has a space equivalent to 270 passenger seats, thus you can just imagine the many facilities which it can provide for its travelers. Some of the zone options it can have would be a bedroom, meeting area, lounge or even a health hub for exercising plus massages. If you'd like to make the most of your upcoming flight on this private aircraft, it's best to confirm about its facilities with the operator.
Among the useful features you can find in the Boeing 767-300 would be its WiFi connection and other interconnectivity options such as a phone. These items let you stay in touch with your friends, family and professional networks even while flying. They are even useful especially when you need to take conference calls or delegate tasks to your staff members from different parts of the world. Know more about the specifications of the Boeing 767-300 and be sure to charter for your very own, private flight today.
Photo Credit: Paul Spijkers
Convenient, Facility Filled Interiors
The Boeing 767-300 is one huge airliner which can be laid out with various zones and interior designs, depending on the preferences of its operator. One of the features which ensure you'll stay cozy in this plane would be its galley. This part of the plane contains small appliances and other materials, so your food and drinks may be freshly prepared. You can even opt to bring your personal chef throughout the entire flight so your delectable will fit your diet and palate.
For passenger comfort, the guest lavatory may usually be found in the middle of the aircraft's cabin. The master bathroom can be located near the bedroom. To reiterate, features of each private Boeing 767-300 may vary thus it's best to confirm your prospective charter's facility with the operator.
These interior specifications can be further telling of how your flying experience will be like when on board the Boeing 767-300:
Space is equivalent to 270 passenger seats
Height of Interior: 3.26 meters
Width of Interior: 1.95 meters
Capacity for Luggage: 2,500 cubic feet
Average Take Off Weight: 380,000 pounds
If you'll be carrying some heavy cargo with you, you'd be relieved to find how this private aircraft can accommodate freight. This way, you won't need to separately avail of a freighter to bring your equipment and other relevant items with you.
Competitive Speeds for Long Range Flights
While you experience the luxurious facilities this aircraft can bring you, you'd be even more impressed by the range it has for transcontinental travels. Despite its bulky exterior, this plane's speed can be comparable to lighter and smaller planes. If you're coming from Toronto, Canada, the Boeing 767-300 can fly you to as far as Cairo, Egypt, Lagos, Nigeria, or Buenos Aires, Argentina.
Have a look through these performance details, so you can gauge how fast and far the Boeing 767-300 can get:
Speed: 428 knots (kts) or nautical miles per hour (nm)
Range: 5,500 nautical miles or 10,186 kilometers
Maximum Altitude: 43,100 feet
Will you also happen to max out the flying range of this aircraft? Then it would be safe to inquire of its allowable cargo load with your operator. Generally, a lighter aircraft can fly you to the farthest destinations at much faster paces.
Background Information
Manufactured by Boeing Commercial Airplanes, the Boeing 767-300 was introduced in 1986 for Japan Airlines. It was an improvement of the 767-200, 767-200ER and 767-2C, since this aircraft was intended to have a stretched body for more cabin space. Today, over 100 units of this large aircraft are being flown all over the world.
If you're going on an international trip, chartering for the luxurious, private Boeing 767-300 would be best. See our system below and get your very own live quote  today: