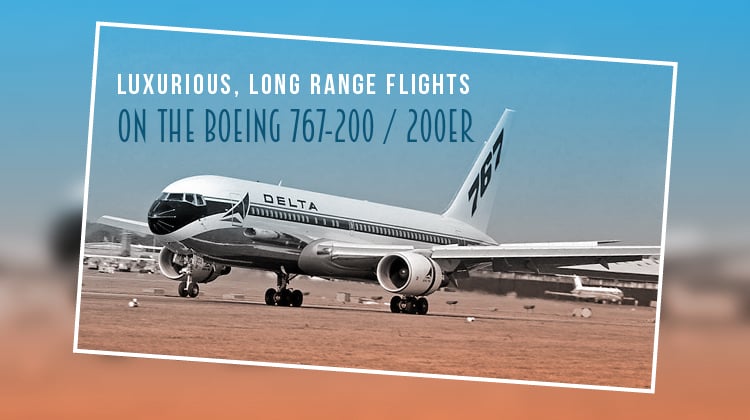 Now there's no need to feel constrained and tired as you embark on a 9-hour flight. By chartering for a private Boeing 767-200 / 200ER, you'll get to stay relaxed, productive and entertained by its facilities. This 225 seat aircraft can accommodate lounges, meeting areas, a bedroom, bathroom or even a health area where you can exercise. With its cabin's spaciousness, passengers can only imagine how many amenities can be held in this plane. You can make the most of your flight by confirming the aircraft's exact list of facilities with the operator.
One of the standard facilities of this aircraft would be its comfy and functional passenger seats which can be reclined. Its private version may have a separate table in front of each seat, or a table may be pulled out and folded from the side. This table may be used for relishing meals, or it can also be used as a platform of your laptop. This simple feature, along with others lets you have an equally relaxing and productive flight. Know more about the specifications of the Boeing 767-200 / 200ER, and book your very own flight today.
Photo Credit: Steve Fitzgerald
Comfort, Convenience and Productivity
Whether you're travelling for business or leisure purposes, the private Boeing 767-200 / 200ER has the amenities you'll need. For instance, its standard, private charter normally has a galley where you can prepare your food and drinks. The galley includes the small appliances and materials so your food may be freshly prepared. Another handy feature of this aircraft's cabin would be the WiFi connection. With internet access, you'll have the chance to stay in touch with your friends, family and professional networks. You can even stay on top of your business's projects by reading your emails, updating cloud based documents and holding conference calls with your teams. To reiterate, it's always best to confirm your prospective aircraft's exact list of facilities with your operator.
These interior details can be further telling of the flying experience you'll have on the Boeing 767-200 / 200ER:
Space is equivalent to 225 passenger seats
Height of Interior: 3.26 meters
Width of Interior: 1.95 meters
Capacity for Luggage: 2,500 cubic feet
Approximate Take Off Weight: Minimum of 315,000 pounds
Competitive Speeds for Long Range Flights
The Boeing 767-200 / 200ER is an aircraft that's fitting for international flights. If you're coming from Toronto, Canada, you can reach as far as Delhi, India, Bangkok, Thailand or Vietnam, Hanoi on this private plane. To have a better idea of how fast and far the Boeing 767-200 / 200ER can go, have a read through the following performance specifications:
Speed: 430 knots (kts) or nautical miles per hour (nm)
Range: 6,590 nautical miles or 12,204 kilometers
Maximum Altitude: 43,100 feet
Approximate Climbing Rate: 2,940 feet per minute
If you'll max out the flying range of this aircraft, it would be safe to inquire about its allowable passenger count with your operator. It's also advisable to ask about the plane's capacity for luggage or freight in reference to your intended destination. Generally, a lighter aircraft can fly you to farther destinations within the fastest pace.
Background Information
Manufactured by Boeing Commercial Airplanes, the Boeing 767-200 / 200ER is known to be the original model among the 767 series. It had the United Airlines as its first buyer in 1982. Today, there are over a hundred of its units being flown around the world.
If you're going on an international route, the private Boeing 767-200 / 200ER would be a convenient choice for your traveling needs. See our system below and get your very own live quote today: