Going to an international conference or a vacation need not be filled with hassles. By chartering for a private EMB 145, you'll get to enjoy your 2-hour flight without waiting around in long lines of cramped airports. This aircraft has a space equivalent to 50 passenger seats, thus one can just imagine the facilities which this aircraft can cater. It has a galley complete with small appliances and materials needed to freshly prepare your meals, snacks or drinks. To further ensure passenger comfort, the aircraft's lavatory can be found at the rear of its cabin.
Another standard feature which this aircraft has would be the WiFi connection. With internet access, you can stay in touch with your friends, family and professional networks. Know more about the specifications of the EMB 145 and be sure to charter for your very own flight on this plane today.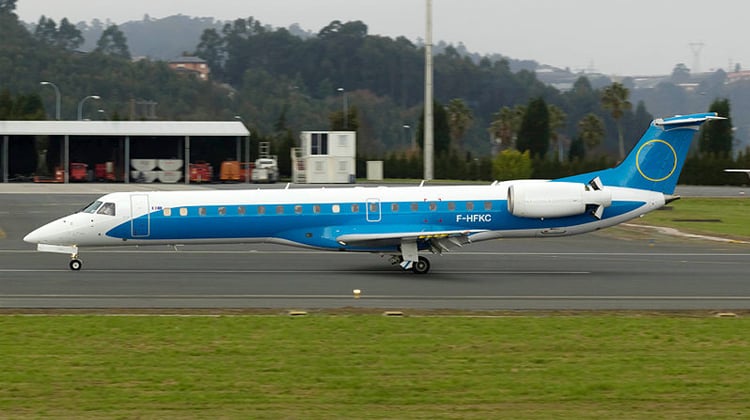 Photo Credit: Bene Riobó
Convenience in a Private Aircraft
An updated and private EMB 145 will have extra comfy passenger seats. Each seat can be reclined to your liking. On the side of every seat, a pull out table can be used for you to enjoy your meals, snacks or drinks. The same table may also be used as a platform for your laptop, so you can stay productive even while flying. When connected to the plane's WiFi set up, you can read your email or update your cloud based documents. To stay on top of your projects, you may even log in your online based management system to track the progress of your activities.
These interior specifications can be further telling of how enjoyable your ride can get on the EMB 145:
Space is equivalent to 50 passengers
Height of Interior: 1.62 meters
Width of Interior: 1.74 meters
Capacity for Luggage: 226 cubic feet
Maximum Take Off Weight (MTOW): 48,500 pounds
Competitive Speeds for International Flights
You can rely on the EMB 145's speedy paces to fly you to its farthest possible destination, in just a little over 2 hours. If you're coming from Toronto, Canada, you can reach as far as Dominican Republic, Greenland, Haiti and Jamaica when on board this aircraft.
Have a read through these performance details so you can gauge how fast and far the EMB 145 can get:
Speed: 420 knots (kts) or nautical miles per hour (nm)
Range: 1,600 nautical miles or 2,963 kilometers
Maximum Altitude: 37,000 feet
Climbing Rate: 2,560 feet per minute
Will you also happen to max out the range of this aircraft? If so, it would be safe to inquire about its allowable passenger count and luggage weight. As your operator prepares the routes and schedules of your flight plan, it's helpful to note a lighter aircraft leads you to farther destinations. A less loaded plane can also fly within much faster paces.
Background Information
Manufactured by Brazil based Embraer, the EMB 145 was initially developed during the 1980s and was eventually launched in 1989. However it wasn't until 1998 when the aircraft finally took its first flight. As part of the ERJ or Embraer Regional Jet Family, the EMB 145 was also fourth of the entire series. It was developed with the objective of producing stretched fuselages to accommodate more passengers with every regional and applicable, international flight.
If you're planning up an international flight soon, it would be practical to hop on board the private EMB 145. This plane has the combination of convenient facilities and efficient performance to meet the flying requirements of its passengers. Book an exclusive trip on this aircraft by seeing our system below and getting your very own live quote today: