Now short range and international flights have become more luxurious by hopping on board the private 1125 Astra. Now mostly known as the Gulfstream G100, this aircraft has a competitive speed and it can seat up to 8 passengers. Each seat is comfortably customized and may be reclined. On each seat's side, pull out tables may be used for relishing snacks or working on your laptop. If you're up for a business trip, the 1125 Astra's standard WiFi allows for you to read your emails, or update some cloud based documents. You can even get ready with your presentation slides, so you can be conference or meeting ready upon arrival.
For leisurely travelers, the same WiFi connection may be used to stay connected with family, friends and professional networks. If you're flying from Toronto, this jet lets you fly as far as California, USA or Basse-Terre, Guadalupe. Know more about the 1125 Astra's specifications and be sure to book for your very own, private trip today.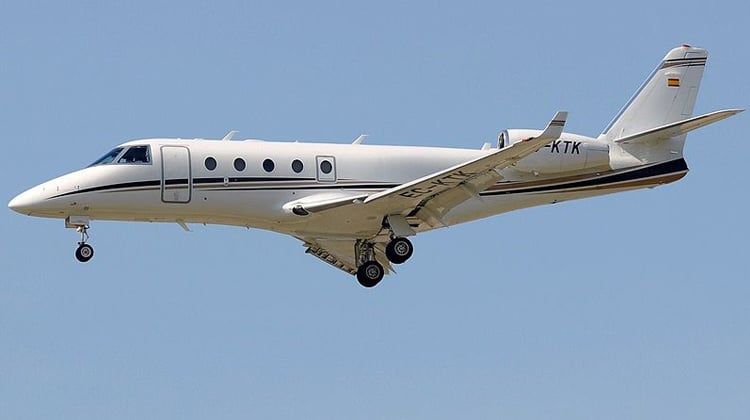 Photo Credit: Javier Bravo Muñoz
Comfort and Convenience
As you go on a short haul flight on the 1125 Astra, you'll find how it has quite a spacious cabin for you to relax in. If you're going for a business trip, the aircraft's features are all the more conducive for you to have a well-rested flight. Upon entering a standard 1125 Astra or Gulfstream 100's interiors, you'll see the pilots' cockpit on the left and galley on the right.
The galley has sufficient facilities to prepare your refreshments. These include small appliances such as a microwave oven, coffee maker and fridge. The small compartments may also store your snacks as they can function as mini pantries. The rear of the fuselage is where you'll also find the lavatory. Additionally, it's best to confirm your plane's facilities with the operator, including the in-flight entertainment with your operator. This way, you can make the most of your flight.
These interior details can be telling of how comfy your entire experience can get when on board the 1125 Astra:
Can seat up to 8 passengers
Height of Interior: 1.43 meters
Width of Interior: 1.43 meters
Capacity for Luggage: 60 cubic feet
Maximum Take Off Weight (MTOW): 24,650 pounds
Competitive Speeds for Sooner Arrivals
While enjoying the plane's in-flight facilities, you'll be surprised how time quickly flies fast as this jet has competitive speeds in comparison to its counterparts. Did you know this aircraft can fly to its maximum altitude within less than 15 minutes?
These performance details can be telling of how fast and far the 1125 Astra can go:
Speed: 430 knots (kts) or nautical miles per hour (nm)
Range: 1,900 nautical miles or 3,518 kilometers
Maximum Altitude: 45,000 feet
Climb Rate: 3,805 feet per minute
Should you also happen to max out the flying range of your charter, it's always best to confirm about its allowable load with the operator. These include the count of passengers who'll fly with you, along with your allowable amount of baggage. This way, the most efficient combinations of routes and schedules will be applied based from your flight plan. Keep in mind a lighter aircraft leads you to farther destinations within much faster paces.
Background Information
Manufactured by Gulfstream Aerospace, the 1125 Astra or Gulfstream 100 was first produced in 1985. Today, it approximately has 265 units of planes being flown around the world. Its major operators mostly come from India, United States, Israel and Eritrea.
If you're embarking on a short haul flight, then it's best to charter for a private flight on board the 1125 Astra. See our system below and get your very own live quote today.