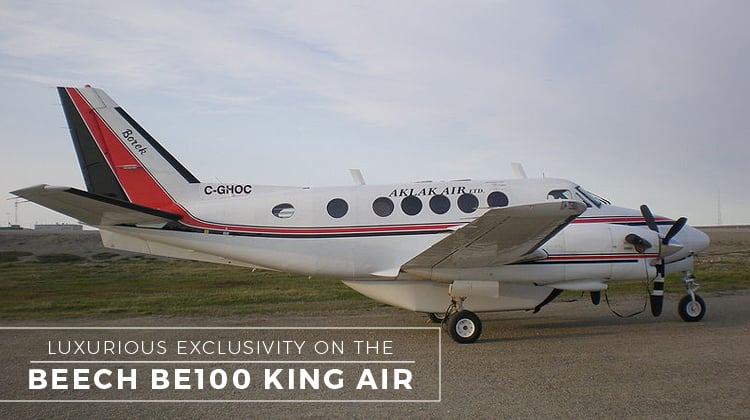 Regional or nearby international travels are well-spent when hopping on board a private Beech BE100 King Air. This 7 seat aircraft can fly as far as Texas, USA or Havana, Cuba if you're coming from Toronto, Canada. It has Short Take Off and Landing (STOL) capabilities, so you can pick less crowded airports or runways which are nearest to your intended location.
Additionally, the Beech BE100 King Air has the facilities you'll need so you'll have a relaxing and enjoyable flight. Its standard interiors include passenger seats which can be reclined, plus pull out tables. These tables may be used for meals or drinks. Do you need to catch up on your emails or update your documents via the cloud? Then your passenger seat's pull out table may also be used as a platform for your laptop. A standard, private flight on the Beech BE100 King Air includes WiFi connection so you can stay in touch with friends, family and professional networks.
To make the most of your flight, be sure to confirm the exact facilities of your prospective plane. Know more about the Beech BE100 King Air and reserve for your private trip today.
Photo Credit: CambridgeBayWeather
Cozy Interiors for Enjoyable Flights
As you hop on board the Beech BE100 King Air, you'll find how its interiors let you have an enjoyable trip. You may even ask for your operator's customized facilities so you can find interesting pieces of amusement throughout the flight. For over an hour or so, you certainly won't run out of relaxing amenities to experience when on a private Beech BE100 King Air.
These interior specifications can further guide you in gauging the quality of flight you'll have on the aircraft:
Can seat up to 7 passengers
Height of Interiors: 1.32 meters
Width of Interiors: 1.4 meters
Capacity for Luggage: 48 cubic feet
Maximum Take Off Weight (MTOW): 11,800 pounds
Steady Glides for Short Range Distances
As you hop aboard the Beech BE100 King Air, you'll find speed and maximum altitude allows for you to enjoy the flight's sceneries even more. Gliding along the clouds, you'll get to see mountains, landscapes, cities and bodies of water which you'll be flying over. This aircraft is exactly what you need for awesome aerial views and luxurious in-flight facilities.
Have a read through these details to have a better idea of how enjoyable a private flight on the Beech BE100 King Air would be:
Speed: 265 knots (kts) or nautical miles per hour (nm)
Range: 1,325 nautical miles or 2,453 kilometers
Maximum Altitude: 24,850 feet
Climbing Rate: 2,140 feet per minute
If you'll happen to max out the flying range of this aircraft, it would be best to confirm your allowable load with the operator. With the ideal ratio of passengers and luggage weight, you have better chances of efficiently flying within the best possible routes of your flight plan. A lighter aircraft usually means you'll get to fly within farther destinations at the fastest possible pace.
Background Information
Manufactured by Beechcraft Corporation, the Beech BE100 King Air was developed with the BE90 as its inspiration. The BE100 had a stretched cabin with 2 more cabin windows on each side. To enhance its performance, its wing span was also reduced and it had a larger rudder. Its first flight took place in 1969 and it's part of the King Air's over 3,000 units built and being flown all over the world.
Now planning up for a short range flight can get enjoyable and comfy on a private Beech BE100 King Air. See our system below and get your very own live quote today: