If you're coming from Ontario, Canada, you can now reach Iceland, Northwest Territories or Trinidad and Tobago, via the Boeing 737-200. Booking for a private flight on board this plane means you'll get to enjoy various facilities ranging from bedrooms, study areas or even lounges. Its amenities will depend on how your operator has placed an initial lay out on the plane. Thus it's advisable for you to call in your operator and check the features which your 5+ hour flight will have.
This aircraft is quite spacious its area is equivalent to 118 passenger seats. It even has another set of spacious luggage compartment. If you will be having a grand vacation, you then need not worry about bringing too much cargo aboard a private flight on the Boeing 737-200. This large airliner will most probably have customized cargo to accommodate your essentials. Know more about the specifications of this large jet and be sure to get a live quote today.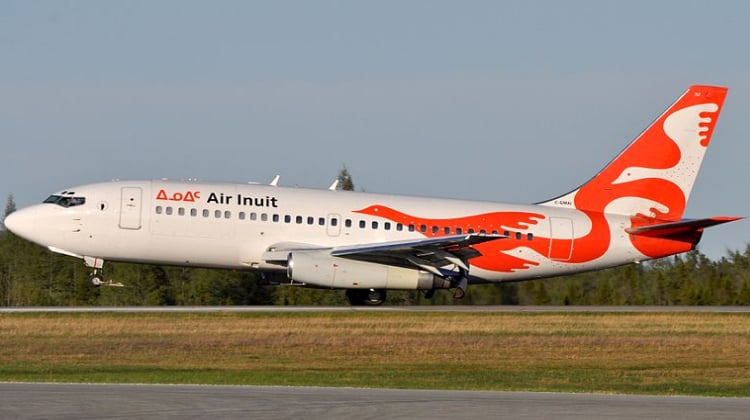 Photo Credit: Jean-Philippe Richard
Flexibly Designed Interiors
Since Boeing 737-200 is known to be sizable, jet setters can just imagine the delightful features which it can offer as a private jet. Many interior layouts have already been made to suit the needs of its owners and passengers. Different shades of chairs, couches and beds have been applied on the plane's customized version. If you'd like to experience utmost relaxation throughout your flight, there are private charters which have living rooms for you to lounge in.
For utmost convenience, this aircraft has the complete amenities to prepare your food and drinks. Several other bathrooms can also be placed as part of this plane's interiors. Indeed, a lot of other facilities can further be added with the spacious Boeing 737-200.
s
A glance through the following interior specifications can give you a better idea of what you'll enjoy aboard the plane:
Space is equivalent to 130 passenger seats
Height of Interior: 3.26 meters
Width of Interior: 2.13 meters
Capacity of Luggage: 640 cubic feet
Maximum Take Off Weight (MTOW): 115,500 pounds
Competitive Speed for Mid-Range Flights
Known for its brand's steady rides, you can rely on the Boeing 737-200 to bring you a predominantly stable flight. The farthest distance you can reach aboard the aircraft would be 4,260 kilometers. This plane is certainly ideal for intercontinental travels.
These performance specifications are quite telling of how far and fast you can go, when aboard this large airliner:
Speed: 400 knots (kts) or nautical miles per hour (nm)
Range: 2,300 nautical miles
Maximum Altitude: 37,000 feet
Given the size of this large jet, it can be inviting to add more luggage and have more people aboard on your trip. However, it's always best to consider your location's estimated distance in relation to how much load the plane can take. As a rule of thumb, planes usually travel faster and farther with lighter loads.
Background Information
First flown in 1967, the Boeing 737-200 is among the series of 737 planes which are currently being produced and flown throughout the world. Its counterpart units include the 100, 600, 700, 800 and 900. This plane's design initially gathered inspiration from the Boeing 737-100. The aircraft's improvements were mainly focused on its aerodynamic components and lengthened cabins. Today and as part of the 737 fleet, the 737-200 is among the 9,295 units being mostly flown for commercial purposes. Its primary users include Ryanair, Southwest Airlines, American Airlines and United Airlines.
The Boeing 737-200 is ideal if you're traveling to a grand vacation or perhaps you'd like to stay well-rested during a business trip. See our system below and get your very own live quote today: