Hot air balloons are a magnificent spectacle to behold—so much so that individual countries have festivals and places known for them, like Cappadocia and Albuquerque. However, beyond their colors and flights of fancy, hot air balloons also hold a significant role in the history of aviation. As a matter of fact, at a point in time, one could say that hot air balloons were the jumping point towards the future of aviation.
Previously, we looked at how early aviators often imitated the birds when it came to manned flight, thinking that the flapping mechanics were vital to achieving air travel. However, in 1783, two men—Joseph-Michel Montgolfier and Jacques-Étienne Montgolfier—showed the world a different way to travel by the creation of the first hot air balloon. We take a look further into the specifics and significance of this invention on air travel:
From paper manufacturing to balloon making
As with the story of most celebrated creations, the Montgolfier brothers weren't inventors at all—instead, they were paper manufacturers, as was the prime source of living in south-central France, where the brothers were from. While it is disputed when and how the brothers got the idea for the hot air balloon, Atlas Obscura notes that the most common iteration was that the two observed: "laundry rising up over fire as it dried."
From there, the two initially tested their discovery on a smaller scale, often using light, wooden boxes and cloth, which would then be filled with hot air. Britannica notes that the duo first brought the experiment to public attention with a demonstration at a marketplace in Annonay on June 4, 1783. After proving successful, the two then made a larger model of the design, where they would launch a duck, a rooster, and a sheep into the air. During that time, it was still generally unknown what caused the balloons to float and what effects the high altitude might have on humans, so while understanding the former the three animals were chosen for their characteristics:
Ducks were already noted and observed for their ability to fly, thus acting as a control;
Chickens, on the other hand, stayed closer to the ground so the rooster would serve as a comparison to the duck;
Sheep were said to have similarities to the human body and thus were chosen to see how a human might equally respond.
Eventually, the experiment proved successful that two months later, the Montgolfiers attempted it with two well-known Frenchmen at the time, Jean-François Pilâtre de Rozier and the Marquis d'Arlandes. TIME notes that in 25 minutes, the two men reached the suburbs from Paris, a feat that would impress Benjamin Franklin.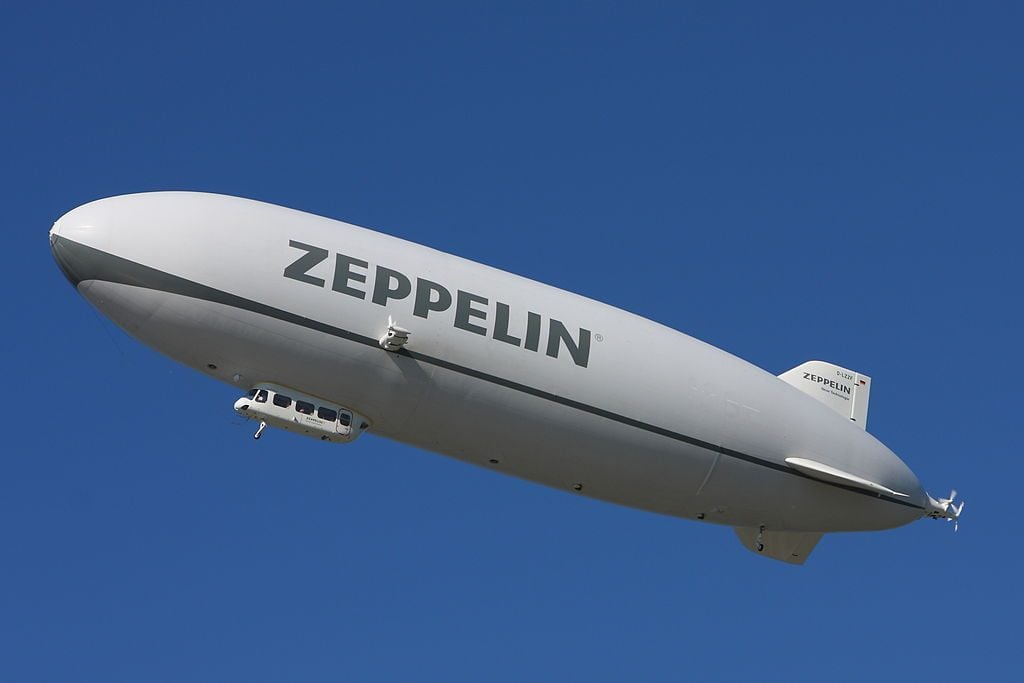 The rise of the airship
Despite its many achievements, the hot air balloon nonetheless was not without its problems. For one, they often relied on the wind for the direction, as it was hard to do so on its own. For another, without proper regulation, they would catch fire if lit for too long. In response to the first problem, there came the creation of the airship.
Much of its development happened in the 1800s, a century after the hot air balloon was created. Space.com, however, notes that its design might have occurred earlier—General Jean Baptiste Marie Meusnier had already made plans in 1784, although none came to fruition. It was only after Jules Henri Giffard made the first operable airship and took flight in it in 1852 that many other inventions would follow; but of course, this creation was only possible due to an earlier design by another French inventor, Pierre Jullien of Villejuif.
It was Count Ferdinand von Zeppelin who successfully patented the creation and design of a rigid airship, which would then be utilized during World War I. Eventually, however, after a series of incidents—such as the Hindenburg disaster—and its descent into obsoletion vis-a-vis the rapid development of fixed-wing aircraft that the airship slowly shrunk to a handful of companies. Nonetheless, like gazing upon hot air balloons, one could still see them in operation and be reminded of their significance in driving forward the aviation industry.
Want more aviation history tidbits?
If you're itching to learn more about aviation as we are, we're here to provide you with a monthly dose. Sign up with us for more interesting bits, as well as news, updates, and travel features.